When you're designated a hipster area several things tend to happen. Apart from men walking around with huge beards that is. There tends to be a slightly grungy edgy scene and one of the main benefits is that cafes and restaurants tend to pop up in these areas. I mean where else is a hipster to cycle to?
One of my favourite areas to explore in Copenhagen is Vesterbro, conveniently just near Central train station. The hipster, red light and working class is just past the Tivoli and South West of the our hotel SP34.
In the area there is a concentration of interesting streets. Kihoshk on Sønder Boulevard is said to have the largest selection of beers in Denmark. A big hipster tick there. I stop by Matcha Bar and have an excellent matcha iced drink made with cloudy apple juice, a blaze of fresh ginger and a teaspoon of matcha powder. The matcha is all hand picked from Kagoshima and along with lattes made out of cashew and regular milk there are also sweet treats including matcha puffs and raw creations. All sipped or eaten in a wonderfully minimalist and white Scandinavian cafe with warm service.
Nearby is Istedgade, a 1 kilometre street which is the main thoroughfare for Vesterbro. It is also incidentally where pornography was first legalised in Denmark. So the enormous black dildos, peep show and girly bars seem like they fit along with the hipster shops, shawarma joints and bike stores. The street is also the home to what has been vote the best pork sandwich in Denmark.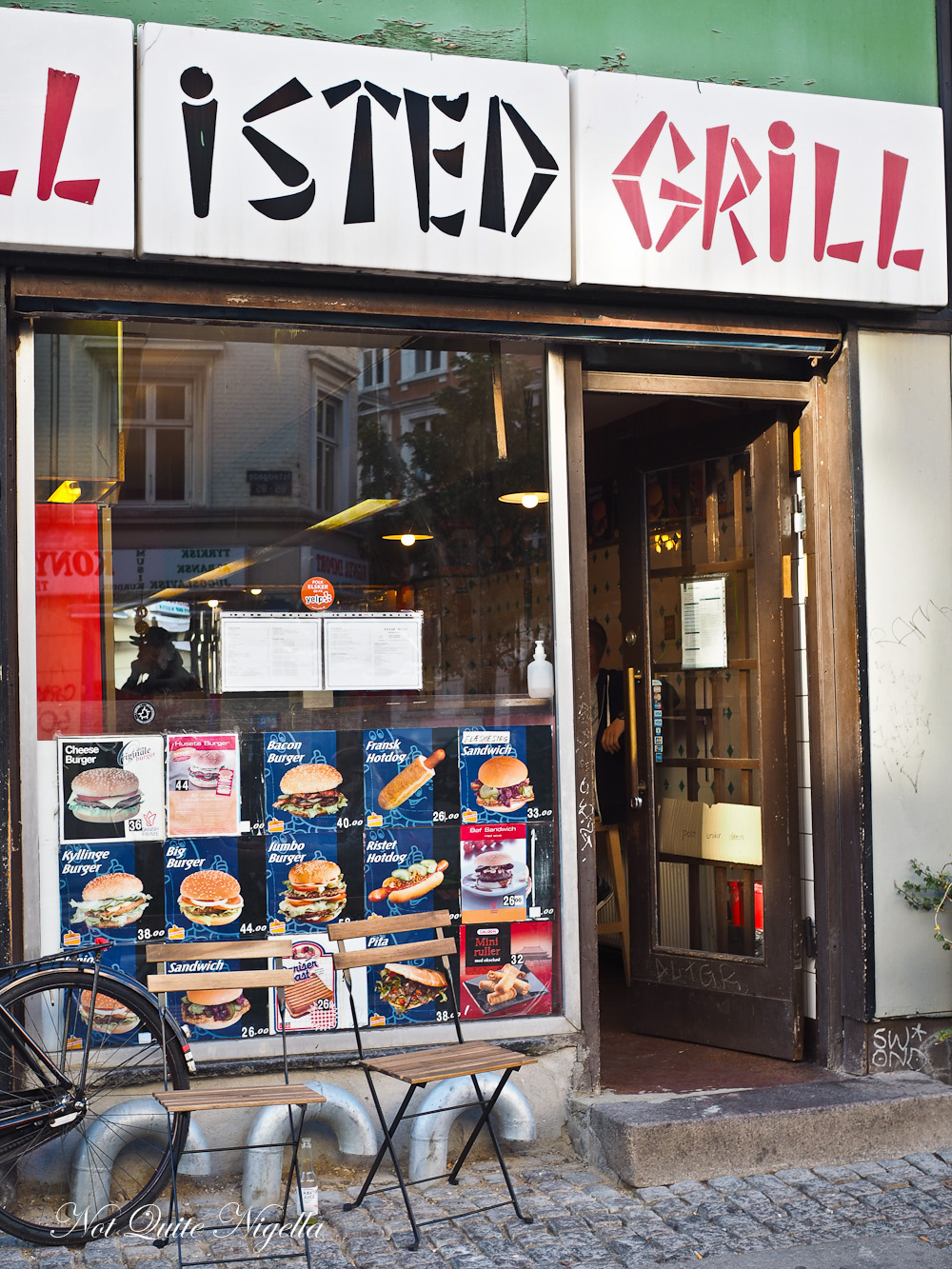 Now Danes love their pork. They are one of the biggest pork consumers in the world and roast pork is said to be their national dish. And Isted Grill at Instedgade 92 has great affection among Danes. For the last 30 years they have been serving up "flæskestegssandwich " or pork skin sandwiches.
Mr Lee
But don't come during the day for this. They open at 4pm until midnight and are closed Mondays. The proprietor Mr Lee is friendly and happy to chat about things. He sells a mixture of Danish and Chinese takeaway goodies, many that are pictured on the wall. He emigrated from Taiwan 36 years ago because his sister lived in Copenhagen and it was his sister that created this place and the pork roll and he took over from her.
The roll is a single pork slice that he slices off a large pork roast and warms on the grill so that it is crispy and hot on both sides. He adds this to a sesame hamburger bun with red cabbage, pickles and bearnaise (you have to ask for the bearnaise).
It's simple but very good indeed especially with the fresh bun, juicy pickles, creamy sauce and most importantly the luscious slice of pork just crispy and warm enough!
Follow any street and wander down streets and you will be rewarded with people enjoying the spoils of summer and sitting al fresco. I pop inside stores like Shop Dora for exquisite (but pricey) antiques. You may just be like me and want to buy everything.
Across the road is Granola, a cafe named after the breakfast treat with plenty of Danish breakfast goodies including pancakes with blueberries and syrup or Skyr (Icelandic drained yoghurt) with honey and well, granola.
Granola cafe has a sister cafe around the corner. The Central Hotel og Cafe just may lay claim to being the smallest hotel in the world or at least in Denmark. It boasts just one room and if you happen to be the lucky person that books it, you will find that although petite in size it is superbly fitted out with everything you could want.
Downstairs is the cafe, a charming and friendly place where there are two tables outside, a few bar stools inside and some wooden benches. I order a cafe au lait and the Ostemad, a slice of toasted rye bread topped with cheese, jam and slices of apple. It's delicious (I'm a big cheese and jam fan) and the rye bread has a wholesome flavour and texture to it.
If you're visiting in Summer, a gelato at SicilianSK is a must. The owner is Sicilian and uses either Sicilian or Danish ingredients. I order a trifecta of the most Danish flavours: Lakrids (licorice), koldskål (a Danish summer dessert) and Seabuckthorne (an orange berry).
The licorice is by Danish licorice maker Johan Bulow and even if you don't love licorice you may find yourself falling for this aromatic and complex flavour. The seabuckthorne is a refreshing milk free gelato that tastes almost tropical in flavour without tasting like a specific tropical fruit.
Koldskål is a buttermilk based dessert flavoured with lemon and vanilla and usually served with Kammerjunker cookies or crackers on top. This version is without the cookies but is wonderfully refreshing in the same way that frozen yogurt refreshes the palate without overt sweetness.
I walk around with my gelato down side streets watching men play a game of basketball and people go about their daily evening routine. Graffiti is thought provoking and political in some cases.
I end up at Cofoco on Abel Catherinesgade located just off Istedgade where on the corner a man mutters something in Danish to me. This isn't an area where you shouldn't have your wits about you and while it is relatively safe, you should use commonsense.
The Cofoco restaurant is very popular and the first booking we could get this Monday night was at 8:30pm. It is owned by the same owners as Restaurant Host and features Nordic food with reasonable prices. The decor is Nordic and bare with candles, warm lights, desk lamps and cacti. The sunlight even at this hour is a bit jarring as it feels like it is much earlier than it is. There's a choice of a la carte or a set menu and we decide to go light with three savoury dishes. They come out incredibly quickly too-within 10 minutes.
Mussel soup 75 kr./$15AUD
The soup is flavoured with mussels (although there are no whole mussels in the soup) and there is a generous portion of hard shell crab meat on the bottom as well as fresh summer peas, rye croutons and mint oil. It's creamy and a little on the salty side but I like the flavour combination here.
Turbot 100 kr./$20AUD
I always enjoy turbot when visiting the UK and Europe and this is served with glazed morels, white asparagus and hollandaise. The hollandaise is very mild and the whole dish is quite mild overall although it is nice to have some fresh white asparagus and well cooked turbot. I just wish the sauce had a bit more flavour to it.
Chicken nuggets 75 kr/$15AUD
Planning your next trip? Ensure you have the right coverage with HeyMondo travel insurance that includes COVID-19 protection. Plus, if you use our link, you'll receive 5% off the price. Find the best deals on flights from all airlines in various currencies with SkyScanner and set up alerts to get notified when prices drop. For reliable transportation options, look no further than 12Go Asia, offering train, bus, ferry, and flight transfers worldwide. Book your transportation now and enjoy a stress-free journey.
When you purchase through these links I will get a small commission at no cost to you. Thank you for supporting me! :)
The chicken nuggets are a homage to the restaurant's former incarnation as a chicken nugget shop. There are two long chicken breast "Nuggets" more goujons really coated in a crunchy breading and these are served with very fried hand cut chips. I love the cafe de Paris mayonnaise which is so full of flavour and spices that it reminds us of a curry.
Rhubarb sorbet 75 kr./$15AUD
Unable to agree on a dessert we decide to order two. The rhubarb sorbet with verbena buttermilk is refreshing and summery and it is paired with Danish strawberries, crumble and meringue. It is a version of the Koldskol.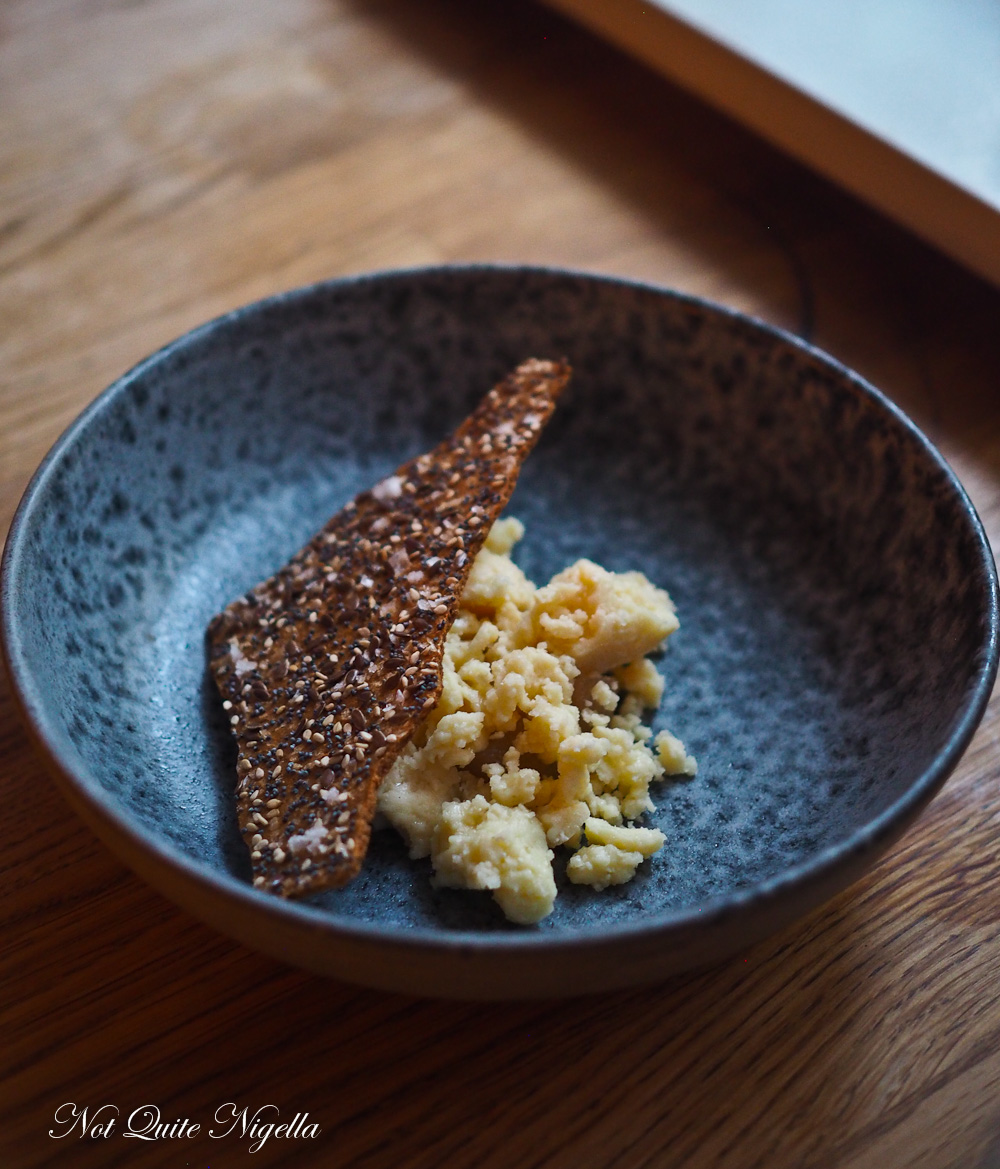 Gammel Knas 75Kr/$15AUD
My choice is the Gammal Knas is a type of havarti cow's milk cheese served with elderflower pickled pear and seed crackers. The cheese is served crumbled and is a gorgeously full flavoured and creamy cheese that I could eat all day long. The only quibble is the proportion of the cracker to the cheese-while it looks pretty there just isn't enough of it.
Mikkeller Bar just a few metres away is food beer lovers especially those who love distinct flavours with their beers and super hoppy flavours. Mikkeller is famous for putting different flavours in his beer and each beer is house in a barrel and is individual-so once you finish a barrel it is gone and you have to try another type.
They are so popular that now they contract brew in Belgium and they also have a brewery in San Diego such is their North American following. People love to sit outside and drink one of their many beers from the imperial stout which is the beer that made them famous. It's a fascinating beer with a distinct coffee flavour-like a beer cocktail but without a strong coffee aroma, just coffee taste. I also try the sour beer which is really a pucker inducing drink. I'm a fan of the strength of the flavours here as they really are strong.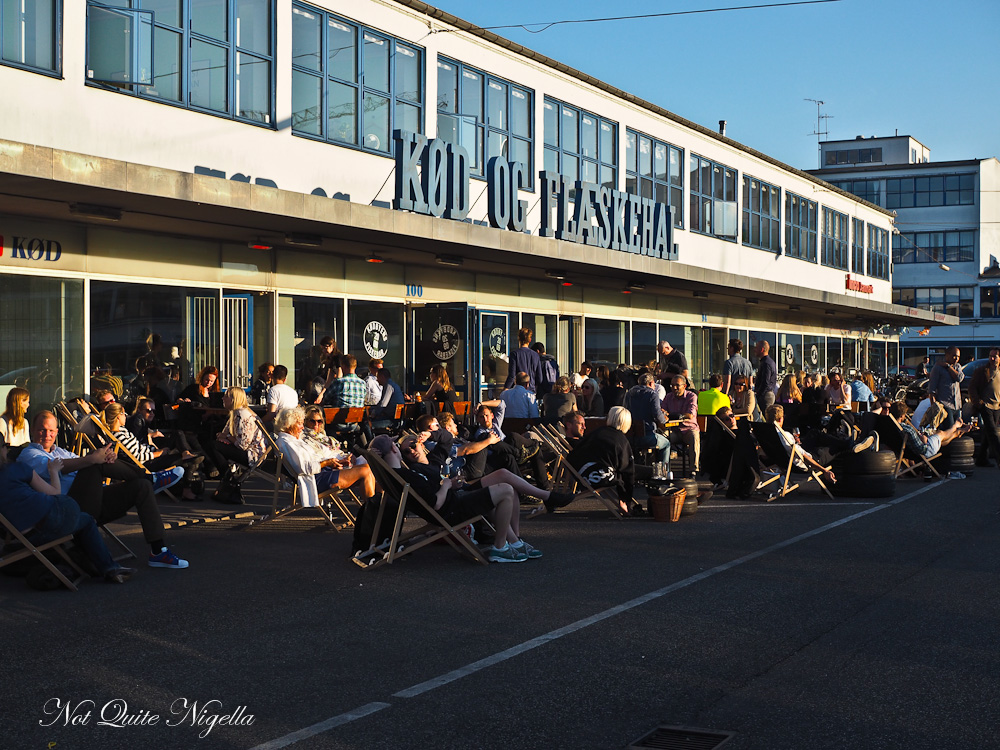 The area of Vesterbro also houses the former meatpacking district. It's a large area and is a popular place to go out at night. The restaurants retain some of the original touches of its former life as a slaughterhouse. There are three areas broken up into White, Grey and Brown "Meat City". Our destination is Fiskerbar or Fish Bar (ironic given the area's history) that serves up simple seafood dishes in a gorgeous industrial setting.

People recline outside grabbing the sun's rays on the deck chairs - although it's cold by Australian standards it's still summer here. We grab an enormous booth that feels like you're sitting on the couch at home.

European Flat Oyster from Limfjorden 75KR/$15AUD each
The menu is made up of shellfish and oysters for starters and fish fillets for mains. I am curious about the wild oysters and they are sold per piece and are around $15AUD per oyster. They are enormous specimens and easily cover the palm of a woman's hand.
These oysters are about 5 years old and are served with a dill oil that goes with it perfectly. And how to tackle an oyster this size? It slips out easily from the shell and I don't know if it's possible to have this without chewing but it's soft, briney but not very zincey.

Hake fish 255KR/$51AUD
I'm a bit surprised to see that the mains are entirely made up of just fish although there are plenty of types of fish here. The hake fillet is a well cooked and still moist fillet, quite mild in flavour. It is served with asparagus, horseradish, pine, cucumber slices and wild chervil. There is also a side of lovage new potatoes that are rolled in a lovage sauce to turn them green.
Chocolate Bolivia 110KR/$22AUD
The dessert is a really gorgeous mix of textures and flavours including stout, praline and milk chocolate.
The nearby Tivoli gardens are one of the top attractions in Copenhagen. The garden and amusement park were built in 1843 and is constantly evolving and spans over 8.3 hectares in the centre of Copenhagen. They're best visited in the late afternoon and early evening as the lights come on to reveal a charming amusement park with a vintage, slightly creepy vibe to it (which you may know I love and is my ultimate compliment! ;).
The rides themselves are a mixture of heart racing and classic with a total of 28 each ranging in price from 25-75KR ($5-$15AUD). The wooden roller coaster Rutschebanen is one of the oldest operating roller coasters while there are also rides like The Star Flyer offers views of Copenhagen below-all while your heart pounds no doubt!
One of the best places for a hipster nightcap is at Lidkoeb, a little hidden away whisky bar. This three story whisky bar has wooden booths to slide into and bartenders that can mix you up a mean cocktail.
I'm a little torn with deciding on one of their signature drinks so the waitress thinks for a moment before asking if they can come up with something that suits me taste (fruity with bitters) and if I don't like it they will make me something else.
She comes back with a Jordnødde Oldfashioned which is a whisky old fashioned with Four Roses Small Batch bourbon, Angostura bitters, bananas and peanut butter. And you know what? It's absolutely perfect. You get a tiny taste of peanut butter right at the end.
Oh and the name Lidkoeb? It means sealing the deal with a drink!
So tell me Dear Reader, what parts of hipster culture do you like? And would you want to stay at a hotel that only has one room? And have you ever seen oysters that size before? Do you think you'd enjoy summer or winter in Copenhagen more?
NQN visited Copenhagen as a guest of Wonderful Copenhagen & Singapore Airlines. Food at Matcha Bar, SicilianSK, Central Hotel and Isted Grill was independently paid for.
Matcha Bar
kld. V, Helgolandsgade 13, 1653 København, Denmark
Phone:+45 61 46 04 90
Isted Grill
Istedgade 92, 1650 København, Denmark
Phone:+45 33 21 01 62
Central Hotel
Tullinsgade 1, 1618 København V, Denmark
Phone:+45 33 21 00 95
Siciliansk IS
Skydebanegade 3, 1709 København V, Denmark
Open 7 days 12-9pm
Cofoco
Abel Cathrines Gade 7, 1654 København, Denmark
Phone:+45 33 13 60 60
http://cofoco.dk/
Mikkeller
VIKTORIAGADE 8 B-C, 1655 København, Denmark
Phone:+45 33 31 04 15
Fiskebar
Flæsketorvet 100, 1711 København, Denmark
Phone:+45 32 15 56 56
Tivoli
Vesterbrogade 3, 1630 København, Denmark
Lidkoeb
Vesterbrogade 72B, 1620 København V, Denmark
Phone:+45 33 11 20 10