A sports stadium is not the usual sort of place you'd expect to find a three Michelin starred restaurant. Yet among the advertising agencies there it sits: Geranium, Denmark's sole 3 Michelin starred asset. Chef Rasmus Kofoed has achieved much in his 41 years and has won the silver, gold and platinum Bocuse D'Or and this year, he added a third Michelin star to the accolades. Geranium was the first Danish restaurant to achieve this.
Fine dining in Denmark is unlike fine dining elsewhere. It's almost casual and people "come as they are". There are similarities to Australia in that sense. There are no white tablecloths at Geranium and service is friendly and not stiff at all. The main dining room seats 36 people and there are two key tables: the marble table next to the fireplace and the "kitchen table" where foodies like to sit as it gives them an eyeline into the work of the kitchen.
We are dining in the private dining room where a large painting by painter Christian Lemmerz is propped against one wall-he painted this with three red stars to celebrate the recent accomplishment. Classical music plays and they tell us that if we have any requests for music they would be happy to accommodate (and yes everyone has a request which they fulfill). Remarkably there are only 14 chefs that work here as well as the stagiaires of which they may be half a dozen. There are just two Danish chefs. Chefs arrive at breakfast and begin their work and sit down to a family meal at 4:30pm.
The view down below at Fælledparken (or the Common Garden) is of the athletic track and just last night Bruce Springsteen played at the stadium.
Lunch and dinner are both 2000KR (around $400AUD) and you can get a wine pairing for 1400Kr or a juice pairing for 700Kr. The current menu is called "The Summer Universe".
Lobster, milk and juice from fermented carrots and seabuckthorn
The menu starts with half a dozen "snacks" which really redefine what you might think of as a snack. The first is served in a small bowl and is finely chopped Danish lobster meat mixed with a soft set milk mixed with fermented carrots and seabuckthorne oil. It's creamy and mild and comforting in flavour with sweetness from the lobster, carrots and seabuckthorne (a common ingredient in Nordic cooking).
Jerusalemn artichoke leaves, walnut and rye vinegar
The next items are almost too pretty to eat. They're intricately cut leaf "chips" made of Jerusalem artichoke. They come with a small pot of walnut and rye vinegar mayonnaise that we dip it in. We get two leaves per person and nibble of these chips slowly. On top is black trumpet mushroom powder to add even more umami flavour.
Tomato water, ham fat and aromatic herbs
The next dish comes in two parts. There are tiny spoons with edible flowers and herbs in them and we drop them into the soup that has a base of ham jelly and stir. The little flecks are dried ham and they drop in some ham fat. The dried ham adds a salty punch while the thyme give it a floral note.
Charred Potato in Aroma from bark and sheep's butter
Next is one of my favourite savoury courses. "We look like we burned the potatoes," they say as they set them down. And sure there is charcoal among the plate when they lift the dome to reveal a plate full of hot rocks. Among them are tiny new potatoes cooked in squid ink that are served with sheep's butter and burnt thyme ash. You place the potato on top of the spoonful of butter and eat it together. It's a wonderful combination of butter and potatoes given such an interesting treatment.
"Dillstone" mackerel, horseradish and frozne juice from pickled dill
We are asked to guess the next item inside the green coating. It turns out to be "Dillstone" mackerel and this is their signature snack. It comes as a two parter-bright green "stones" on a plate of grey stones and a bowl of horseradish juice, pickled dill and cucumber granita. The cold water mackerel is tender and melts in the mouth while the pickles complement them perfectly.
"Razor clam" with minerals and sour cream
The next item is visually stunning and I almost don't want to eat it. It's an edible razor clam made out of a thin wafer shell painted with ash and algae. It is filled with sour cream and razor clam tartar, tarragon and parsley inside and picking it up, it's very delicate and light and crunchy with a creamy filling.
White asparagus, scallop and dried trout
The mains dishes begin. The first is a white asparagus, thinly sliced and layered with asparagus vinegar and verbena, scallop roe juice with brown butter.
It is served with tiny paper thin tarts filled with scallop and dried wild trout. By themselves they don't work - the tart is strong and salty and the asparagus crisp but when you combine the two there is a wonderful interplay between textures and flavours. I particularly like the flavours of verbena and browned butter.
Rasmus Kofoed (centre)
I look to the left and notice that the kitchen which would usually have three chefs has expanded to a brigade of chefs. Chef Rasmus Kofoed is here and he brings with him his entire team of chefs. They wait until everyone is seated and then they circle the table several times before presenting us with our next dish where they add the caviar and sauce on top.
Salted haddock, parsley stems and Finnish caviar in buttermilk
It's a lightly salted and smoked haddock, a parsley stem sauce, a generous serving of Finnish caviar and a final sprinkling of crispy fish scales. Crispy fish scales? Yes, they're like some super crunchy croutons that have the texture of pyramid salt flakes but without the salty flavour. This is another favourite dish of mine, not just because I love caviar.
Crispy grains, bread with oil grains and gluten free bread with seeds
Next comes the bread course and there are three types of breads on offer. The first is a beautifully detailed fern leaf made with cows milk cheese. There are also two types of bread: regular with grain and a gluten free bread. They're served with butter and ramson leaves. The leaves and the gluten free bread are my favourite of the two and the butter is very mild in flavour and soft.
Creamy Summer Vegetables with oyster, peas and pickled elderflowers
This is s dish where there are some lovely surprises hidden at the bottom. At first I see some greenery and some elderflowers but underneath is grilled oyster and oyster foam. The pickles and oyster have a lovely briney quality to them and the peas are so sweet.
Wild herbs, grilled asparagus, melted pork fat and melted "Vesterhavs" cheese
This course disappears in a few mouthfuls. It is wild herbs, grilled asparagus, melted pork fat and melted "Vesterhavs" cheese. In the centre is a quail's egg pickled in apple vinegar which gives it a most unique texture, almost like a tomato skin.
Morels, mustard leaves and essence of duck feet
This is a dish with morels, mustard leaves and a broth made using duck feet. Alas this was one dish that I didn't especially love and while I adore morels this dish was just too salty for me.
Pork, pickled young garlic, pine and blackcurrant leaves
This is our final savoury course. It's a triangle of juicy pork neck cooked for 20 hours with thyme, pickled young garlic and young cabbage leaves. But the pork is definitely the star of this dish as the texture is lusciously soft.
"A taste of summer" beetroot, rhubarb, yogurt and Tagetes
The next dish is our refresher pre dessert and even this is exquisite. It's a crisp ball of beetroot sphere filled with yogurt and tagetes or marigold and rhubarb. You pop the whole thing in your mouth and the shell bursts and you get an exquisite flood of pure summer sweetness.
Ice cream from Beeswax, pollem and honey with cloudberries
It is followed by a creamy pot of ice cream made from beeswax, bee pollen and honey with a bottom layer of tart cloudberries.
Wood Sorrel and Woodruff
You know a dessert is really good when it's the 16th course and people are silent and reflective, savouring every bite. This dish is our definite favourite around the table. It is made with woodruff which is a herb that doesn't have much flavour at all when it is fresh but really comes to life when dried.
Woodruff
It's a sublime balance with woodruff infused white chocolate cream, frozen sorrel juice, a crispy prune "tree" and tiny white forest flowers.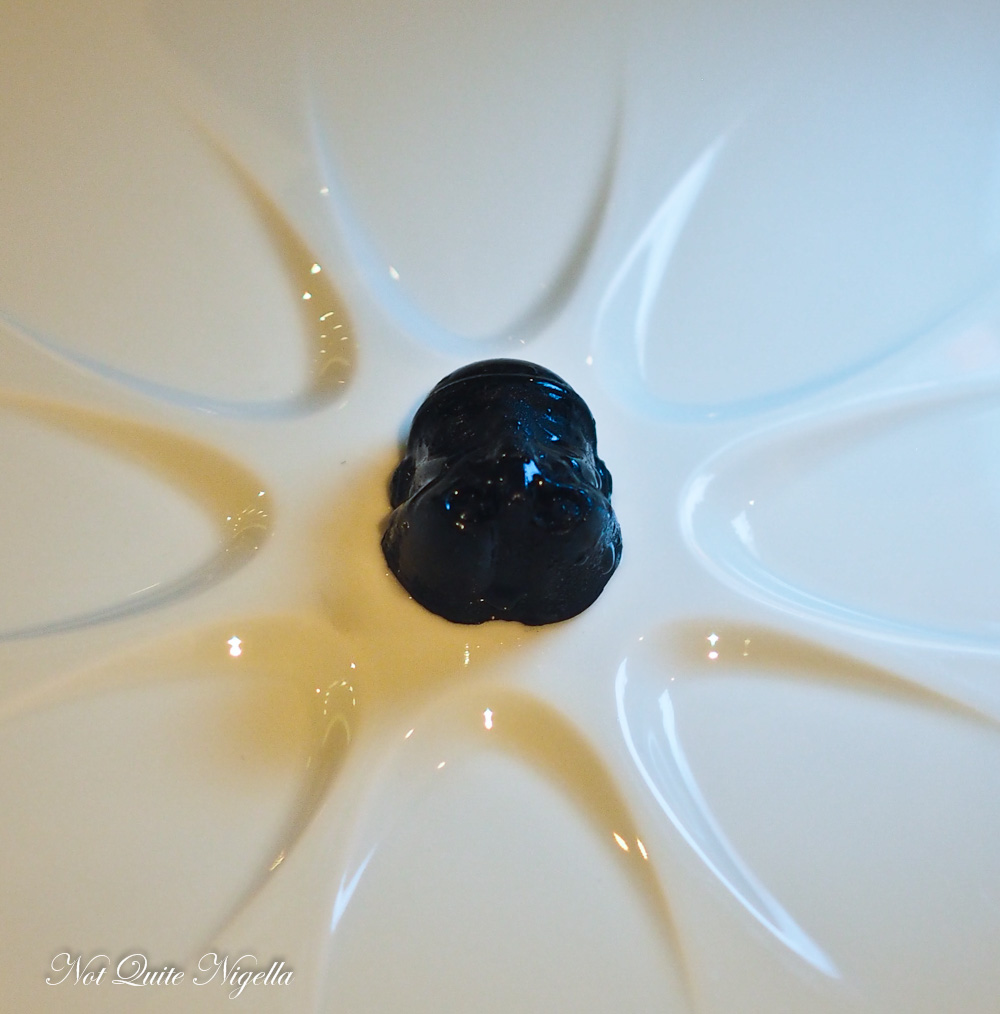 "The End"
It's almost four hours in and the final course arrives. The skull usually signifies the end of the meal. It's usually a black skull but in this case it is a Stormtrooper filled with licorice mousse. The licorice is mild in this and you crack the crunchy coating with the back of your spoon.
And the end doesn't really mean the end because of course there is coffee, tea and petit fours. There is a range of these, not all are pictured as they spread them out.
Among the petit fours are a caramel with gooseberry tea with fennel seeds; a beetroot and lingonberry crispy puree. There are also tiny round cakes with pumpkin seed oil and pumpkin seed marzipan, a chocolate with oats and seabuckthorne powder which is an unbaked cookie dough with oats. There are also green eggs filled with caramel and dark chocolate cream and rolled in pine powder and lastly a marshmallow with rose hip.
The dinner ends with a tour of the main restaurant and kitchen and a group photo with the chefs. And despite having consumed almost 20 different courses nobody feels uncomfortably stuffed. Instead the whole experience energises and excites. Like good art really.
So tell me Dear Reader, what do you think of ratings and Michelin stars? Do they influence whether you visit a restaurant? What do you think of the food and presentation of the food here?
NQN visited Copenhagen as a guest of Wonderful Copenhagen & Singapore Airlines.
Geranium
Per Henrik Lings Alle 4, 8., Copenhagen, Denmark +45 69 96 00 20
http://www.geranium.dk/
Open Wednesday to Saturday lunch and dinner