The current Sydney food scene with its love of farm fresh seasonal produce goes inner west, specifically to Ashfield and the Wests leagues club, a perhaps unlikely candidate for a hipsteriffic farm to fork meal!
Enamel plates check, Laguiole cutlery check, clipboard menu check, mason jars check, wine bottle glasses check and an expansive fitout check. At first glance you wouldn't know that you were standing in a leagues club.
The Garden at Wests Ashfield is the newest addition to the club and an enormous space seating around 300 people. The menu here is dubbed "Farm to Fork" (which is really what most food in restaurants are). But here it means chef Oliver Heath sources directly from farmers as opposed to dealing with a distributor.
There's a wood fired oven and lots of natural light with plenty of glass with floor to ceiling windows and greenery hanging. The space has plenty of nooks and areas with different types of seating to accommodate tastes and styles.
We are seated in the gazebo area which feels quite set back from the rest and a bit more private. They hand us a menu with food on three pages plus a few pages of drinks. Service is very friendly and accommodating.
Chai latte $4 and iced coffee $7
Perhaps the drinks list will change over time but it's a little pedestrian in its current state. There are no signature cocktails and the drinks are all of the bottled supermarket variety with the most exotic thing being Schweppes Agrum. It would be nice to see some house made fruit soda especially over summer and these used in cocktails as the menu is really going for a non traditional leagues club clientele. My chai is very sweet but good and milky while Mr NQN's iced coffee comes unsweetened but is also a decent number.
Fried oysters with tartare sauce $14
The food is fairly quick to come out and our four starters come out together. The panko breaded oysters comes eight to a mason jar and are served with some house made tartare sauce in the lid. They're tasty, crunchy and hot-delicious!
Blue corn bread $12
The blue corn bread certainly looks impressive and it has a hint of blue cheese and is baked in the same wood fired oven as the pizza with jalapeno butter. It's warm and crumbly the sweetness of cornbread muted by the blue cheese.
Bone marrow on toast $15
At first glance it perhaps looks like there is too much red onion on the bone marrow but the onion, parsley and lemon juice relish cuts through the unctuousness of the bone marrow nicely. It comes with four pieces of toasted bread.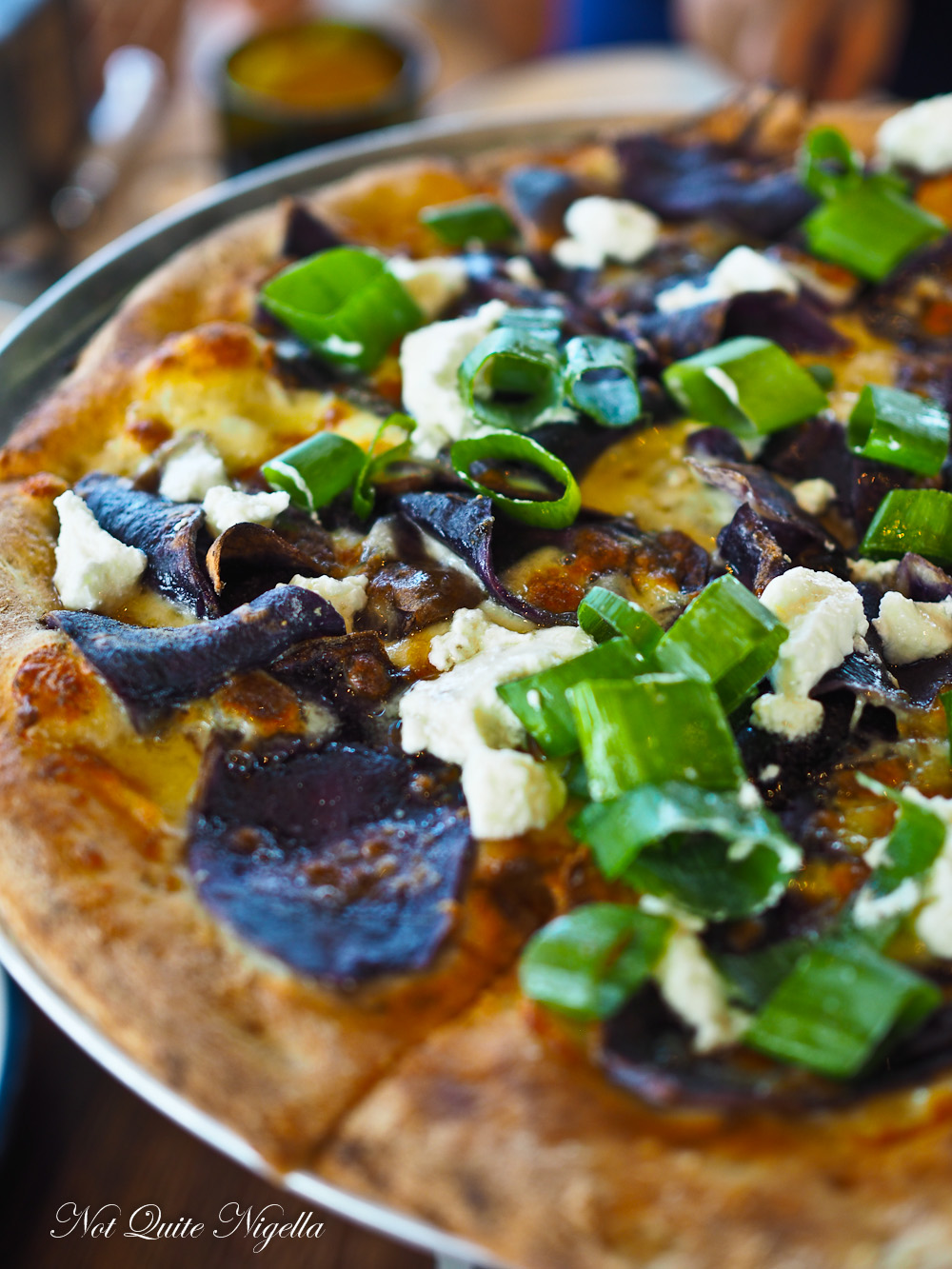 Potato, rosemary, shallot and goat's milk cheese $20
We decide to try something from the pizza menu and went for a pizza with purple potatoes, confit garlic oil, rosemary and Victorian marinated goat's cheese. It's a nice pizza and the pretty purple potatoes and dabs of goat's milk cheese go well. The shallots could perhaps be smaller in size.
The farmer's plate $24
There's a brief wait and then our main arrives. We are sharing a main and sides and this is a sizeable plate-I think you might be hard pressed to finish this plate and an entree unless you had worked the land like an actual farmer. The meat today is a pasture raised beef. There isn't a lot of information about the suppliers mentioned in the menu which would have been interesting to bring the farm to fork concept to the fore. There is normally an option to have this with chips or seasonal vegetables. We weren't offered a choice but received the seasonal roast veggies. It comes with a sweet, sticky gravy that reminds me of a rich rib gravy and the meat is very tender and fall apart soft. There are two cuts here, a softer secondary cut and the first a primary cut. The vegetables are a mixture of grilled asparagus, Dutch carrot, fresh tomato and roasted pumpkin, zucchini and eggplant.
Foraged salad $16
The forage salad probably wasn't needed along with the seasonal vegetables but it's a good salad with beetroot, pickled onions, cubes of pan fried halloumi, pearl barley, mung beans and hand picked leaves with a creamy avocado emulsion. 
Scorched cauliflower with labne $5
I really had hoped for more scorch with the cauliflower. I take my cauliflower quite dark and I find sweetens and intensifies the flavour. This is quite pale and still has a bit of bite to it.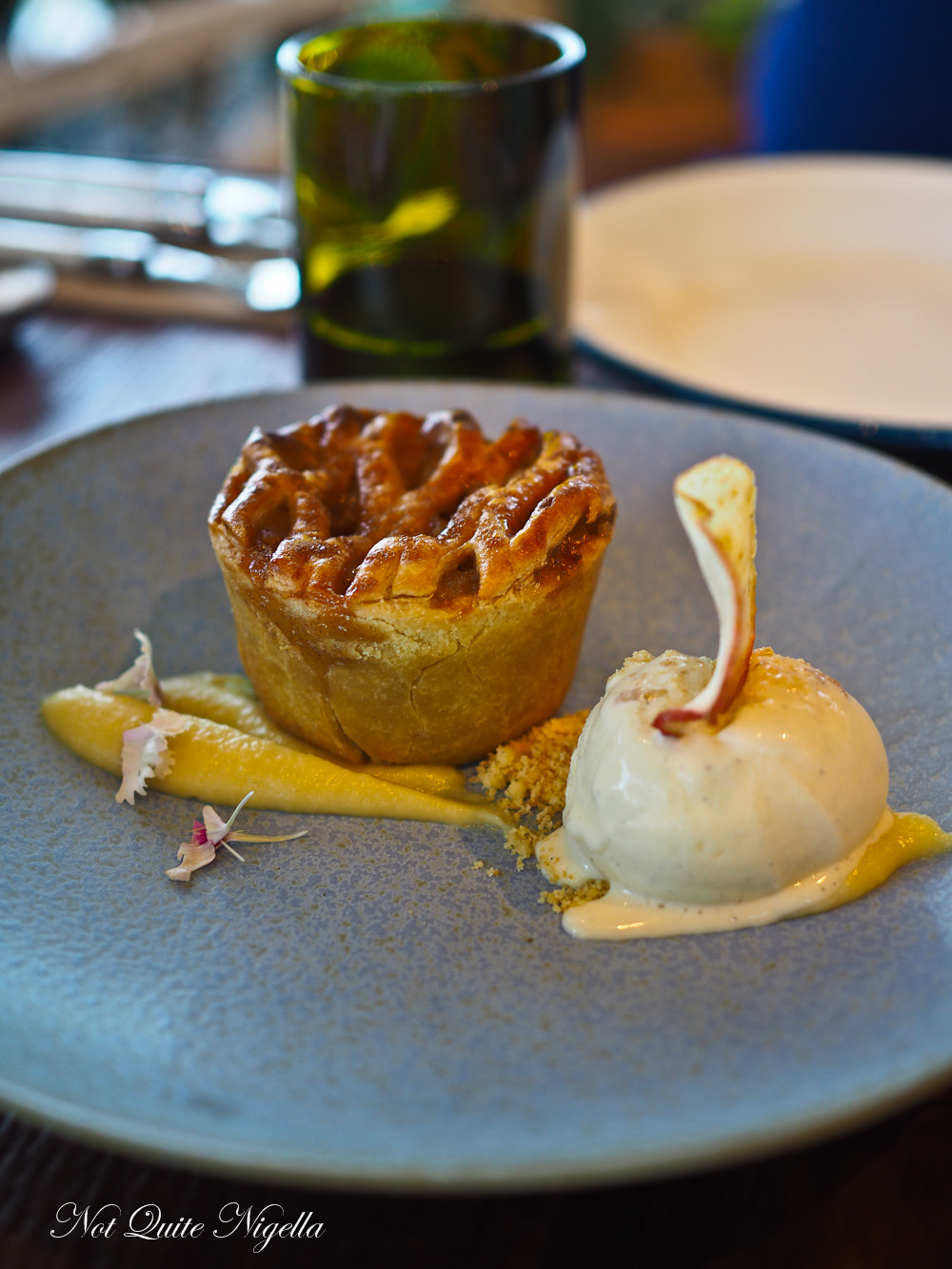 Seasonal fruit pies $10
Diners can choose between having something from the pastry and cake window or from the main menu. The pie today is apple so we go with that accompanied by a scoop of vanilla gelato. The pie pastry is soft and the filling is just the right level of sweetness that goes well with the vanilla gelato.
Apple & Praline Paris Brest $5 and Fruit Tart $5
We are excited to try the Paris Brest but it is rather dry and not as luscious as we'd like it to be, perhaps a result of sitting in a refrigerated cabinet. There is a layer of poached apples that should really make this more moist. However the fruit tart has a crisp, short pastry, creamy custard and glazed fresh fruit on top. And yes we ordered this for fruit salad enthusiast Mr NQN ;).
The bill comes and it's a nice surprise considering we are stuffed-just over $150 for four people. It also comes with another nice surprise, a thank you card that if you soak it in water until soft and then plant it, thyme will grow.
So tell me Dear Reader, are you good at growing things? And what do you think of this concept in a leagues club? Do you visit leagues clubs very often?
This meal was independently paid for.
The Garden
115 Liverpool Rd, Ashfield NSW 2131
Phone:(02) 8752 2000
www.westsashfield.com.au/the-garden/
Open Monday to Friday 11:30-2:30pm, 6-9pm(10pm Fridays)
Weekends 12-3pm, 6-9pm (10pm Saturdays)