Cruise Ships are big business and with cruise numbers increasing every year each cruise line is making a grab for customers with unique offerings. One of the most important areas on a cruise ship is the food. Most major cruise lines are aligned to a celebrity chef and Princess Cruises' chef is Australia's own Curtis Stone. So what sort of food do they serve? And today we get to hear from Curtis himself!
Curtis Stone is a very busy man and usually based in Los Angeles but on this rainy Monday lunchtime he is in Sydney's White Bay Terminal showing off the latest restaurant to a crowd of media and his most important guest, mum Lorraine Coles.
The Sun Princess ship that we are on is about to embark on a 30 day trip around Australia and it is one of the three ships to house Curtis's SHARE restaurant (and yes it's name is in all caps, almost like a demand that you share or else ;) ). Los Angeles where he calls home with his wife actor Lindsay Price and his two children Hudson and Emerson, is also the location of his restaurants Maude and Gwen. Maude (named after his paternal grandmother) is the fine dining restaurant and Gwen (named after his maternal grandmother) is more casual. And Gwen's chef Christian Dortch is on board preparing the food with Curtis today.
Curtis explains that, "Restaurants are so personal. You spend so much time in them they sort of become a little like your second home." And SHARE literally is like his second home. "When I worked with the designers they said, 'Well can I come to your house and take a bunch of photos and replicate some of that stuff?'. It's a little freaky because when I walk around to the bookshelf there there are the exact same books to what I have back home and some of the knick knacks are identical to the ones I have in my house."
Cruise ships are different prospects to land restaurants and they also like to astound people with counts of food quantities. Every seven days passengers on the Sun Princess consume 40 tonnes of food and drink. That is roughly 10,000 bottles of wine and champagne, 10,000 cans of soft drink, 2,500 litres of milk, 2,400 bottles of water, 25,000 eggs, 500kg of bacon, 1.4 tonnes of chicken, 500kg of lettuce, 1.3 tonnes of rice and 375kg of coffee.
Logistics are impressive as is storage even down to a single type of fruit. "There's a tomato room downstairs that holds tomatoes at the perfect temperature," he says before explaining that this sort of thing doesn't happen at most land restaurants.
Jamon Serrano, Sopressata with Bethmale cheese wtih honeycomb and baguette 3 for $12
These chef led restaurants attract a premium and diners at SHARE can choose from a prixe fixe menu for $39 a person or order a la carte. The first plate is a dish of jamon serrano with sopressata with thin slices of Bethmale cheese with a divine honeycomb from Tasmania. It's a great selection of meats and cheese and I particularly like the sopressata and the Bethmale with the honeycomb.
Curtis says, "We've got this beautiful big meat locker in Los Angeles in our restaurant Gwen and we use all domestic pigs and we make all of our charcuterie but what I did before we started the process was I rung around the world and bought the best stuff available and that's been our inspiration. We've only been open a little while and it takes a year and a half for all of those prosciuttos to come down off the wall so we're not ready to sell it to anyone apart from the people that come and eat there."
Prawns $7.50
The next dish is one that features Australian prawns with lemon gel, turnips, a few types of radishes and a brioche crumb. It's finished with a touch of citrus salt. I don't often order cold entrees on cruise ships as they can themselves feel a little prepared ahead of time and refrigerated in order to accommodate numbers but this has good flavours to it.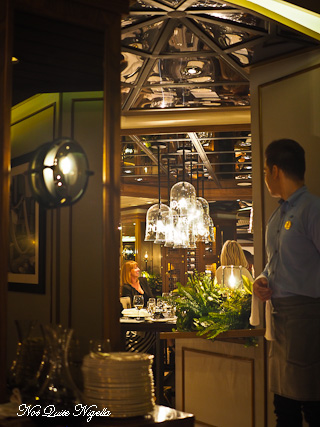 We watch as Curtis exits the kitchen holding something in his hand. It's an enormous white truffle from Umbria and he goes around shaving the truffle onto everyone's potato gratin. You may not think of truffles and cruise food together but he compares cruise ships to Las Vegas, "Cruise ships have changed so much. I always use the analogy of Las Vegas and cruise ships. Las Vegas used to be the home of a $4 buffet or all you can eat and now there's Michelin starred restaurants."
Beef Cheek Pie $12
The rainy weather couldn't have called for a more perfect meal of a beef cheek pie. They pour in some extra gravy (some bread would have been great to mop up the juice with) and the beef chunks are tender and served with sliced porcini mushrooms.
Potato Gratin $9
And then there's the potato gratin made with rich cream. Each serve feeds two technically but I think you'd be better off ordering one per person. He comes by and shaved a very generous amount of white truffle on top. Some pieces even accidentally fall into my lap with his enthusiastic and generous shaving which isn't a bad thing!
Roasted Crab Legs $15
There's also a seafood main of roasted crab legs delicately pulled out from the leg with clarified butter, tobanjan (fermented bean paste) aioli and powdered chicharron. This is a wonderful dish, full of flavour and the clarified butter dresses this perfectly.
Warm Bread Pudding $4.50
There are three items on the dessert menu and we are all hoping for the warm bread pudding. We're in luck! It is cubes of bread with currants and a jug of toffee sauce. They pour the sauce at the table and it smells wonderful. This is comfort food in the same way as the pie was and the potato gratin. Then Curtis drops by with an extra jug of toffee sauce and pretty much wins the heart of pretty much everyone at the restaurant. Moral of the story: always bring extra toffee sauce.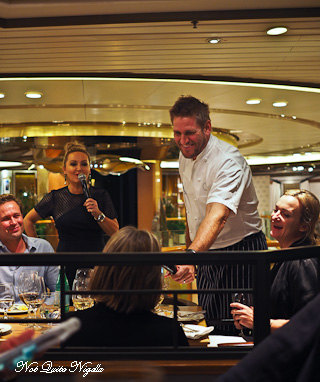 Before lunch is over he and Melissa Hoyer chat to Curtis's mum Lorraine. "I call my mum Lozza," he says. Melissa asks her what Curtis was like as a child. "He was always a very greedy child. Eating everything and then going back for more and more," she says.
He concurs, "It's true, I'm still very greedy. I love food and I love eating and I think the more you play with flavours and the more you eat the better you get at it I guess."
So tell me Dear Reader, do you enjoy cruises? Have you ever tried a celebrity chef's restaurant on a cruise and if so, which one? And do you agree that the more you eat the better you get at cooking?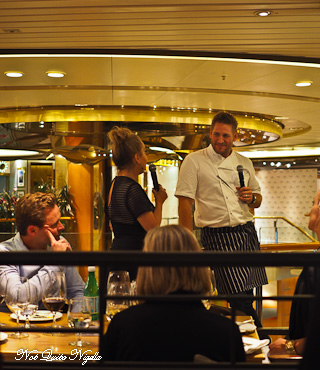 NQN dined on Sun Princess as a guest of Princess Cruises..
## Sun Princess
www.princess.com