November 15, 2016. As we enter the Teatro Regio in Parma city it seems dramatically fitting that the opera playing is reaching a crescendo. It provides a suitable backdrop for the 62nd Italian Michelin awards, dubbed the Academy Award for chefs. Will Italy retain its position as the country with the second most Michelin stars for two years in a row?
Tyre company Michelin started the red covered guide over 100 years ago. It was originally intended as a guide for motorists to make use of their tyres by taking road trips and long drives. Along the way they would find a place to stay and somewhere to eat.
Usually the ceremony for Italy's Michelin awards is either in France or Milan but this year, it is in Parma. Part of the reason was that it was recently recognised a creative city of gastronomy by UNESCO. The Emilia Romagna region in which Parma sits has the highest number of PDO and PGI products (European origin certification) in Italy.
So we sit in this ornate theatre not quite knowing what to expect. The theatre patrons are made up of Italian and International media and friends of chefs. Some people are seated in the stalls, some in the balcony and there's a giant inflatable Michelin man on the right of the stage. And everyone is eager to know, will Italy retain its spot as the country with the second most Michelin stars for the second year in a row? And looking around I want to know, where are the chefs?
Michelin's International Director Michael Ellis explains that all inspectors are full time employees that look for excellent food as well as consistency and pay for all of their meals independently.
The organisation is not without its critics though with former Michelin inspector Pascal Rémy writing a tell all "L'Inspecteur se met à table" in 2004. He paints the job of a Michelin inspector in a negative light and suggests that the inspections are not as frequent as the Michelin organisation might suggest.
And it's not all about the stars. If you flick through a guide, you'll notice that not all restaurants have stars. There are some that are listed under Bib Gourmand where diners can eat for less than €35.
Ellis also explains the star system. 3 stars denotes a restaurant so special and unique that it is worth building a trip around while 2 stars denotes an excellent restaurant that is worth a diversion. 1 Michelin star signifies great food that is worth a visit. Taste tourism is a thriving business and generates millions of dollars for restaurants and hotels. He then remind everyone that stars are not for life and each year the chef and team should confirm (i.e. re-earn) stars.
The first group to be called are the 1 Michelin star chefs and there is excitement as there are restaurants that have just received their first star. They announce each chef with a short resume in Italian and each chef comes out in their whites and shakes the hand of the host before taking a photo with Ellis.
There's a total of 294 restaurants with one star (an increase of 27 new entries) and each chef takes their turn appearing from the back of the stage. This is in contrast to other award ceremonies where the recipients don't know the outcome until the presentation. And because all awards ceremonies don't go entirely smoothly, there are two chefs that appear from backstage letting everyone know that they were accidentally not mentioned!
Then comes the next highest honour, two stars. The field narrows sharply and there is a visual showing a target placed over the restaurant's location. There are only 41 two Michelin starred restaurants and everyone shakes hands and poses including a chef who made the climb from 1 star last year to 2 stars this year. So far there are no female chefs on the stage, only male chefs.
But that will change with the 3 Michelin star category. For many this is the pinnacle for a chef's career. It can also be a burden, an albatross around a neck as some chefs feel the pressure to maintain the stars. A recent tragedy with chefs Benoit Violier earlier this year and Bernard Loiseau in 2003 demonstrate this. Violier had just suffered the loss of his father and was worried about his star status while Loiseau was "warned" about the quality of the food in his 3 Michelin starred restaurant but he was also depressed and heavily in debt. He took his life even after learning that his 3 stars were safe.
Surprisingly, the 3 Michelin starred chefs are announced with less drama. There is simply a list of the 8 chefs and restaurants flashed on the screen and no dramatic countdown.
And unlike the rest of the chefs that appeared in their whites from the back of the stage, the 3 Michelin starred chefs are seated in the front rows of the stalls wearing civilian clothing. They are a juxtaposition against the fleet of white clad chefs. These eight chefs include Heinz Beck and Massimo Bottura (although the latter was in New York at the time of the awards).
After the 30 minute presentation, we head off to a lunch upstairs. So what do they serve to eat at the Michelin awards? It's a lunch buffet spread across four rooms. The dishes showcase the best of Emilia Romagna produce including food by 1 Michelin star chef Massimo Spigaroli with a divine cotechino sausage and mashed potato.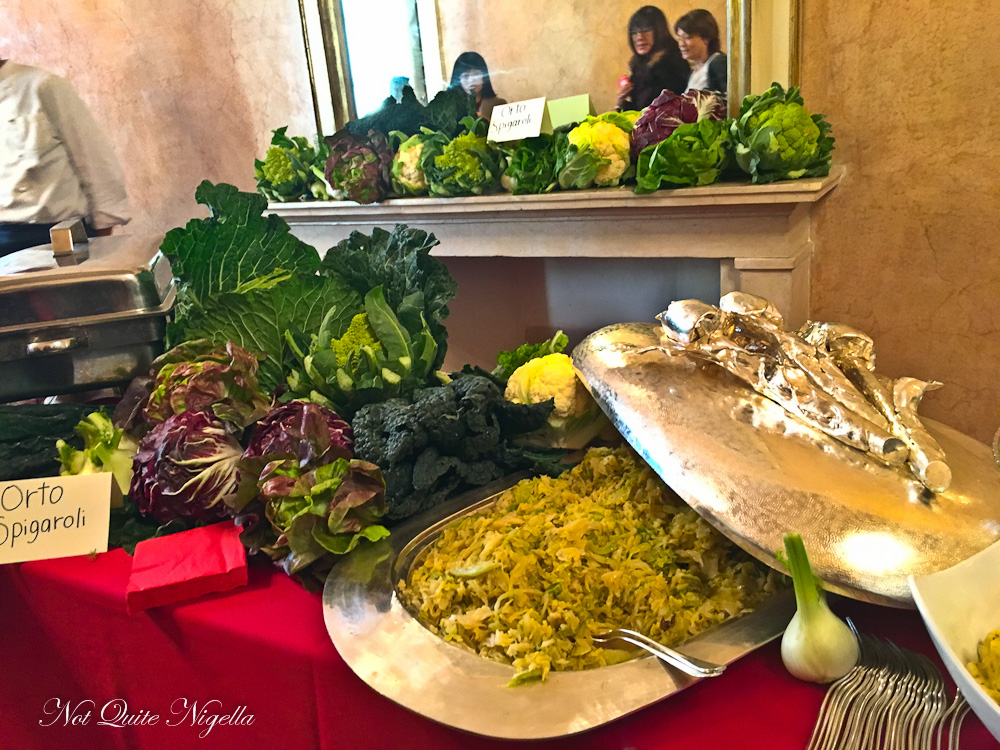 Outside, all of the chefs mill about accepting congratulations from friends and strangers. It's hard to spot the 3 Michelin star chefs, either they haven't stuck around long because they are otherwise engaged or the small numbers means they are scarce as hen's teeth.
I get the chance to chat to Annie Féolde who is one of the two 3 star female chefs (and one of the only two female chefs of the entire lineup). Her contemporary Tuscan restaurant Enoteca Pinchiorri has held 3 Michelin stars since 1993. For her the key is, "There is no secret it's only a pleasure to do this job and the research of the best quality by all means. Not only the food and the wines but also the place and the service and the welcome. It's a mixture, I call it a cocktail." Hospitality is perhaps in her blood as she comes from a family of hoteliers in the Cote d'Azur.
For her, the reason why there aren't enough women is simple. "Women are too busy to become chefs," she explains. "Because they are too busy if they want to be married and have a family then they have a possibility of doing this job is a bit less because we all know that the man counts on the woman and we all know that it's only the women who have children. Between the house and the husband and the children it is in fact very difficult to take care of a very tough job. That's why I didn't have children and I didn't have any family here...And so I had plenty of time."
And does she get nervous every year? "It's better to be nervous a little bit and you never know and we have to remember that Michelin gave us a great pleasure and we must never give them disappointment. Therefore in fact we have to be concerned with what is going to happen the year after."
How do chefs find out that they have maintained their three Michelin star status? "A few weeks ago I was called by one of the ladies from Michelin office and she asked me if I was around on the 14th of November and I said yes of course and she said because we want to do something...And I said to her in the end 'It seems that I am part of the Michelin stars?' and she said 'Yes of course'. Some people said that we should get 4 Michelin stars but I only answer to them 'This is a bit too much but thank you very much'."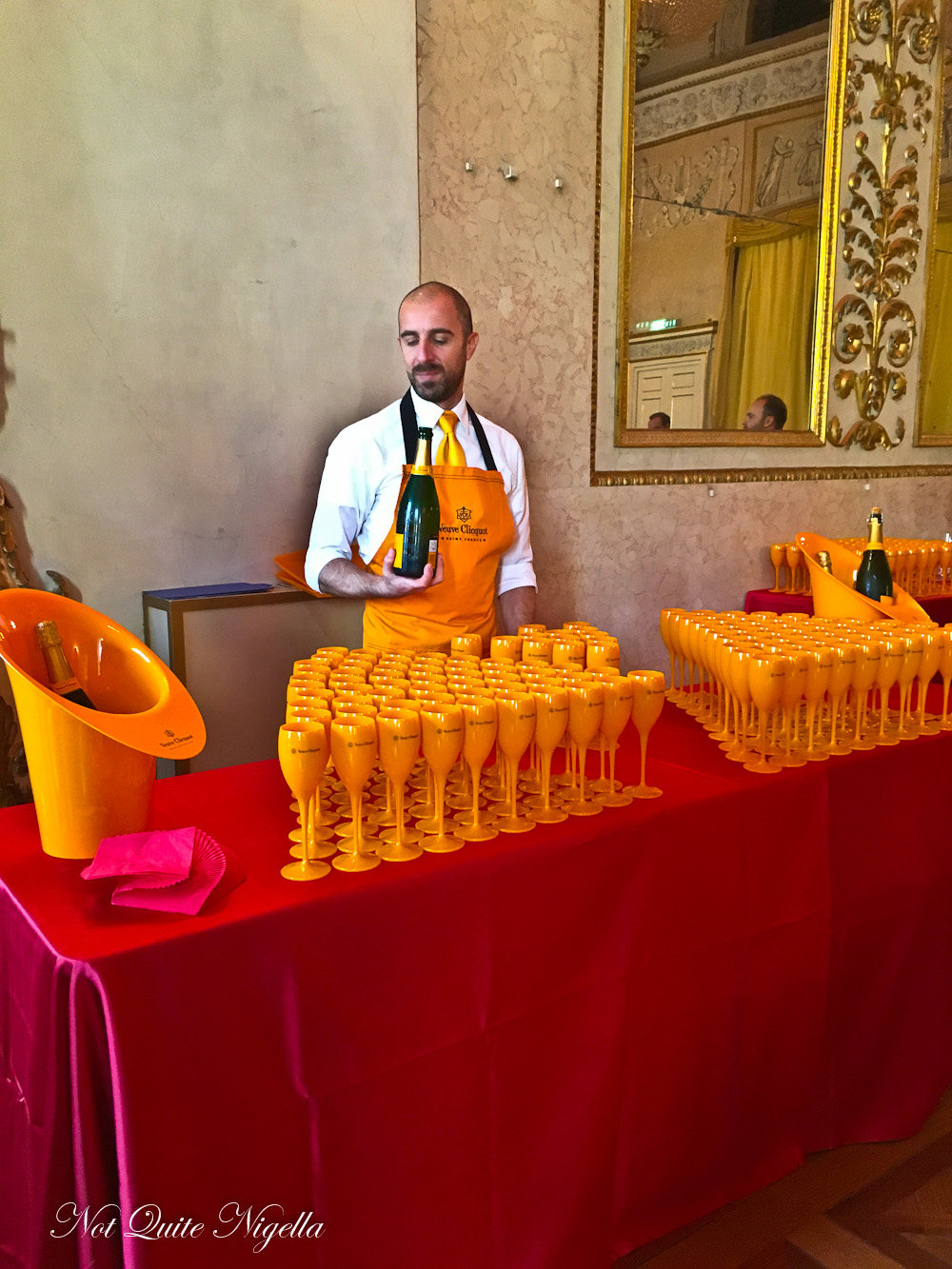 How important is the inclusion in the guide? "I think that it's very important because we are well known and Michelin speaks about this. But even if we lost the third star or everything I think we would still have nice customers always because many people know us and we can never change. In the recent past Italy was in a terrible situation because of many, many different things, not only the economy but also the government and so we thought about what to do but we just couldn't go down and forget about the quality."
Later that evening everyone gathers for another awards presentation from Michelin. The Farnese Theatre is a stunning venue, also given to drama and the frescos painted by various artists including Malosso and Lionello Spada is modelled on a gladiator theatre provide an inspiring backdrop for proceedings. 3 Michelin star chef David Munoz from Ristorante DiverXO is interviewed.
They are awarding prizes to the young chef of the year as well as a Premium Quality of Time award. Federico Gallo wins young chef of the year while brothers Valentino e Natale Mercattilii receive a time prize for their long standing and consistent 2 Michelin starred performance.
With a promise of a gala dinner we adjourn to the nearby location. So what do they feed guests? In Italy a gala dinner isn't the same as what you might have in Australia, it's a much more casual affair. It's actually more like a buffet.
There are six stations and food is eaten cocktail party style-but where you have to get the food yourself from each food station. They have three Michelin chefs catering this evening, Massimo Spigaroli of Antica Corte Pallavicina (1 star), Enrico Bartolini of Enrico Bartolini restaurant (2 star) and Niko Romito of Ristorante Reale (3 star).
The menu
Everyone is in a good mood, particularly the young chefs who mingle with the crowd. There is much congratulations and everyone seems genuinely excited to be there.
Herb tortelli with parmigiano
Black pig of Parma with truffle cream from the floodplains of the Po
The food is excellent, while it is served buffet style it doesn't ever taste it and the fast turnover ensures that everything is served at the right temperature and prepared a la minute.
Snails from Lomellina with green pepper sauce and sage
Bomb with boiled pork belly and lettuce and mustard
The favourite at the table is actually something simple and probably on the side of fast food. It's a "bombe" or a soft deep fried burger with the softest boiled pork belly with lettuce and mustard.
Piccione Undergroud (Rolls of American Potato, Parmigiano Reggiano Cheese, Strawberry, Grape and Pigeon)
While the most intriguing mix was the Piccione Underground a pigeon cigar with sweet potato, cheese, strawberry sauce and grapes and a pork crackling snow.
So many desserts!
So many delicious desserts :)
Towards the end of the night as everyone is fed and full, the chefs get plates from each others stations and its their turn to feast. And if they're feeling in the mood there's also giant magnums of Veuve Clicquot to slake their thirst. And then it's onto working towards next year's award.
So tell me Dear Reader, do restaurant awards or guides persuade you to visit a place? Have you ever used a Michelin guide?
NQN attended the awards as a guest of Michelin and the Emilia Romagna Tourism Board but all opinions remain her own.