1.1 million balls. That's the number if you were to count every single ball in one of the Sydney Festival's most popular activities called The Beach. Sydney is of course not short of a beach but this indoor beach located at The Cutaway in Barangaroo has so far attracted thousands of visitors to "swim" with their clothes on.
The installation by New York based firm Snarkitecture is a free event that runs until the 29th of January as part of Sydney Festival. And as of last weekend they have some adults only night time sessions available which we were invited to try. I had with me a trusty group of friends-Mr NQN, Nina, Garth, Gravy Beard, Louise and Viggo. "Is this the only time that I am going to say that we went for a swim together?" quips Nina and I nod emphatically.
There is a member of the Beach Patrol at the entrance although they more check tickets more than save lives. The lifeguard also details the rules-no jumping or diving because the installation is just over a metre deep at the deepest part. But that falls on deaf ears as many dive and jump in.
Walking through the all white ramp to the "beach" feels quite surreal. There are white deck chairs, countless white balls as well as inflatable popsicles and rainbows that make their way across the 60 metre installation bobbing along the balls that appear as though they are bubbles. It actually strikes me as a giant bubble bath rather than a beach.
The balls themselves are made of recyclable polyethylene. I also had to ask about cleaning for the germaphobes among us. The balls are GermBLOCK ball-pit balls that use bio-static technology that provides antimicrobial protection against 50 types of germs and bacteria. The antimicrobial agent cannot be rubbed, scrubbed, or wiped off.
Nina and I follow a ramp down to the thick of the balls and she quickly gets caught in a rip ahem I mean she sort of gets covered in layers of balls. "I can't get out!" she says and I grab her arm and play lifeguard for the first and probably only time in my life (I can't swim!). It is actually harder to get out from under the balls than one would think and I got a little claustrophobic at times but once I floated up to the top I loved it.
Louise and Viggo wade in and then sit on the side dangling their legs like at a swimming pool. Gravy Beard and Garth dive in and out while Mr NQN and Garth decide to do a synchronised swimming routine. Garth and Nina wrestle and he flips her while another couple practice Dirty Dancing lift moves. We take turns "floating" on the popsicle floatie and then the rainbow one.
Balls go everywhere and after an hour that flies by very quickly we decide to call it quits, reluctantly only because we are getting very hot and want a drink. "If only they had cooling gel inside the balls," suggests Gravy Beard.
Outside there is a kiosk selling coffee and ice blocks but a little further away is an eating area with three food trucks. There is Da Mario pizzas, Chrissy's Cuts Sausage Dogs and Sundweesh as well as a stand selling drinks.
We get a bit from each of the stands and take a seat at one of the picnic tables. There are three pita wraps from Sundweesh, a beef sausage special with tabouli and garlic toum, the "Smashed Baba" with chickpeas (smashed and whole), tabouli and a tahini mix as well as the "Smoked Egyptian" with shredded chicken, slaw, smoked mayonnaise and crispy onions. They're pretty good especially with the dollop of garlicky toum.
Hot dogs $12 each, wraps $13 and $12 each
The hot dogs are on the dry side. There is a beef and a pork hot dog and I would have loved warmer, less floury buns.
Calabrese pizza $18 and margarita pizza $15
The pizzas are excellent though. There is a Margarita pizza with mozzarella, tomato and basil and a Calabrese pizza with olives and hot nduja salami and these are fresh, hot and delicious. I have to admit though that I find the food offerings overall a bit limited and a tad disappointing. You would be better off taking the short walk to the main Barangaroo dining precinct and eating at the restaurants there where is a better range of food. But nobody was complaining as we loved our outing at "The Beach".
Our day at The Beach!
So tell me Dear Reader, have you been to The Beach and what did you think? Are you more a diving and jumping in sort of person or would you sit on the side and dangle your legs? Have you been to any Sydney Festival events and if so which one?
Tips for The Beach:
Book tickets beforehand and go during the week. It is open 9am-5pm 7 days a week but going weekdays means that you won't have to wait or be turned away. The Beach is closed Mondays.
Make sure that you empty your pockets and hold onto everything tightly because lost property isn't retrieved until January 30th after it closes.
Mr NQN
It's hot in there (all that plastic!) so drink plenty beforehand and use the facilities because once you're in you can't run out to use the bathrooms without joining the queue again.
Store your belongings in the storage bins provided- there aren't any locks so don't bring anything too valuable.
Nobody seems to wear swimmers (although Gravy Beard, a former life drawing model threatened to revisit in his mankini)
The Cutaway is located just above the Barangaroo parking station if you're driving in.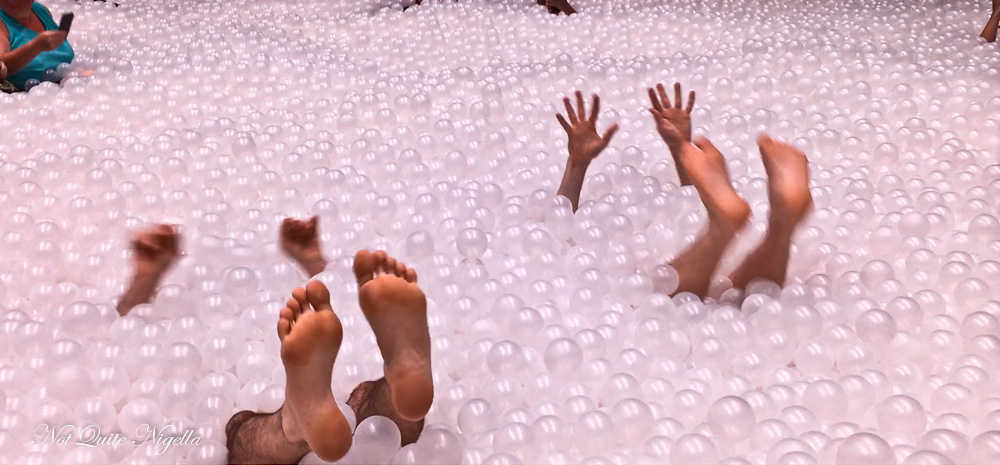 We were guests of the Sydney Festival to The Beach but all food was independently paid for.
The Beach At The Cutaway
The Beach At The Cutaway, Barangaroo goes from 7-29 January, 2017 (closed Mondays). Entry is free between 10am-5pm http://www.sydneyfestival.org.au/2017/beach. If you don't want to wait, 9-10am and 5:30-6:30pm sessions are $15 a ticket.
There are also 18+ only ticketed sessions on the following dates and times 13, 14, 20, 21, 27 & 28 January AT 6.30PM–8PM & 8.30PM–10PM Friday and Saturday. These are $15 a ticket.