It's time again for my father's birthday dinner and of course it had to be Chinese food. We settled on Lotus Barangaroo as my sister Blythe was visiting from London and wanted to see what Barangaroo looked like since her visit last year.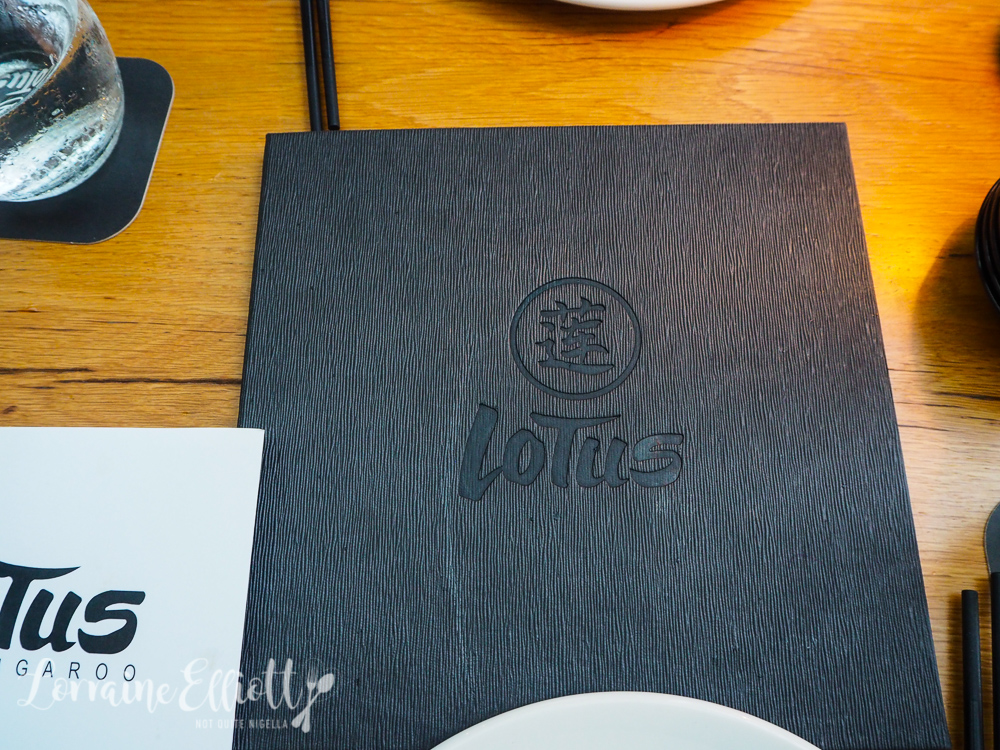 My father seemed fairly pleased with our choice except that when we sat down he was wholly convinced that it was Japanese food no matter how many times we told him that it was Chinese. He gives the menu a cursory glance before telling us to order for him. My father has three interests on a menu: steamed whole fish with ginger and shallots, rice and his newfound obsession kale. The rest of what we order could be all hamsters and cockatoos as far as he is concerned.
Usually we order crab or lobster but this time we have to bypass them. Not because we want to but because they have to be ordered 24 hours in advance. Our waiter is friendly enough - a bit swaggery with a manner that may be considered either cheeky or rude depending on your mood.
Prawn, calamari and ginger dumplings $15
First to come out are the dumplings. The prawn, calamari and ginger dumplings are folded over triangle egg pastries with a nice amount of bouncy textured seafood filling in them.
Squid ink, blue swimmer crab and scallop dumplings $24
My love of Halloween means that I gravitate towards anything black or made with squid ink and I loved the look and taste of these squid ink dumplings. Admittedly they're very expensive for what are essentially har gow with crab and scallop in them but they are delicious.
Crispy calamari with salt and native pepper $21
The next item we try is the crispy calamari with salt and native pepper. It comes with a piquant dipping sauce on the side and the calamari is tender and crispy and everyone really enjoys the seasoning mix on this.
Singapore chilli soft shell crab $21
My sister, slightly miffed that we couldn't get mud crab or lobster, settles for the soft shell chilli crab instead. And there is one problem with Singapore chilli crab: we always compare it to my mother's which is my favourite ever chilli crab. I mean it's good but as my dad succinctly puts it, "Your mothers is better". You've got to love how direct he is.
Whole fish steamed with ginger and shallots $39
Usually we order a whole barramundi but Lotus isn't like a lot of other Chinese restaurants with a fish tank from which you can choose your fish. But it's fine as I can't eat barramundi any more with my seafood allergy. No matter, the fish of the day is a red snapper, a meaty beast with plenty of ginger and shallots. It's perfectly cooked and the large backbone makes it easy to fillet at the table too.
Tea smoked plum duck with cassia bark and lychee $39
The tea smoked duck is strongly smoked and comes with a large piece of cassia bark on top, lychees and a plum syrup. The duck is on the dry side especially the drumsticks and the syrup is quite a thick one with a lot of sugar in it. It's on the sweet side and I prefer the plum duck at Billy Kwong which is more nuanced and balanced.
Slow cooked Cape Grim beef short ribs with ponzu and kale $46
My favourite main is the beef short rib with ponzu sauce and kale. The beef short rib itself melts in the mouth. The kale's presence however is a bit of a mystery to all of us. It's raw and undressed so it is quite dry and as my father notes, quite yellowed in parts which is what happens when kale gets older. "Barack Obama eats kale," says my father, proud that he is following in his footsteps.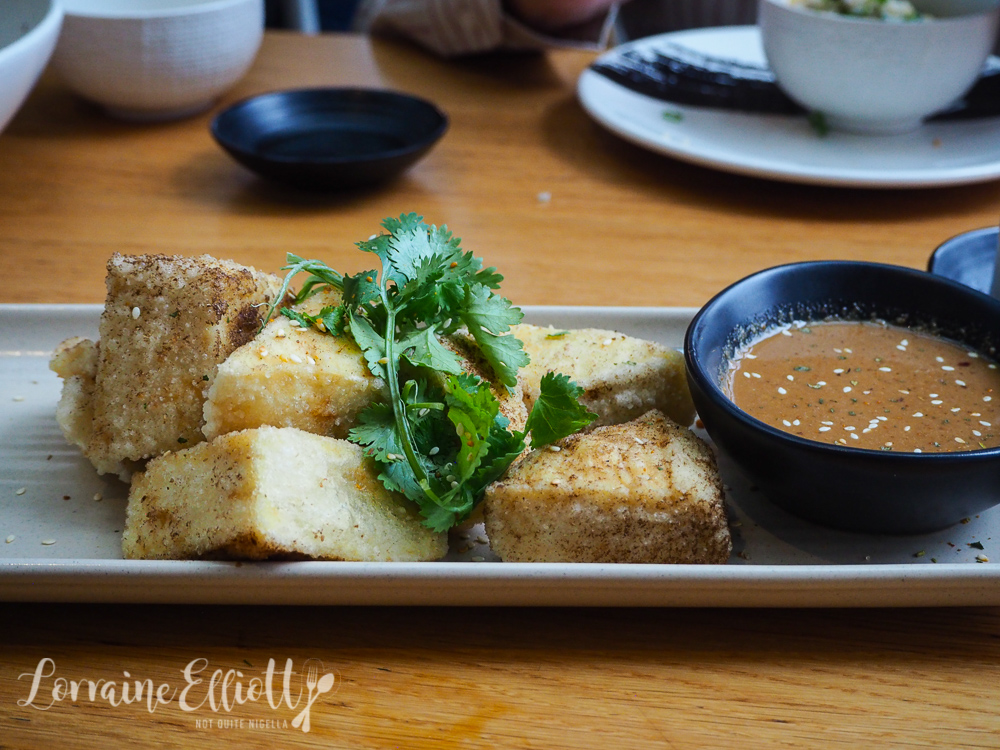 Salt and native pepper tofu with dukka and sesame $17
The salt and pepper tofu comes piping out with crispy deep fried triangular wedges and a fermented sauce on the side. I preferred this with the dumpling chilli sauce. The seasoning on this is quite good, again with the native pepper and salt. The dukkah and sesame are a little less apparent than I thought they might be.
Lotus fried rice with lap cheong, egg and mustard greens $16
We ordered a small serve of fried rice with lup cheong, egg and mustard seeds. They mention mustard greens on the menu but I can only see mustard seeds.
The Emperor's Gold $18
I have to admit that I did a double take and experienced a bit of deja vu when dessert arrived. Actually when I saw the dessert menu I immediately thought of Madame Shanghai in Hyde Park and the dessert there and that's no surprise as they share the same chef in Chris Yan and same pastry chef Tiffany Jones. This is a Valrhona chocolate mousse, gooey rum caramel, peanut butter ice cream and cocoa nib crisp. Delightful!
Ma Fleur de Lotus $17
The family favourite is the Ma Fleur de Lotus which a dome of coconut cheesecake with a centre of cranberry and hibiscus gel on a gingerbread base with gingerbread crumbs, coconut snow and coconut sorbet. This has all of my favourite flavours in one and we all fight over this.
Coconut and black sesame bar $4
That is except my father. He becomes besotted by the coconut and sesame "Asian bounty bar". It's a small square of coconut sprinkled with black sesame and a chocolate thin on top with the logo. In fact he almost refuses to share it. But I guess it's his birthday!
So tell me Dear Reader, do you have any must haves on your birthday? What is your latest food obsession? Mine is super hot chillies!
This meal was independently paid for.
Lotus Barangaroo
Wulugul Walk, Barangaroo NSW 2000
Monday to Friday 12–3pm, 5:30–10pm
Saturday 11:30am–4pm, 5:30–11pm
Sunday 11:30am–4pm, 5:30–9pm
Phone: (02) 8318 3688
www.lotusdining.com.au/restaurant/barangaroo/