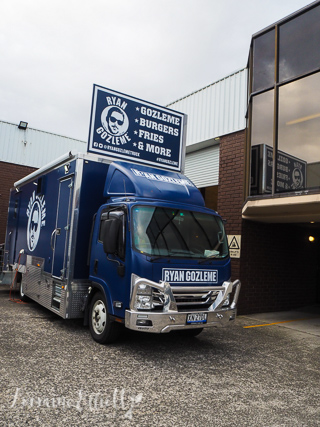 Ryan Gozleme is a food truck named after the actor Ryan Gosling whose face adorns the truck. They specialise in gozlemes and burgers and pop up at breweries across Sydney. And they've got a back story that would suit any Hollywood film!
Ryan Gozleme is run by married couple Mustafa and Selin Marsap who have run gozleme food trucks across the festival circuit for years. It was at a festival where they got the idea to name their food truck Ryan Gozleme. One evening, a tipsy festival goer came up to order some gozleme. "I'm a marketing genius and you need to call yourself Ryan Gozleme," she said. At 3am she came back and made her point again. "Just google Ryan gozleme, you'll see what I mean," she said. It didn't stop there though. She contacted them again a few weeks later asking why they hadn't registered the name after which they did. And that's only the beginning of the story.
If you ever wanted to trademark a name like Ryan Gozleme, Mustafa knows a thing or two about the IP process. He spoke to 4 IP lawyers who told him that he didn't have a chance (and only 1 got the reference to the actor). After being rejected four times by IP Australia he was fed up by the thousands of dollars lost and being rejected without explanation. "I needed to know why they were saying no," said Mustafa.
Frustrated, Mustafa drove to Canberra to confront the man at the other end of the letters. "They definitely weren't going to let me in, especially with a name like Mustafa" he laughs. But he persisted and after a long conversation with two public servants he left promising to return the following week. He was not going to give up.
What happened next seems like a plot twist of a Hollywood movie in which Ryan Gosling might star. On Mustafa's drive back to Sydney from Canberra a woman called him. She told him that she had looked them up and suggested how he might get his trademark application approved. "You didn't hear it from me," she said. When he asked her for her name she simply said, "Goodbye" and hung up. The next time he applied, it sailed through and he got his approval and they have been trading as Ryan Gozleme food truck since November 2018. He has since met that woman that helped him with the IP.
"I sent a copy of my trade mark to the four IP lawyers and said if they ever needed help I was here!" he laughs. "I never heard back," he adds.
Turkish born Mustafa came to Australia as a 7 year old in 1974 with his family from Turkey. He grew up in Homebush & Lidcombe and for the last 20 years has lived in Auburn.
"My early thoughts about being in Australia was filled with complete surprise with the amount of open space. Wide roads and footpaths with very few cars and people around. Compared to the busy roads and narrow footpaths of Ankara, Turkey."
COVID-19 has hit the business hard as he and Selin used to travel the country from Queensland to Victoria and every town in between catering the festival circuit. He tells us that they make 5% of what they used to - in three days they will earn as much as a lunch time at a festival.
Beef gozleme (spinach, cheese and beef) $14
Much of the time spent is prepping and before they arrive at a location there is 30 hours of work behind it involving sourcing spinach from farmers directly to prepping all the fillings and toppings.
Ryan gozleme (spinach, cheese, beef and mushroom)$16
Wherever they travel through Australia they buy local cheese and spinach. "The biggest contributor and backbone of our family and business is the most gorgeous chick ever, my wife Selin," says Mustafa proudly.
Turkish sausage gozleme (spinach, cheese and sucuk)$15
But let's get down to the gozleme. There are half a dozen gozlemes and the best sellers are the Ryan Gozleme with beef, cheese and spinach and the Sausage Gozleme with sucuk. They're all very good gozlemes artfully thin and crisp dough encasing a generous amount of filling.
Mushroom gozleme (spinach, cheese and mushroom) $14
Everyone's favourite is the sausage with spinach, cheese and slices of sujuk. The mushroom one with cheese and spinach could do with a bit more seasoning.
Chicken Gozleme $15
The chicken gozleme is also delicious and comes with a garlic sauce and a wedge of lemon. There's tender chicken, spinach and cheese inside the paper thin dough.
Beef Loaded fries $15
I love the idea of loaded fries but practically speaking they can be difficult to eat especially when they involve shoestring fries and mince balancing on top. This is a smarter proposition with regular straight cut fries and a melted cheesy sauce with beef mince so that it clings to each chip (it's physics!). On top there are three sauces and slices of pickle. Monica and I practically devour this before the men clear their throats and reach over for some.
Vegetarian Loaded Fries $15
I went back with Sammie and David when they popped up at Wayward Brewing in Camperdown and by then they had added burgers and another loaded fries option. As much as I loved the beef loaded fries above I think the vegetarian fries are even better. With a perfectly seasoned mushroom and tasty cheese topping, fresh tomato, shallots and sour cream it's part vegetarian nachos and part loaded fries.
Nice Guys Burger $15
Out of the burger menu we try the classic beef burger. The "Nice Guys" has a beef patty, American cheese, lettuce, tomato and Ryan's burger sauce on a soft milk bun. Everyone is a big fan of this one.
"Hey Girl" Burger $15
We also try the Hey Girl burger with grilled marinated chicken, American cheese, lettuce, tomato and a chive mayonnaise. The chicken is very tender and although I usually love fried chicken burgers there's much to like about this version too.
Baklava $3 each
Dessert is baklava. It's all syrupy, nutty goodness with a drenching of syrup and a pistachio topping.
For now they will do their circuit of craft breweries across Sydney. And yes the woman that gave them the idea for the name is still in contact with them!
So tell me Dear Reader, would you order gozleme or a burger? And is this a Hollywood tale or what?
Ryan Gozleme
For locations see: https://www.instagram.com/ryangozlemetruck/?hl=en
https://gourmetgozleme.com.au/ryan-gozleme/