Sailors Thai in The Rocks is gone and in its place is Wild Ginger. With different owners but the same chefs, the menu features upmarket Thai dishes using ingredients like lobster and Tasmanian beef. All with a distant look out onto Sydney Harbour.
It's my sister Blythe's last day in Sydney before she leaves for her home in London and she had specific food requests: South East Asian food and lamb. Wild Ginger in The Rocks it is, the harbour view being just a bonus.
Located in the Sailors' Home building the owner may have changed (they also own Waterfront Grill and Mediterranea) but we are told that the chefs are carried over from Sailor's Thai. There are two dining sections: a bar and snack area and a modern dining area with the full menu.
The food is a mix of Thai classic but with more luxurious ingredients-the red curry for example has lobster. And despite the partial water view (which is currently blocked by a cruise liner) the prices are higher but still reasonable.
My favourite little face
As we have Mochi there was a bit of preliminary toing and froing on the phone about where we could sit. It was decided that we could sit on the ground floor outdoor area. She's happy in the corner at our feet.
Thai Steamed Dumplings Chor Muang (4 pcs) $24
We start with tasty little chicken mince dumplings shaped in a flower and coated in a sticky rice flour/tapioca coating. The coating is white and blue, the blue from the butterfly pea flower. The filling is minced chicken and vegetables like shiitake mushrooms and served in a soft lettuce leaf.
Deep Fried Barramundi Yum Pla Kapong $32
As Blythe is on holidays from her home in London she is determined to eat up all the Australian food that she misses and can't get in the U.K. Barramundi is one of them and this salad has deep fried barramundi fillets, green papaya, shallots, plenty of cashew nuts (always the way to my family's heart) and a spicy sauce. While the barramundi isn't crispy because of the liquid sauce it's a very tasty dish all brought together by a well balanced sauce.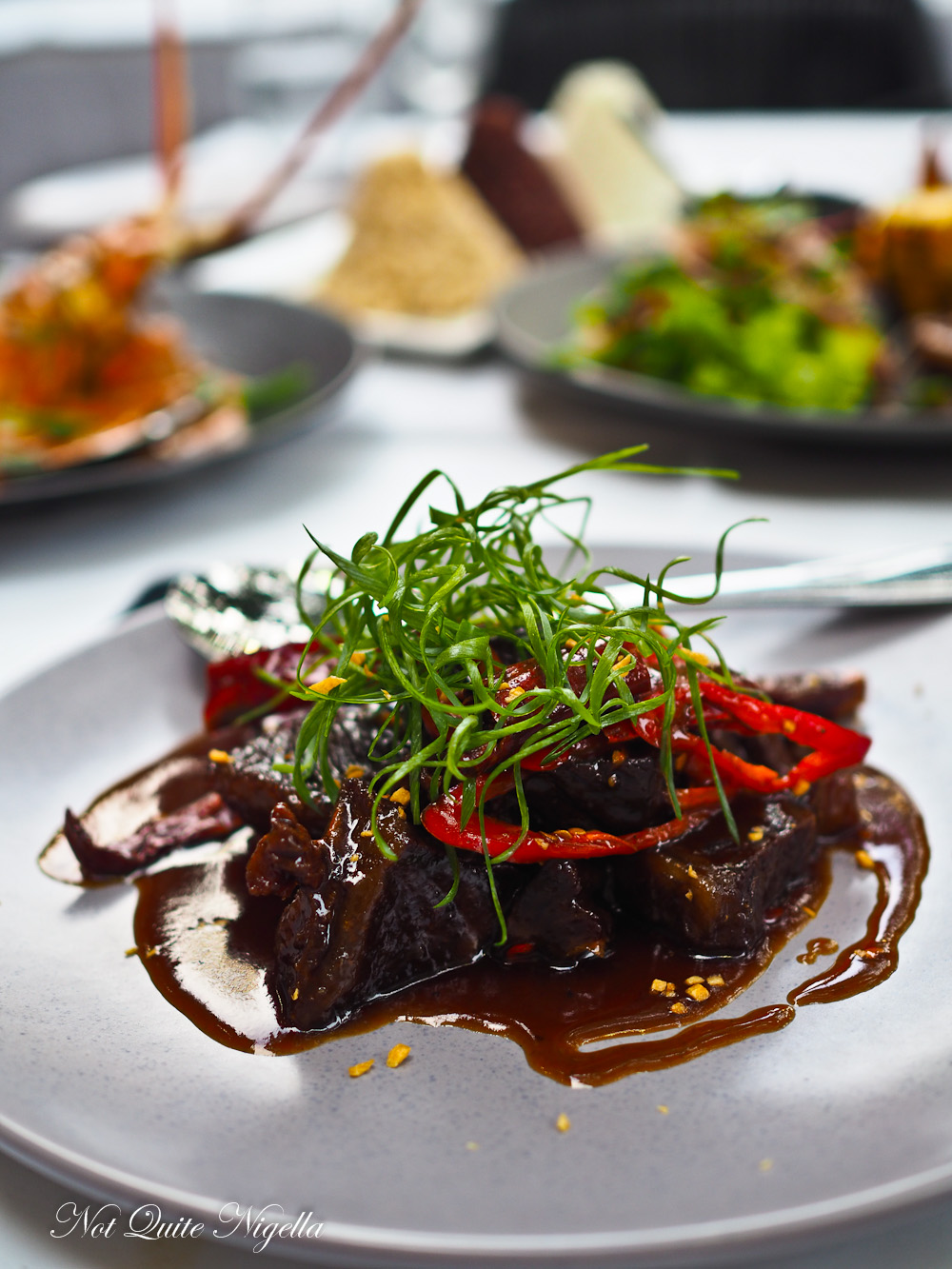 Crispy Salted Tasmanian Beef Ribs Sik Krong Neux $35
The Tasmanian beef is luscious with a finger licking sweet and sticky and tangy red wine sauce. There's plenty of dried chilli but even so it isn't particularly spicy and it's both my mother and my father's favourite course (just don't tell them it has red wine in it! ;)).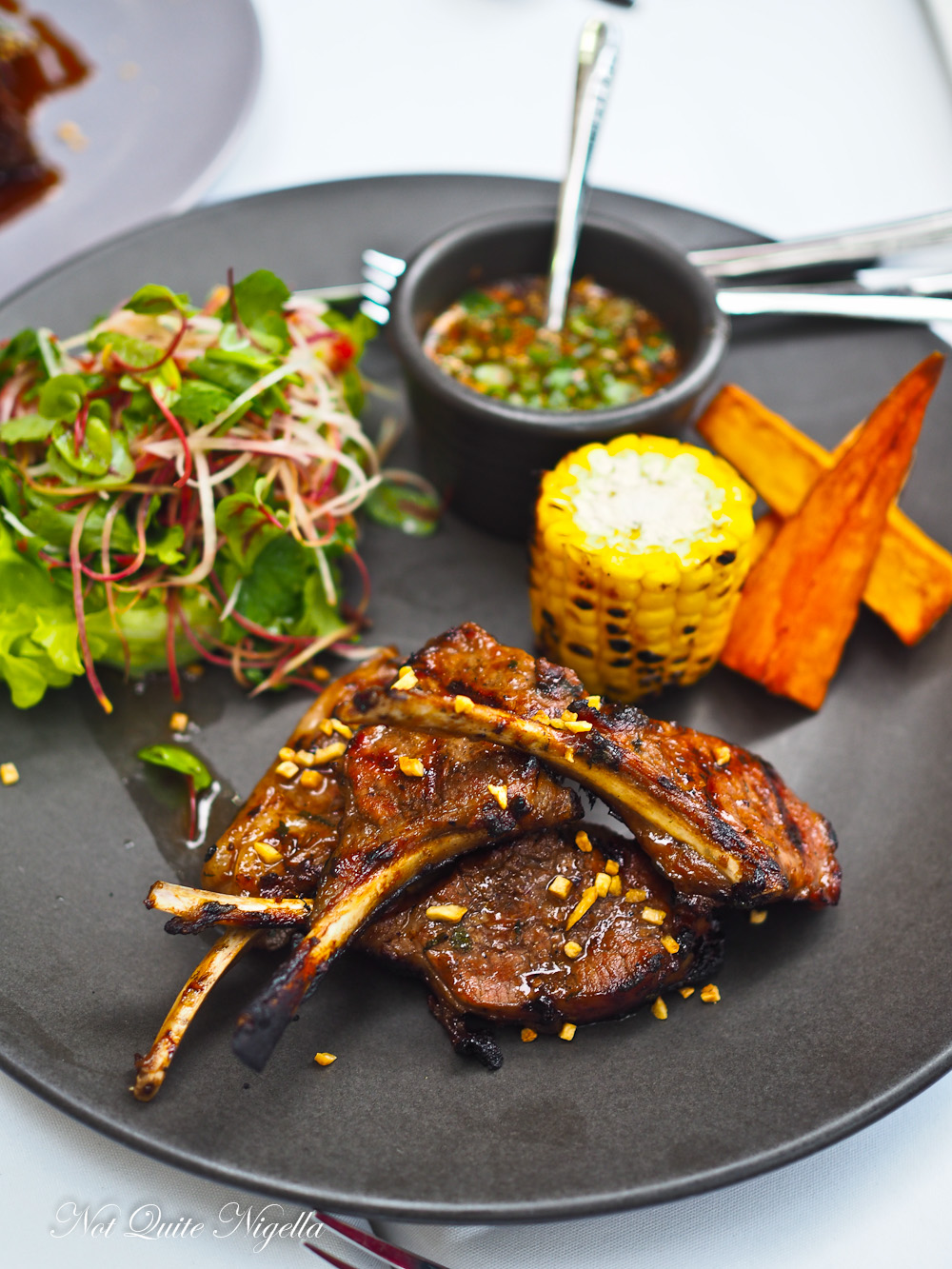 Lamb Cutlet Neux Kae $35
I wish I loved this dish-I usually love cutlets and they're always so tender and juicy. These are a bit dry and I'm puzzled by this because cutlets are never dry. These come with a corn cob, a Thai salad made up of greens, mint and onions and a tamarind sauce.
Red Curry Lobster Choo Chee $39
However this is as impressive as it is gorgeous. It's a choo chee lobster red curry with three tail portions of lobster. It's not huge and this is more a crayfsh size than one of those enormous lobsters but the red curry coconut cream sauce with kaffir lime leaves is worth slurping or chasing around the bowl with a triangle of roti bread.
Trio of rice $10
I had seen this done in a few Thai restaurants in Thailand and it's a nice to be able to try three different types of rice: jasmine, brown rice and red rice. My father, a rice enthusiast refuses to try the red rice until we cajole him but the rest of us love the nutty quality of the red rice.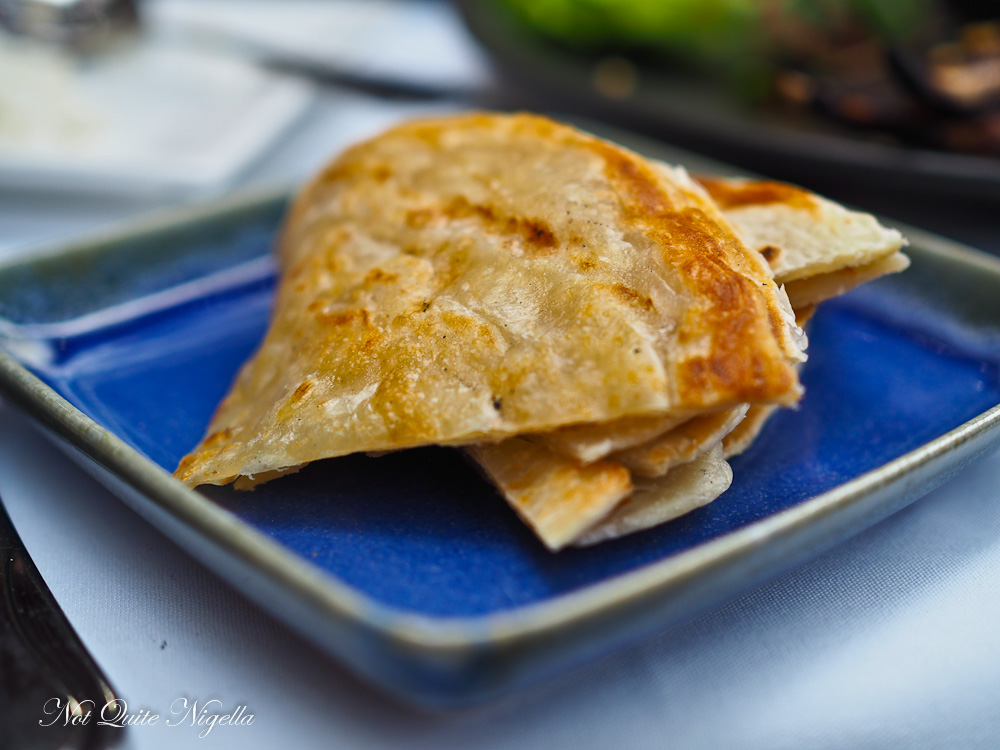 Roti $3 each
Roti is ordered for the curry and it soaks up the creamy coconut choo chee sauce perfectly.
Black Sticky Rice With Thai Tea Ice Cream $14
The sticky rice is paired with chips and a Thai ilk tea ice cream. It's not bad, the rice has a good texture to it but the milk tea ice cream is tannic and not as sweet as we've had. Admittedly I do like my Thai milk tea on the sweet side though.
Tapioca Pudding with taro ice cream $14
We are all in love with the tapioca dessert, simply topped with a wonderful taro ice cream with little corn kernels. The desserts have that wonderful element of saltiness to them that is a signature of a lot of Thai desserts.
Mr NQN picks up the mint that has been put aside and says, "Might as well have this too" and pops it in his mouth. The rest of my family look at him with a stunned look while I can't help but giggle in the corner.
So tell me Dear Reader, what food do you miss from your home when you go away? And do you snack on the garnishes? Do you have a favourite rice type?
Wild Ginger
106 George St, The Rocks NSW 2000
Phone: (02) 8283 8275
www.wildgingerdiningbar.com.au/drink/
Open 7 days 12pm-11pm (closes 10pm Sunday to Wednesday)