Looking for something cheap, cheerful and that hits the spot? How about something that is also open late at night (well for Sydney, anyway). Haymarket's Do Dee Paidang specialises in Thai food, particularly tom yum soups with levels of spiciness ranging from nursery to Super Nova!
"Arrrgh!" I said to Mr NQN when we arrived at the pizza shop to find it closed. Never mind that they didn't have a phone, never mind that their Instagram that showed their opening hours said that they would be open. It was a Sunday and we were hungry and needed to go market shopping and it needed to be dog friendly too because we had Mochi with us.
"What about Do Dee Paidang?" I suggested as we drove back towards the city. The Thai eatery is a very popular one with usually a bit of a queue to get in. Luckily (or not luckily) it is blowing a gale and it's sunny so nobody wants to sit outside at the outdoor tables so we nab one of them and sit down with Mochi.
Do Dee Paidang is known for their spicy tom yum noodle soups in varying degrees of heat. In fact there is a whole separate menu for them as well as a regular menu for the rest. They're also known for their level of spice which starts at 1 for Monster level of spiciness and goes up to 7 for Super Nova. There's also a version dubbed "Nursery" that has no chilli. I don't mess about with Thais and their chilli levels - when they mean hot they mean it and I'm nowhere near level 7. I go inside to order and pay and the food comes out quickly.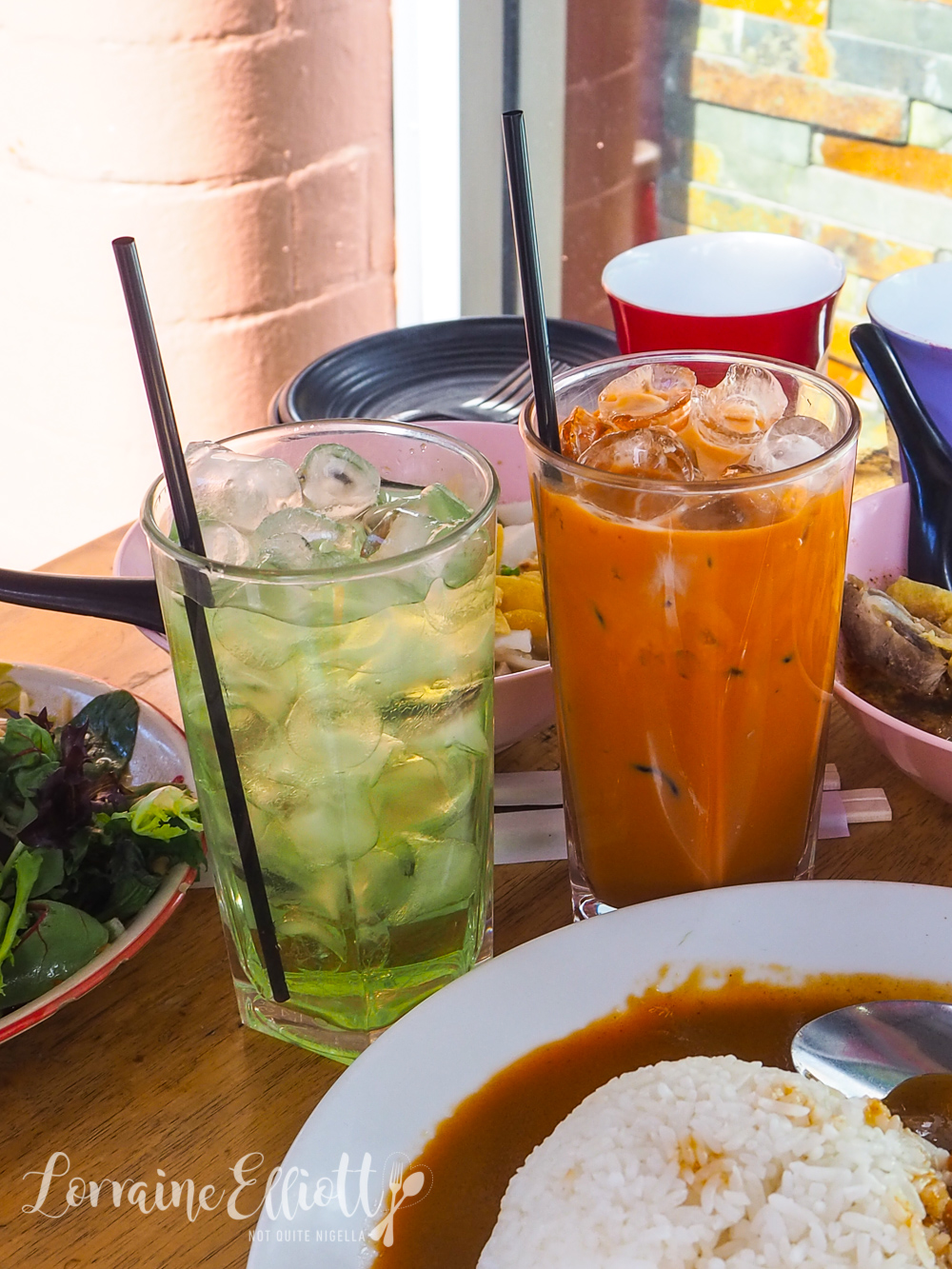 Bai toey $4.50 Cha Yen $4.50
We order two drinks, a Thai iced milk tea which takes us straight back to Thailand with its intensely sweet, tannic tea. But my favourite is the Bai Toey or the house made pandan juice, also very sweet but strong in fragrant pandan.
Moo Ping $6
Then comes the food. I love the Moo Ping aka pork skewers with a glazed, caramelised exterior and juicy pork. In fact I could have eaten a few of these.
Keow tod $6
The keow tod are deep fried wonton wrapped quail eggs on skewers. They're interesting and crispy although I think out of the two skewers the moo ping had be coming back for more.
Do Dee Variety Small $7.50 (top)
Then we come to the noodle soups. The Do Dee Variety is named because it has a combination of meats. They actually don't seem that different from the one below with soft, sliced meat balls, fish balls and pork bones. This one is much milder though with not much chilli in the tom yum soup at all. And you cannot beat those prices.
Do Dee Lava Level 3 Small $6.90
While Mr NQN enjoyed the do dee variety I really enjoyed the Do Dee Lava also with a spicy tom yum soup, won ton crisps and meat balls and pork bones. I could have perhaps gone up one spice level to super Volcano at level 5 but I know that there is no way I could go to level 7 or the Super Nova.
Massaman Beef with rice $9.90
The massaman beef is soft, sweet and nutty and comes with a bowl of rice. The beef is so soft and there are softly cooked down golden shallots and sweet potato too to add to the sweetness.
Som Tum Tum Thai $13.90
There are over half a dozen varieties of som tum and the tum Thai one is the most popular. It's clean, refreshing and balanced well for sweet and tangy. And yes we ordered a lot but we were hungry and we took some home for dinner.
Kao Krieb $7
Unfortunately they had run out of their most popular dessert, the fried bread with the pandan custard. But the kao krieb are one of my favourite street foods in Thailand. These aren't my favourite version of these I have to admit. I like the savoury element to them and these are mainly sweet.
So tell me Dear Reader, what level of chilli would you choose? Have you ever tried kao krieb? Do you like som tum salad?
This meal was indepedently paid for.
Do Dee Paidang
9/37 Ultimo Rd, Haymarket NSW 2000
Open 7 days 11am–1am
Phone: (02) 8065 3827
dodeepaideng.com.au/