Looking for Thai food that's a bit different from the usual offerings? Caysorn Thai on the second floor of the Prince centre on Quay Street Haymarket offers up a Southern Thai menu as well as the regular favourites at unbelievably good prices. You just need to know where to look for it (hint: look up!).
I was looking for somewhere to go for my mother's birthday dinner. I put in "Fancy Asian restaurant" into google and Caysorn Thai came up and that's how I stumbled upon this little gem of a restaurant. It first opened 8 years ago.
It's a busy little area of Chinatown. Mr NQN points up at the second floor to where we are headed. It's less crowded than the ground floor action but on this Wednesday night there's actually quite a few people and most patrons are Thai.
Service is very friendly and as always we over order way too much food but my mother loves getting extra to take away so that she doesn't have to cook the next day. The menu specialises in Southern Thai food which I love. There are actually 7 types of kanom jeen noodles (a delicious street noodle eaten for breakfast-take a peek here to see how the kanom jeen noodles are made). I also thought that my parents would like it as there is a lot of Chinese influence in Southern Thai food. There is also a "contemporary menu" that has more common dishes like green curry, crying tiger salad etc.
Thai milk tea $5, Iced Butterfly pea flower $4.90
We start with drinks. It's a Thai milk tea for Mr NQN which is sweet, milky and aromatic and a butterfly pea flower drink for my mother that is sweet but tangy from the lime too.
Kanom Jeen Nam Ya Crab Meat $12.90
I asked which kanom jeen they recommended of the seven and it was the crab meat one which is very reasonably priced at $12.90. It's a tasty blended crab meat curry that is creamy with coconut milk and lightly spicy.
You also help yourself to the crudites at the self service bar. There is shredded carrot, Thai basil, green beans, cucumber and pickles to accompany the creamy noodle curry.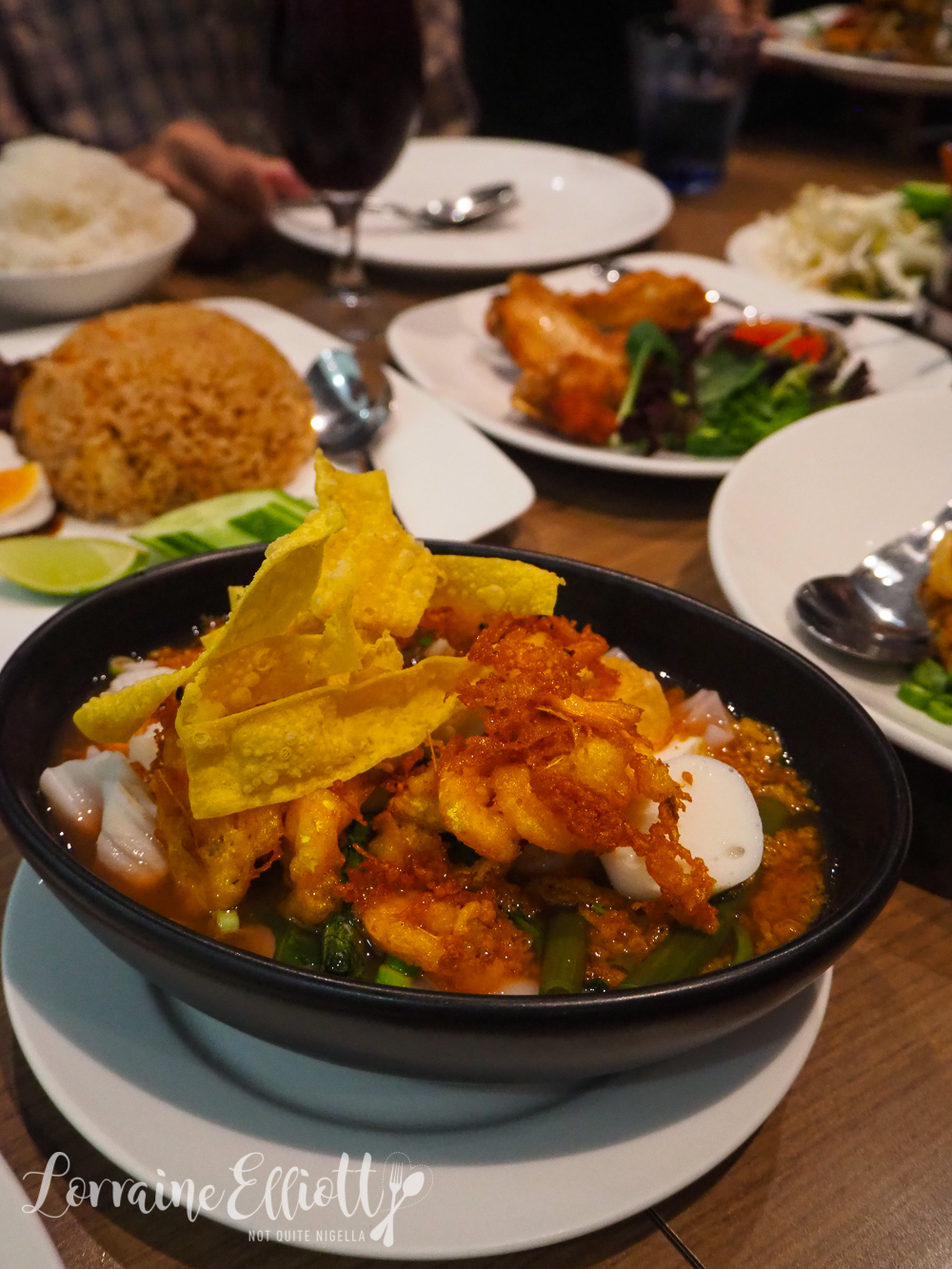 Seafood Yen Ta Four $13.90
This is my mother's favourite dish. I have never seen this on a menu so usually that's my cue to order it. It's fat, flat rice noodles in a pink bean curd broth with mixed seafood, crispy coconut school prawns, fish balls, water spinach and crispy wonton. This has a lovely tangy vinegary flavour to it so that it is quite light and not as rich as other dishes. The light pink colouring is from the red Chinese bean curd liquid as well as chilli sauce.
Boat Noodle Soup $10.50
I wasn't sure how large this would be and you can order this as a small or large serve. The prices are really quite amazing given the flavour and size of the dishes but I guess being on an upper level they must get less foot traffic. These are thin vermicelli rice noodles with slices of pork, vegetables and pork balls. It reminds me of a Chinese soup that my mother makes and is deeply flavoured, slightly sweet and rich.
Kao Klook Kapi $13.50, Sticky rice $3.90
Chalk this up to another dish I hadn't tried before. This is a shrimp paste fried rice with caramelised pork belly, shredded green mango, red onion, chilli, shredded egg omelette and fried shrimp. My father loves this dish and although it sounds perhaps less exciting than others, this is one of my favourites. If I see sticky rice on the menu I always order it because I don't tend to make it at home. It's one of my favourite types of rice and I love this with the caramelised pork belly.
Fried rice with spicy chilli paste, prawns caramelised pork belly and salted duck egg $13.90
This dish is quite similar to the one above (mea culpa) but my father loves both rice dishes so it was fine. This is a spicier version with large king prawns embedded in the mound of fried rice. Instead of egg omelette and chilli on the side there is half a salted duck egg and plenty of delicious caramelised pork belly.
Meang Goong $17.90
Hands down Mr NQN's favourite dish is the meang goong, the DIY betel leaf dish where you spoon some of the crispy school prawns with coconut and lemongrass, ginger and shallot. It has quite a sweet sauce to it which is perhaps a bit too sweet for me but if you love sweet flavours and crunchy textures this is for you.
Mee Kati $13.90
My mother loves noodles so the mee kati is ordered for her. It's a stir fried thin rice vermicelli with a Southern style chilli paste (made in house) with minced prawns, green beans cucumber and bean sprouts. It's a tasty, slightly sweet tangle of noodles although I didn't really get much prawn.
Fried chicken wings 4 for $5
These were mainly ordered because my mother loves deep fried food and we had mostly soups and rices and it's nice to have something a bit crunchy. They're nice and flavoursome with a Thai sweet chilli dipping sauce.
Lemongrass salad with crispy fish $16.90
I did ask the waitress if there was a dish that they were known for and she pointed us towards the lemongrass salad with crispy fish pieces. It's a large serve with plenty of shredded green mango, lemongrass, cashew nuts and a sweet salty sauce to it.
Ice Cream with sticky rice $6.90
There are quite a few desserts on offer and I leave my mother to choose. We all like sticky rice desserts so we try the vanilla bean ice cream with sticky rice, toddy palm seed, cubes of white bread and roasted peanuts topped with evaporated milk. It's quite nice although a part of me wishes that it was coconut ice cream. I know that bread and ice cream is a popular snack in Thailand but I don't really go for the bread cubes.
They also bring us a plate of grapes which is a bit random. I've never really been given complimentary fruit in a Thai restaurant before (Chinese yes).
Banana leaf glutinous rice with vanilla bean ice cream $7.90
I love the banana leaf wrapped glutinous rice with small, soft banana nestled inside and steamed until soft. I usually just like this with some coconut milk but this version comes with a massive scoop of vanilla bean ice cream.
And although this is a lot of food, my mother ended up not having to cook for 2 days afterwards!
So tell me Dear Reader, have you tried much Southern Thai cuisine? Do they ever drag an extra table next to yours because you order so much?
This meal was independently paid for.
Caysorn Thai
106/8 Quay Street, Prince Centre Building Level 1, Haymarket NSW 2000
Open 7 days 11am–10pm
Phone: (02) 9211 5749
caysorn.com.au