Are you one of those people that like to use up ingredients until the end? I am and often I find I have 1/2 cup of sour cream left that I don't want to throw away. So if you're in the same boat can I introduce you to Nazook, a gorgeous buttery Armenian spiced pastry cookie. If you love buttery streusel then you'll love Nazook.
I describe Nazook as a pastry cookie because it is a bit of both. To make nazook, a buttery sour cream pastry is rolled out and then filled with a sweet spiced streusel mixture. The whole thing is rolled up and then sliced into pieces and then baked. It's the perfect snack for a cup of tea or coffee. It is also easy to make and freezes well if you want to make this ahead of time for company. You can warm these up in the oven before serving them.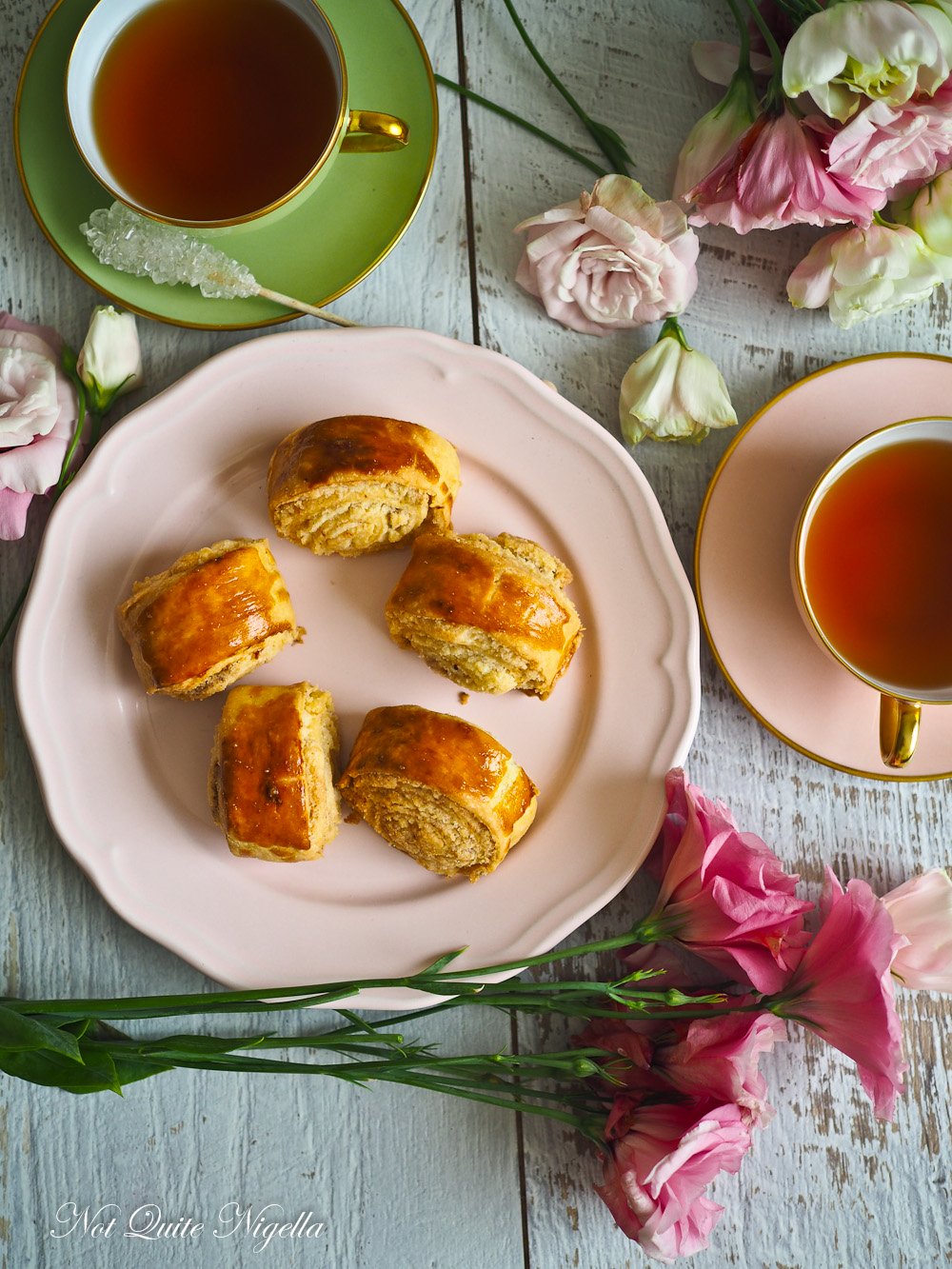 Armenian cuisine isn't one that is very common here although Persian cuisine is similar. I've only tried to make one other Armenian recipe and that is the Armenian Nutmeg cake which is one of my favourite ever cakes. It's like a cookie cake and it is so wonderfully moreish that it disappears every time that I make it.
These cookies will go to the Asylum Seekers Resource Centre lunch today to serve the refugee clients. We serve savoury and sweet items and sweets are always popular. With the turmoil surrounding refugees, immigration and their place in society and the maelstrom of ugliness and anger about politics particularly overseas (What the? I still felt like it was an elaborate prank until November 2016!!) I feel a bit helpless but also angry. Like we haven't learnt anything from history.
So tell me Dear Reader, how do you feel about the current situation? Helpless? Angry? Pleased?
DID YOU MAKE THIS RECIPE? Share your creations by tagging @notquitenigella on Instagram with the hashtag #notquitenigella
Nazook
Makes abou6 16 pastries
Adapted from a Daring Bakers recipe by Jason at DailyCandor.com
1.5 cups plain flour plus more for rolling
1 1/4 teaspoon yeast
1/2 cup sour cream
113g/1 stick butter, softened
Filling
3/4 cup caster or superfine sugar
1/2 cup plain flour
1/2 cup ground toasted walnuts
85g/3ozs. butter
1 teaspoon vanilla extract
1/4 teaspoon cinnamon
1/4 teaspoon nutmeg
Step 1 - Make the dough by kneading the flour, yeast, sour cream and butter together until elastic. Roll into a ball and place in a bowl covered in the fridge for 4-5 hours or overnight. Remove from the fridge 1 hour before you want to make it.
Step 2 - Mix all of the filling ingredients together in a bowl and have it ready. Preheat oven to 180C/350F and line a baking tray with parchment. Generously flour a large clean surface and roll out the dough making sure to reflour underneath it and move it around to prevent it from sticking. Mine rolled out to 50x37cms-you just want a large rectangle.
Step 3 - Sprinkle the filling on top evenly and then roll up along the longest end. Cut into pieces and carefully slide them onto the parchment. Brush with egg yolk and bake for 35 minutes.