A cake made out of buttery brioche, sliced in half and filled with orange blossom and vanilla creme patisserie, whipped cream and dotted with pearl sugar? It would be none other than the Tarte Tropézienne!
As the name suggests this cake has its roots in Saint-Tropez. Its inventor was Polish immigrant and patisserie owner Alexandre Micka whose patisserie still stands today named after his famous creation "La Tarte Tropézienne". It got its name in 1955 from actress Brigitte Bardot while she was filming "And God Created Woman" in Saint-Tropez. Micka was hired as the film's caterer and the whole cast and crew loved it so much Bardot suggested naming it "La tarte de St. Tropez" i.e. the tart of St. Tropez after the French Riviera town although it isn't actually a tart at all.
The topping on the Tarte Tropézienne is either a streusel or pearl sugar. While I love buttery streusel I was busy and a sprinkle of pearl sugar proved to me to be much more convenient. Likewise the filling is sometimes Crème Diplomat (pastry cream, whipped cream and gelatine), Crème Mousseline (pastry cream and butter) or Crème Chiboust (pastry cream and meringue). Micka kept the actual recipe very close to his chest so these were all guesses at the real recipe.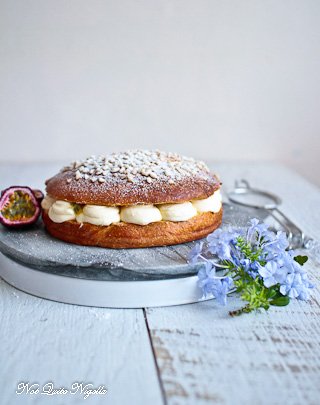 I decided to go for Crème Diplomat because I wanted to make the dollops a bit more set with the gelatine and I wanted them to withstand the warm Autumn weather that we were still experiencing. I also added passionfruit because I love it and it seemed to fit (and can I just say, it really works with this tart?). And I feel a little touch of history and retro charm when I ate this tart which was created all those decades ago even though I haven't even seen "And God Created Woman".
Speaking of retro charm, a film that was very popular this year at the Oscars (envelope mixup notwithstanding) was La La Land. And recently when Mr NQN and I went away with Nina and Garth they told us that the film inspired them to do something in their regular lives.
"One night we decided that we wanted to live in a musical," Nina explained and they both agreed that whenever one of them would say a line that also happened to be a line from a song they would burst into song and dance, just like in a musical.
It happened a few times during the weekend. We'd all be having this normal conversation and then the words "I will follow you", "Time to say goodbye", "All by myself" and "A whole new world" would prompt either Nina or Garth to start singing accompanied by large hand gestures and a little dance. Okay it wasn't choreographed and lasted only a few lines but it was rather fun and special to watch! Hey who says that your life can't be a musical? It's really only a matter of choice!
So tell me Dear Reader, have you ever tried to make your life a musical? Is there a musical you can relate your life to? And have you ever tried a Tarte Tropézienne?
Tarte Tropézienne