The kouign-amann from Breton is one of those impossibly gorgeous but simple pastries that has to be eaten to be believed. Pronounced queen-ah-maan, it has buttery layers, a caramelised base and sweet and salty dusting on the outside. And with the in between seasons it would be the perfect time to test out a quick version of kouign-amann!
The name kouign-amann comes from the Bretagne or Breizh words for cake (kouign) and butter (amann) so that may give you a little indication of how delicious this little pastry is. Breton is of course known for its superb salt flecked butter and they make plenty of use of it in cakes like the Gateau Breton. It is essentially a croissant type of pastry that is dusted in a sugar and salt coating and then cut into squares and then pinched to form its distinctive shape. It can be baked in rings or in a muffin tin and most of us have muffin tins so it's easier to do it this way. You also get a lovely caramelisation collecting in the base of the muffin tin this way too.
The first time I tried a kouign-amann was in the Laduree shop at the Champs Elysee in Paris. I pointed to the pastry and the woman thought I meant a prettier one next to it. I was attracted to it by the name that I didn't quite understand and it was so wonderfully buttery that every time I visit a Laduree it is my first choice (followed by a religieuse).
The other day I found myself with a surfeit of time. It doesn't happen very often but I had completed all my work before I was meant to fly out later that day. I looked at the clock, and down at my idle hands (actually they were tapping away at my phone) and regarded the crisp Autumn day outside.
Ahh perfect pastry weather.
And then I decided that free time was overrated and that pastry time was better. It's a sickness and I have tried to fit in cake baking in a ludicrously short gap of time. Mr NQN could see that it was going to be trouble from his position on the couch working. "You're going to get stressed..." he warned. But I would not be deterred and mumbled something about quick puff pastry. The week before I had made a 15 minute version of puff pastry and I wanted to see whether it would work for kouign-amann.
Whilst I will admit that he was right, I ended up in a bit of a panic because I always forget how long it takes to do the photos, I was humbly rewarded with some gorgeous, buttery pastries. There is something so wonderful about a freshly baked buttery kouign-amann. And this recipe cuts the time measurably while still delivering in that gorgeous sweet butteryness. If you love croissants or buttery sweet pastries then I urge you to give these beauties a go! He took them to work where they were very much adored by everyone that tried them. They even heated up perfectly after I froze them. I'm thinking they might be a good Mother's Day breakfast idea too!
So tell me Dear Reader, do you have this problem with baking and free time? Have you ever tried a kouign-amann before? Do you have a favourite pastry that you always order at bakeries?
DID YOU MAKE THIS RECIPE? Share your creations by tagging @notquitenigella on Instagram with the hashtag #notquitenigella
Quick Kouign-amann
An Original Recipe by Lorraine Elliott
Preparation time: 25 minutes plus 1.5-2.5 hours resting time
Cooking time: 20 minutes
1/3 cup milk, heated until lukewarm
1 tablespoon instant dried yeast
1/2 teaspoon sugar
2 cups plain all purpose flour
1 teaspoon salt
250g/8.83ozs butter, cold and cubed
1/2 cup ice water
200g/7ozs. sugar
2 teaspoons salt
100g/3.5ozs. butter, extra melted
Step 1 - Heat the milk and stir in sugar and yeast and cover and allow to foam and activate, about 10 minutes. If the yeast does not foam, start again.
Here's a video that shows you the folding method
Step 2 - Place the flour and salt in a food processor and pulse for a few seconds. Add the butter, water and yeast mixture and pulse again leaving little bits of butter. Form a ball and empty the contents onto a well floured surface. Roll out into a long rectangle and fold into five sections. Roll out again into a very long rectangle and roll it up like a Swiss roll from one end. Cover with cling film and refrigerate for 1-2 hours.
Step 3 - Very generously butter a muffin tin with the melted butter and place it in the fridge so that the butter hardens and you can better brush it up the sides. Mix the sugar and salt together in a bowl and then generously sprinkle some of the sugar mixture in the cavities sticking to the butter.
Step 4 - Preheat oven to 190C/375F. Sprinkle some of the sugar and salt mixture on top of a clean surface. Roll out the pastry onto this surface and then top with the sugar mixture.
Step 5 - Cut into 10cms/2.5inch squares and gently lift them into the tin. Using your thumb and index finger pinch the sides and then press down in the centre of the dough. Brush with extra butter and sugar and then allow to rise for 20-30 minutes. Bake in the oven for 20 minutes until golden brown.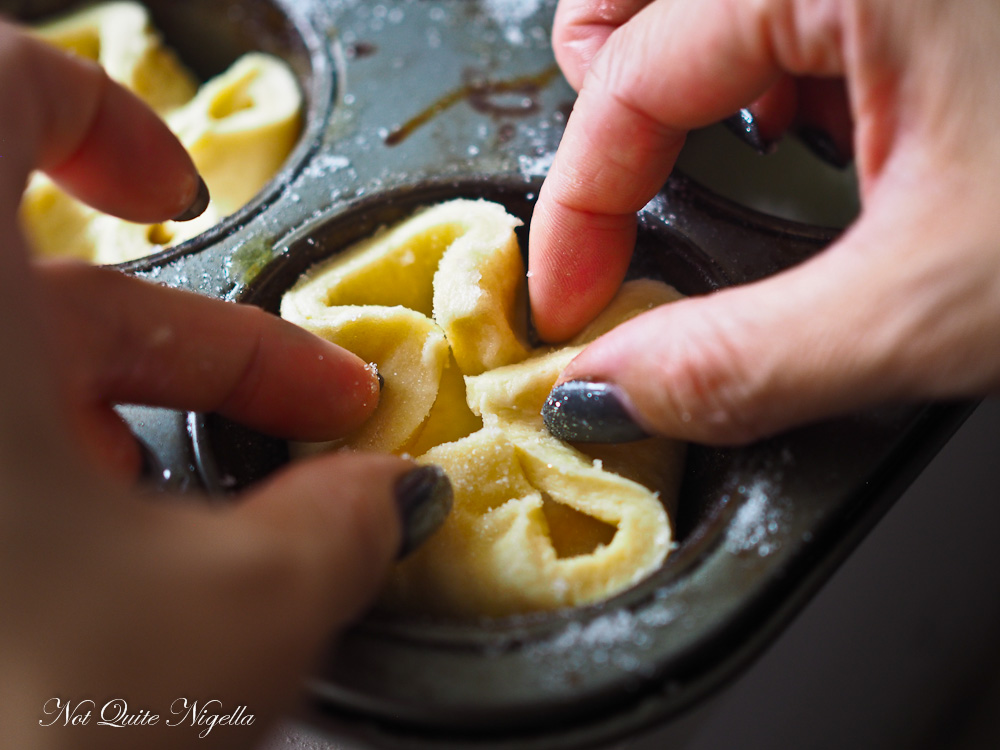 Step 6 - As soon as they are done, have a tray lined with parchment ready. Lift them out of the tin with a palette knife as soon as they are done as they will really stick if you leave them too long. Leave them upturned with the bottoms up to cool and serve once they have cooled off. Tip: do not eat these when they are straight out of the oven. Most pastries and baked goods are best this way but for some reason the kouign-amann is better once it has cooled off.