An Adults Only post :)
At some time in your life, you'll be faced with someone you hate or dislike intensely. Sometimes you even have to cook for them which only makes matters worse as the reason why you probably hate them may be because they whinge about the food that you make or complain that it's not to their taste or feel the need to go all Project Runway on your home decor. Having this person in your house is about as much fun as a colonoscopy.
Of course with other company present, it's sometimes necessary to fake a smile and grit your teeth. Sometimes you call your own time out on this person and retreat to the kitchen tempted to add a few dollops of Habanero chilli sauce to their meal. But may I present you with the ultimate way to get through the meal than with a bread that says it all: the Give Them The Finger Bread!
I got the idea from MaryPoppinsinHeels, a blogger who has a wickedly fun sense of humour. I always chuckle when I read her posts and when I saw her Bread Hand I knew I wanted to make it. I gave it a few attempts but my hands were never as good as hers so I asked her for some tips. She replied quickly and helpfully with tips such as make the fingers thinner as they'll puff up and model it on your own hand. I totally agreed with her tips, the dough does puff up. I was getting very fat,stumpy fingers so I realised that my proportions were wrong as I made the fingers too short so I used my hand as a guide. I also loved her husband's advice:
"E said to tell you that part of the process in forming the hand is really feeling the sentiment! :)"
My hands aren't quite as artful as hers and I used a brioche dough recipe that I had used before as I wanted to minimise the variables. I showed them to my husband who chuckled and even my mum laughed where she would normally purse her lips in disapproval. I think she thought I had accidentally created it and had she known I had deliberately made it this way there would have been a bit of clucking.
Would anyone like some bread?
But this is not only good for use at dinner parties. May I present a workplace situation where you could subtly give the boss the finger? ;)
So tell me Dear Reader, what do people do that really annoys you and makes you want to flip them the bird?
Give Them The Finger Bread
Makes approximately 8 hands
1/3 cup warm water (105°F to 115°F)
1/3 cup warm milk (105°F to 115°F)
2 envelopes/14g/4.5 teaspoons dry yeast
3 3/4 cups all purpose flour
1 1/2 cups/3 sticks/320grams unsalted butter, each stick cut into 6 pieces, at room temperature
1 egg, beaten to blend with 1 tablespoon water (for glaze)
1 packet of slivered almonds for fingernails (you won't need the whole bag but you may want to find good "nails")
Step 1 - Place the warm water, warm milk, and yeast in bowl of standing heavy-duty mixer; stir until yeast dissolves. Fit mixer with dough hook. Add flour and salt to bowl; mix on low speed just until flour is moistened (you may need to use a spatula to help combine the two) about 10 seconds. Scrape sides and bottom of bowl. Beat in 3 eggs on low speed, then add sugar. Increase speed to medium and beat until dough comes together, about 3 minutes. Reduce speed to low. Add butter, 1 piece at a time, beating until each piece is almost incorporated before adding next (dough will be soft and batter-like). Increase speed to medium-high and beat until dough pulls away from sides of bowl which will take about 7 minutes. You'd be surprised at how it does come together after a while as it looks beyond repair at times! Or use pent up fury to knead.
Step 2 - Cover bowl with plastic wrap. Let dough rise at room temperature until almost doubled in volume for about 1 hour. Lift up dough around edges and allow dough to fall and deflate in bowl. Cover bowl with plastic and chill until dough stops rising, lifting up dough around edges and allowing dough to fall and deflate in bowl every 30 minutes which is about 2 hours total. Cover bowl with plastic; chill dough overnight. The longer it rests the easier it is to work with so overnight is preferable but results in delayed gratification where immediate gratification may be necessary ;)
Step 3 - The next day, summon up any inner rage at this person and punch dough down. Knead with dough hook for 1-2 minutes. Then rest the dough for another 20 minutes while covered until ready for use.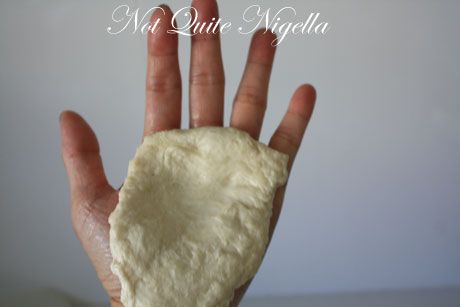 Step 4 - Line 2 baking sheets with parchment. Lightly grease hands and pinch off some dough and roughly pull it into a triangle shape. Use your own palm to shape it into the same size as your palm. Place "palm" on parchment. Pinch a small ball and place in palm to represent the fleshy part of the palm. Then roll dough into a long rope to make fingers. The dough does rise so make them thinner than your actual fingers as they roughly double in thickness. Measure the length of your fingers against the rope of dough and affix it to the palm with the middle finger going upwards and the other facing downwards. Again use your own hand as a guide. Preheat oven to 200c/400F.
Use your own finger length as a model for proportions
Step 5 - Gently glaze with egg glaze and affix the almonds. Draw lines to represent lines on hand and bake for  20 minutes or so depending on the size of your hand (yours may need 5 minutes longer if the model has man hands).