I was always hopeless at Maths at school. I looked at it like some sort of strange wizardry and my teachers used to be frustrated at how I just could not wrap my head around things as simple as calculus and I kept wondering why they would try to make me do something that seems as natural as a fish riding a bicycle. I maintain that to this day I've never had to use calculus in life-not that I know of course because I only have a fleeting familiarity with it. My maths anguish was combined with the fact that my sister breezed through 4 unit maths whilst I floundered in 2 unit and well you can see how when someone tries to talk maths with me I cringe. I much preferred English as a subject.
I grudgingly have to admit that ratios do play a large part in my life. Ratios and fractions are crucial for cooking and baking and if you get the ratio wrong, well you can change a dish completely and for the worse. Mr NQN is not fond of baked bready things-he finds them too stodgy and dry but I knew that when he tried this bread with what appeared to be a fabulous ratio of bread to filling then he might be won over.
Povitica is a swirly Croatian or Slovenian bread dough much like a sweet brioche that is rolled out until paper thin, slathered with a sweet spread like ground walnuts or poppyseeds and then rolled up and then baked. The resulting bread has a lovely marbled effect inside and resembles swirls or the layers of a tree trunk. And as soon as I saw it on the Daring Bakers website I knew I wanted to make one and not just screeching in before the deadline. Povitica are not easy to find here in Australia and our hostess Jenni told us of first trying these at a American Farmer's Market where they were $25 each!
Like in calculus class I wasn't really paying attention when I started and before I knew it I was making enough dough for four loaves, instead of the one I had intended to make. This turned out to be fortunate because I realised the mistakes I made with my first two loaves and finally, on my fourth go, made one that I was somewhat happy with. The final result is an exercise in delicious maths-the bread is buttery, sweet and light and the filling is the star with the bread encasing it and holding it together. And if you ever feel like pushing yourself and have some time on your hands or making something truly unique I urge you to give this a go-you will be rewarded with utter deliciousness.
And while I was editing these photos I had a bit of a giggle. My friend Kathy asked me if there was a picture I had taken that grossed me out and if you would like to see perhaps the strangest, dodgiest looking photo to appear here please scroll down! You'll know when you reach it, trust me ;)
I ended up making four poviticas-one with a traditional walnut filling, another with a poppyseed, a third with cream cheese and apricot jam and a fourth, a savoury one with beetroot marmalade, sweet onion relish and two types of cheese. The last one was my favourite of all of them and I loved the anticipation of slicing them open and seeing the swirls that lay within.
I'm just praying that the swirls don't have something to do with calculus!
So tell me Dear Reader, what was your favourite subject at school and what was your least favourite?
Blog-checking lines: The Daring Baker's October 2011 challenge was Povitica, hosted by Jenni of The Gingered Whisk. Povitica is a traditional Eastern European Dessert Bread that is as lovely to look at as it is to eat!
Swirly Povitica Roll
Notes:
• You do not need to use an electric mixer for this recipe, but you can prepare the dough in one in you prefer.
• Scalded milk is an important step. It used to be used to pasteurize milk, so if your milk is raw, please make sure you do this step. If your milk has been pasteurized, scalding the milk will help to make the bread tender.
• The recipe calls for using a sheet on top of your workspace. This is not necessary, but I did find that it was easier to roll out my dough with one. The dough is very sticky, and using the lightly floured sheet helps to keep the dough from sticking too badly. It also helps that you can move the sheet around as you work, and you can also move to a clean area of the sheet for each loaf that you roll out. I also found that I was able to roll my dough out thinner with the use of a sheet. The sheet is also used for rolling the Povitica up, but again, it is not necessary. And all my dough and filling goo washed out perfectly, so no problems there! If you decide not to use a sheet, a pastry scrapper will come in very handy when you roll up your dough.
• There are two ways that you can roll the dough up. If you watch the video under "Additional Information" you can see that the sheet is lifted and used as momentum for rolling the dough up. This technique takes a bit of finesse, but I encourage you to try it out. However, the dough can be rolled up by hand, like you would if you were making cinnamon rolls.
• There are several different ways that you can finish off your loaves before baking it. If you do not want to finish your loaf off with the cold coffee/sugar mixture that is provided, you can use either egg whites or melted butter.
Preparation time:
To make Dough: 40 minutes
Rising: 2 hours (or overnight)
Rolling and Assembly: 20 minutes per loaf, a generous total of 1 hour
Baking: 1 hour
Cooling: 30 minutes
To Make the Filling: 15 minutes, including the grinding of the nuts
Makes 4 loaves
Ingredients
To activate the Yeast:
2 Teaspoons (10 ml/9 gm) Sugar
1 Teaspoon (5 ml/3 gm) All-Purpose (Plain) Flour
2 Tablespoons (30ml/14 gm/½ oz/2 sachets) Dry Yeast
Dough:
2 Cups (480ml) Whole Milk
¾ Cup (180 ml/170gm/6 oz) Sugar
3 Teaspoons (15 ml/18 gm/2/3 oz) Table Salt
½ Cup (120ml/115 gm/one stick/4 oz) Unsalted Butter, melted
8 cups (1.92 l/1.12 kg/39½ oz/2½ lb) All-Purpose Flour, measure first then sift, divided
Walnut Filling (other fillings below)
7 Cups (1.68 l/1.12 kg/2.5 lbs) Ground English Walnuts
1 Cup (240ml/225 gm/2 sticks/8 oz) Unsalted Butter
1 Teaspoon (5ml) Pure Vanilla Extract
2 Cups (480ml/450 gm/16 oz) Sugar
1 Teaspoon (5 ml/4 gm) Unsweetened Cocoa Powder
1 Teaspoon (5 ml/3 gm) Cinnamon
Topping:
½ Cup (120 ml) Cold STRONG Coffee
2 Tablespoons (30 ml/28 gm/1 oz) Granulated Sugar
Directions:
To Activate Yeast: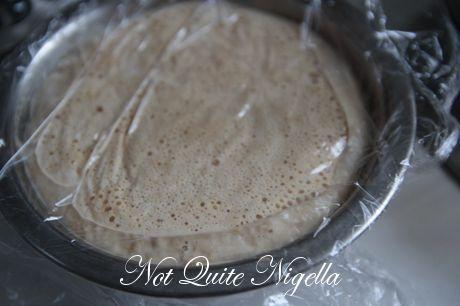 Step 1 - In a small bowl, stir 2 teaspoons sugar, 1 teaspoon flour, and the yeast into ½ cup warm water and cover with plastic wrap.
Step 2 - Allow to stand for 5 minutes
It's alive!
To Make the Dough:
Step 3 - In a medium saucepan, heat the milk up to just below boiling (about 180°F/82°C), stirring constantly so that a film does not form on the top of the milk. You want it hot enough to scald you, but not boiling. Allow to cool slightly, until it is about 110°F/43°C.
Step 4 - Fit your electric mixer with the dough hook attachment (you can aslo knead this by hand but this is a large amount of dough and I'm lazy that way ;) ). In the bowl of an electric mixer (the Kitchenaid bowl will just fit this dough in it), mix the scalded milk, ¾ cup (180 gm/170 gm/6 oz) sugar, and the salt until combined.
Step 5 - Add the beaten eggs, yeast mixture, melted butter, and 2 cups (480 ml/280 gm/10 oz) of flour.
Step 6 - Blend thoroughly and slowly add remaining flour, mixing well until the dough starts to clean the bowl.
Step 7 - When it starts to get shaggy (see above) turn dough out onto floured surface and knead, gradually adding flour a little at a time, until smooth and does not stick. You may or may not have to use all of the flour-I used a little over 8 cups of flour.
Step 8 - Divide the dough into 4 equal pieces (they will each weight about 1.25 pounds/565 grams)
Step 9 - Place dough in 4 lightly oiled bowls, cover loosely with a layer of plastic wrap and then a kitchen towel and let rise an hour and a half in a warm place, until doubled in size. I let mine rise overnight so that it was easier to roll.
To Make the Filling
Step 10 - In a large bowl mix together the ground walnuts, sugar, cinnamon and cocoa.
Step 11 - Heat the milk and butter to boiling.
Step 12 - Pour the liquid over the nut/sugar mixture.
Step 13 - Add the eggs and vanilla and mix thoroughly.
Step 14 - Allow to stand at room temperature until ready to be spread on the dough.
Step 15 - If the mixture thickens, add a small amount of warm milk.
To Roll and Assemble the Dough:
Step 16 - Spread a clean sheet or cloth over your entire table so that it is covered.
Step 17 - Sprinkle with a couple of tablespoons to a handful of flour (use flour sparingly)
Step 18 - Place the dough on the sheet and roll the dough out with a rolling pin, starting in the middle and working your way out, until it measures roughly 10-12 inches (25½ cm by 30½ cm) in diameter.
Step 19 - Using the tops of your hands, stretch dough out from the center until the dough is thin and uniformly opaque. You can also use your rolling pin, if you prefer.
Step 20 - As you work, continually pick up the dough from the table, not only to help in stretching it out, but also to make sure that it isn't sticking.
Step 21 - When you think it the dough is thin enough, try to get it a little thinner. It should be so thin that you can see the color and perhaps the pattern of the sheet underneath. If you can get it to about 35cm by 55cms or 14 inches by 22 inches that is good.
Step 22 - Spoon 1 to 1.5 teaspoons (5ml to 7 ½ ml/4 gm to 7 gm) of melted butter on top.
Step 23 - Spoon filling (see below for recipe) evenly over dough until covered.
Step 24 - Lift the edge of the cloth and gently roll the dough like a jelly roll. This will be made much easier if you make sure to flour underneath the cloth while stretching.
Step 25 - Once the dough is rolled up into a rope, gently lift it up and place it into a greased loaf pan in the shape of a "U", with the ends meeting in the middle. You want to coil the dough around itself, as this will give the dough its characteristic look when sliced. OR I cut mine into four pieces and lay two on the base of the greased loaf tin and two on top-I found this made the best results for swirling throughout the whole bread.
Step 26 - Repeat with remaining three loaves, coiling each rope of dough in its own loaf pan.
Step 27 - Brush the top of each loaf with a mixture of ½ cup (120 ml) of cold STRONG coffee and 2 tablespoons (30ml/28 gm/1 oz) of sugar. If you prefer, you can also use a beaten egg in place of this which will give it a nice glossy coat.
Step 28 - Cover pans lightly will plastic wrap and allow to rest for approximately 1 hour in a warm place.
Um...yes I know what it looks like...
Step 29 - Preheat oven to moderate 350°F/180°C/gas mark 4.
Step 30 - Remove plastic wrap from dough and place into the preheated oven and bake for approximately 15 minutes.
Step 31 - Turn down the oven temperature to slow 300°F/150°C/gas mark 2 and bake for an additional 45 minutes, or until done.
Step 32 - Check the bread at 30 minutes to ensure that the bread is not getting too brown. You may cover the loaves with a sheet of aluminum foil if you need to.
Step 33 - Remove bread from oven and brush with melted butter.
Step 34 - Allow to cool completely in the tin. Remember, the bread weighs is heavy and it needs to be able to hold its own weight, which is difficult when still warm and fresh out of the oven. Allowing it to cool in the pan helps the loaf to hold its shape. If some of your filling is sticky and has leaked I find running a knife around the edge of the bread while hot helps to loosen it.
Step 35 - It is recommended that the best way to cut Povitica loaves into slices is by turning the loaf upside down and slicing with a serrated knife.
Poppyseed filling
I had a whole lot of poppyseed filling left over from a disastrous poppyseed roll recipe and had frozen the filling because I didn't want to waste the rest of it.The filling itself is delicious and gives a lovely contrasting swirl and if I had been more skilled at rolling the dough, I might have ended up with a fetching Zebra bread!
250g/ 1/2 a pound poppy seeds
50g/1.7 oz finely chopped almonds
50g/1.7 oz finely chopped walnuts
Step 1 - Heat the poppyseeds with the milk in a saucepan until simmering, stirring so that the poppyseeds are immersed in the milk as much as possible. Leave to soak overnight. If you have a poppyseed grinder you can grind the seeds but I don't and I found grinding them didn't do much to them as they are so fine. Add the vanilla sugar, melted butter, chopped almonds and walnuts and lemon zest and beaten egg and set aside at room temperature to use as filling. Spread out as per the walnut filling instructions making sure to avoid a 1 inch border around the edge.
Apricot and cream cheese filling
One afternoon I baked the walnut and poppyseed bread and then sliced them and tasted them. They were so good that even though I was exhausted I got a burst of energy and decided to make the other two povitica as I wanted to get my swirls to be finer and prettier. This apricot and cheese filling is a little more traditional and also doesn't show up the patterns quite as well as the others.
200g/7ozs light cream cheese, at room temperature so that it is easily spreadable (microwave it a little if you need to as the dough is delicate and firm cream cheese can tear it)
Step 1 - Spread the cream cheese on the rolled out dough and then the apricot jam making sure to avoid a 1 inch border around the edge.
Beetroot, cheese and caramelised onion
This was one of my favourite fillings as I thought that the bread really lent itself to a savoury filling and this was my favourite as I think I finally, one my fourth go, got the ratios right. I still kept it a little sweet with the beetroot marmalade and the sweet onion relish
340g jar beetroot marmalade (I used Bill's beetroot marmalade)
100g caramelised onions (I used a sweet onion relish)
150g/5 ozs light cream cheese, at room temperature so that it is easily spreadable (microwave it a little if you need to as the dough is delicate and firm cream cheese can tear it)
Step 1 - In a small food processor, finely blend the beetroot marmalade and caramelised onions to a spreadable paste.
Step 2 - Spread the cream cheese first and then the beetroot and onion mix and then finally the grated cheese making sure to avoid a 1 inch border around the edge.
Storage:
There are several options for storing (and eating) your four loaves of Povitica:
• The Povitica will keep fresh for 1 week at room temperature.
• The Povitica will keep fresh for 2 weeks if refrigerated.
• The Povitica can be frozen for up to three months when wrapped a layer of wax paper followed by a layer of aluminium foil. It is recommended to not freeze Povitica with cream cheese fillings as it doesn't hold up to being thawed really well – it crumbles.