It is day two of our Ultimate Winery Experiences tour across Victoria where people can book special experiences to go beyond the cellar door for a more immersive winery experience. It's a three hour drive to reach the small town of Whitfield. "People have to want to come here," says Natalie Pizzini, marketing manager of Pizzini Wines, a multi-generational family owned vineyard.
We start with a glass of Prosecco, fitting as the King Valley is home to Prosecco in Australia. We sip it at the Pizzini owner Mountain View Hotel Pub before taking a drive to the Pizzini Wines cellar door bordered by shades of pink roses.
The property was originally a tobacco farm led by Nonna Rosetta or Rosa and her husband Roberto. Rosa's the vibrant 93 year old who earlier today drove her and her friend across to Myrtleford and back.
Rosa Pizzini
Rosa met Roberto in Italy. She's from a town called Bolzano in the North of Italy near Germany while he was from Lana. The foods that she cooked were things like apple strudel, gnocchi, spatzle, knoedli. "If someone invites me to eat, I'll always come over," she says.
In 1978 they started growing grapes alongside the tobacco farm as the interest rates were too high to exclusively switch it over to grapes. It wasn't until 1994 when the demand for grapes diminished that they started making their own wine. Today Pizzini's is run by Rosa's son Fred and wife Katrina and their kids Natalie, Carlos, Joel and Nicole.
We're in for a treat-Katrina is cooking us an Italian feast tonight. The vegetables are from their garden and they bring out a wonderful spread including zucchini, roasted pumpkin and sage, potatoes and herbs, juicy roasted chicken, pepperonata made with potato and salad.
Everything is absolutely moreish and perfectly cooked and we all help ourselves to the food and the wonderful wine, particularly the Sangiovese that they are known for. "Eat the chicken with your hands," says Rosa her blue eyes twinkling.
And then they bring out some dust covered bottles. Carefully removing the cork they serve us two bottles of Pizzini 1993 Nebbiolo. They're both the same batch and only one barrel was ever produced. The only difference is that they have been stored in opposing horizontal directions.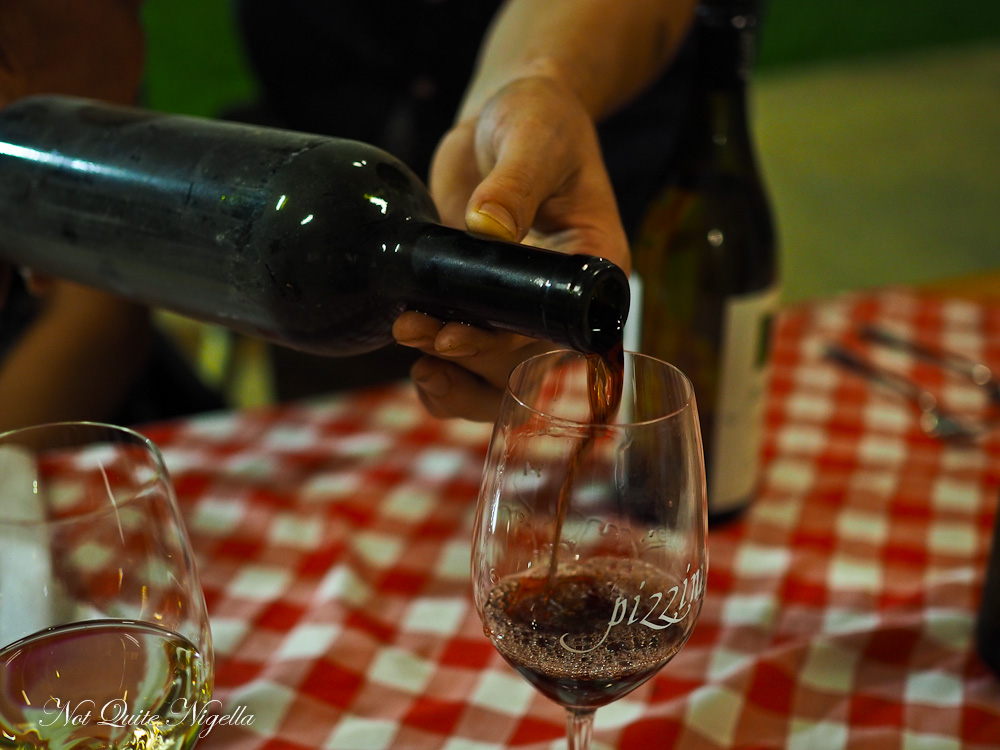 The second one is superb while the first has a hint of cork taint but it's a special moment to be able to share a bottle that only family and friends would have access to. "I've never released this wine, mainly because I want to drink it. I'd rather drink it with people," says Fred.
Natalie and Rosa Pizzini
After that Natalie brings out her favourite drop, a Sangiovese 2005, the varietal that they're most known for and bottle after bottle is opened. Dessert is served, an enormous slab of creamy tiramisu with a hint of orange in it. This is heaven for wine and food lovers.
This is accompanied by a rare bottle of Vin Santo called Per Gli Angeli or "For the angels". With the aroma of a port but with the sweet smooth flavour of fruitcake it is impossible to find a bottle for purchase, in fact they've used one of the last bottle on us this evening. Within a few hours, we already feel like part of the Pizzini family.
Katrina Pizzini
As a 17 year old bride, Katrina Pizzini lived in the granny flat at the back of her parents in law's house for 12 months. It was there that the young bride learned all of her mother in law Rosa's Italian family recipes and the deft tricks of cooking home style Italian food. Tips like using oils and butters in sauces to help it cling to pasta were learnt over Rosa's stove.
Katrina now runs the A Tavola interactive cooking class behind the Pizzini Winery's cellar door. People can learn the secrets to Katrina's wonderfully light gnocchi (a cinch when you have her tips!) and can make delicious napoletana sauce, silky tagliatelle and her husband Fred's duck ragu sauce made with Chinese masterstock. "I want to empower people," says Katrina.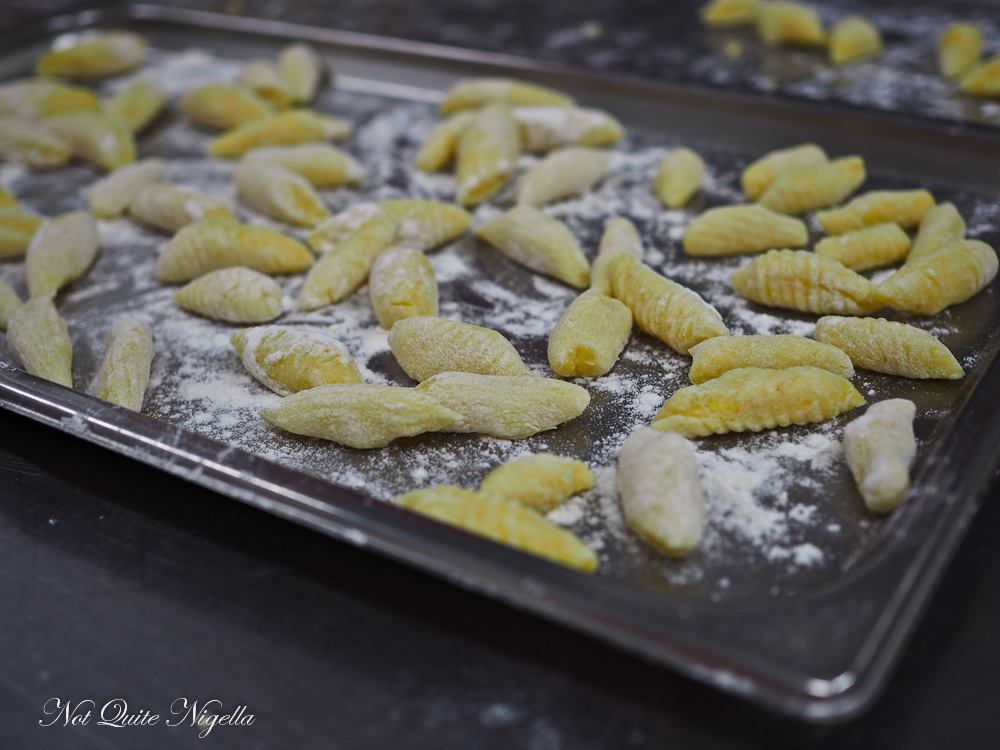 For Katrina the key to a napoletana sauce is to keep the fresh flavours in and not to caramelise the sauce. She adds thyme, basil, bay leaves and oregano. She uses house made passata in her napoletana sauce making use of last year's tomato vintage.
And then we come to the gnocchi. Katrina's tip is to put the larger unpeeled potatoes in the bottom of the pot and then add a couple of cups of water so that the smaller potatoes on top steam rather than boil. This keeps the potatoes less watery so less flour is needed. Ideally you should use egg yolks over whole eggs as whites tend to make the dough wetter.
"Tickle the dough, don't press it," says Katrina encouragingly. I tickle the dough between my fingers using my digits as a kitchen tool. And soon the dough comes together we roll it out on a lightly floured board. We roll the ridges using a gnocchi board and flick them onto a floured tray. Katrina explains that we can blanch the gnocchi for a few seconds and then it can be frozen in a single layer on a tray for up to 2 months.
The next thing is the pesto. Katrina prefers using a mix of toasted pistachio and almonds and a mortar and pestle. The advantage of this is that, "You can taste individual ingredients unlike in the food processor". She adds a final touch, one of Fred's suggestions to add lemon juice to the final paste. It's divine.
Next we make some tagliatelle from scratch. We use two flours, a durum wheat flour for flavour and a 00 flour for silkiness. Passing it through the pasta maker we take it to setting #7 for tagliatelle (also the same thickness for lasagna while spaghetti goes to #5. Her tip is that you need to flour the pasta if it starts to feel like clammy skin. Katrina then prepares the lunch for today using the items that we have created.
A cool breeze runs through the Sangiovese vineyard, our next stop in our morning with the Pizzini family. Fred and Natalie look out onto the vineyard and tell us the tale of Nonna Gisella after whom a Sangiovese wine is named. She was Natalie's great grandmother and Rosa's mother in law whom she adored. She was known to be progressive and would say, "What is new isn't ridiculous, embrace the trends." The wine named after her is a Chianti style of red, made for easy drinking.
Natalie and Fred Pizzini
There are 200 micro-climates on the Pizzini's property from river flats and hillside slopes with 190 acres in total. 45 acres of that is Sangioevese. At considerable cost the family soil mapped the property to determine soil varieties so they could know what to plant where. There are 11 Sangiovese sites on estate with 5-6 different clones that makes 6 different types of Sangiovese produced.
They have a few for us to try today and there's no better setting than in the vineyard. We then try a more serious Sangiovese, the Rubacuori 2008 a special drop at $125 a bottle (Rubacuori meaning "thief of hearts") followed by a Pietro Rosa with more tannins.
We take a drive to the barrel room with large format Italian barrels made of French oak which they're increasingly buying more of. The difference with the larger barrels is that you get less richness and sweetness but you get more fruit clarity and purity. It also takes longer especially for those used to tasting from barrels. Fred goes over to sample them before pouring a 2016 Sangiovese into our glasses.
Winemaker Joel then takes a selection with the brunello clone for us to sample. Then he takes some Nebbiolo 2016 vine selection. This is where they walk through the vineyard to select the best fruit. This is followed by a 2016 Barbera.
Joel and Fred are searching behind barrels for an elusive hard to find wine. They find the Tolorino, a difficult to find wine varietal usually used in a chianti blend.
We head back to the cellar door. Wind ripples the checkered tablecloth and the table is set under a large tree. They bring out a light, sparkling aperitif made with Brachetto, ginger, mint and strawberries from the garden. It's divine and I buy some to recreate this at home.
Out comes plates of gnocchi with napoletana sauce and duck ragu and our gnocchi (so very light!). There's a plate of buttered green beans that have the perfect texture as well as a wonderful zucchini dish and our tagliatelle with our home made pesto.
They bring out two wines, an Arnes Piedmontese variety Lana Il Nostri Gallo 2014 Canaiolo and Colorino. I'm convinced that here is no better place to be on a sunny afternoon than sitting at the sun dappled table under the tree.
And for dessert? Their Turkish delight made with Prosecco marshmallow Brachetto Turkish delight! Tip: Buy two of these, one for you and one as a gift.
So tell me Dear Reader, what is the best cooking school you have been to? And have you mastered gnocchi? Would you like me to share Katrina's gnocchi recipe?
NQN was a guest of Unique Winery Experiences but all opinions remain her own.
Pizzini Wines
175 King Valley Rd, Whitfield VIC 3733
Phone: (03) 5729 8278
To book this experience: www.ultimatewineryexperiences.com.au/wineries/pizzini-wines/