No two wineries or cellar doors are the same. Even when we are talking about a tour of family run wineries. Montalto's cellar door it is a popular stop for people especially in summer during the annual sculpture exhibit. Every year for the past 12 years they have played host to a sculpture competition and guests can wander through the vineyards to view the sculptures and pick a winner.
This is my second visit to Montalto and there is a new addition. There is new tasting room with a view of the Pinot and Chardonnay vineyards as well as the kitchen garden that has helped supply the on site restaurant and cafe for over 10 years.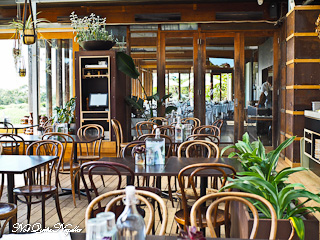 There are 100 acres under vine in total here and at other locations. The maritime climate means that temperatures are 5°C cooler in summer due to the sea breeze effect. This also means warmer nights so the narrow temperature range gives them a longer growing season.
We start our "beyond the cellar door" experience with a tasting in the new room. The first wines are comparing Pinot Grigio and Pinot Gris. They are the same grape but the Grigio is picked earlier and it is light, fresh and crisp while the Pinot Gris is textured and richer.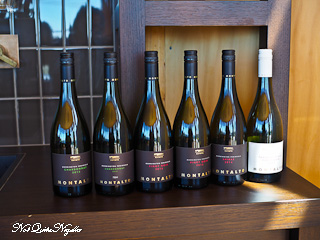 We then skip onto a 2015 and 2010 Estate Chardonnay and then compare two years of Pinot Noir (2013 and 2015). And then they pull out an interesting bottle. The 2014 Pinot Noir has the distinct aroma of char grilled capsicum but the aroma belies the smooth flavour of the wine. Our tasting then ends on a 2014 Estate Shiraz.
Our tasting is followed with a walk through the vineyards following the sculpture trail-there are 29 competition entries as well as a permanent exhibition. The winner of the competition is Ben Carroll's "The Bush of Ghosts" which was first inspired by musicians David Byrne and Brian Eno.
Some require a bit more pondering and thought. Like the tree that appears as though in Spring from one angle and full of leaves. Looking at it from another angle it looks bare.
Halfway through the trail we stop at one of Montalto's five picnic sites. These can be booked ahead of time and there is a little surprise for us: an outdoor picnic with a range of dishes.
They are served share style and the plates include hot smoked salmon with quinoa, lemon and dill, a charcuterie platter, divine cauliflower, zucchini and radish sweet pickles, tender roast chicken, kipfler potatoes with capers and herbs, a mozzarella and tomato salad, house baked spelt and fennel ciabatta as well as Montalto Pinot Noir and Chardonnay.
It's the last day of the 5 day wine tour across Victoria and despite how much we've eaten and drunk you would think we were still on our first day.
Then Sally and Sarah uncover a plate with chocolate brownies and cream as well as a selection of cheeses which we nibble on before shrugging off our blankets and going through the rest of the sculpture exhibition. Which begs the question: how will we ever return to civilisation after this?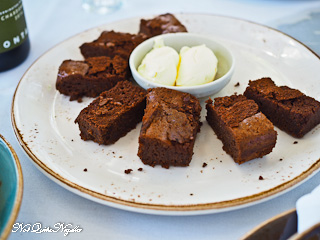 So tell me Dear Reader, do you tend to prefer Pinot Grigio or Pinot Gris? Do you have post vacation blues and if so, how long do they last?
NQN travelled as a guest of Ultimate Winery Experiences Australia but all opinions remain her own.
Montalto Vineyard & Olive Grove
33 Red Hill-Shoreham Rd, Red Hill South VIC 3937
Phone: (03) 5989 8412
www.ultimatewineryexperiences.com.au/wineries/montalto-vineyard-and-olive-grove/