The van winds it way past the Kangaroo flats across Christmas Hills on the way to the Yarra Valley on the right. The destination today: De Bortoli Wines, a family run winery and the first stop on a Ultimate Winery Experiences 5 day wine touring package across Victoria. Victoria has more regions and individual wineries than any other state in Australia with a wide diversity of climates which gives rise to a large range of wine varietals grown here.
Ultimate Winery Experiences Australia is a collective of around 20 hand picked wineries across the nation. Their unique proposition is that they offer guests a deeper winery experience than merely visiting a cellar door. People can do journeys like this 5 day wine trip we are undertaking or they can pick and choose one or two wineries to visit. The experiences at De Bortoli range from a lunch that starts at $80 or today's experience which is $230 per person.
At De Bortoli, it's busy even on weekdays with plenty of overseas and local visitors arriving to the cellar door. Our first stop is the tasting room to the right of a cellar door where we will start the day off sampling their best wines and cheeses. De Bortoli, a family run company started off in Griffith, NSW in 1987. The family then purchased the property in the Yarra Valley to create premium wines. Even though the Yarra Valley makes a fraction of the wine of the Griffith site, it still doubles the next largest Yarra Valley winery in terms of production.
It is a three generational story that started with Vittorio and Giuseppina who arrived in Australia from the North of Italy. Their son Deen and his wife Emeri transformed the company by embracing technology while the current generation of their four children consider themselves custodians of the De Bortoli legacy.
At our tasting we meet one of them, Leanne De Bortoli. She and her husband winemaker Steve Webber manage the Yarra Valley estate and they are about to make way for the fourth generation to take over. The handover process is made more complicated because there are 13 of Emeri and Deen's grandchildren involved.
We start with bubbles, a celebration with the Rococo which is matched with a soft Meredith's goat Persian feta with garlic and olive oil. Kara the cellar door manager explains that this soft feta was developed for Domaine Chandon to be eaten with a sparkling wine. They were in need of a cheese that was soft, with some acidity and salt.
This is followed by an unusual drop made with the Vinoque Favourita grape otherwise known as Vermentina. This goes beautifully with the creamy, silky Le Dauphin cheese as well as fish dishes, particularly oily fish dishes.
The tasting then winds its way across to an estate grown Chardonnay, an excellent match with the Wilde Hilde cheese that is rich and intense with tiny crystals.
Kara explains that the trends over the last 20 years in wine have changed. While in vineyards they try to remain as sustainable as possible and bring in boxes of ladybugs to deter pests, in the winery itself when it comes to the process of wine marking it is taking a step back away from using ingredients like egg whites because of people's allergies. People also now want less oak in their wines.
Over the last 20 years harvest has also changed with the changing weather conditions and has shifted as much as two months ahead. Leanne tells us that she sees the current trends as Rose, Prosecco and less oaky Chardonnays.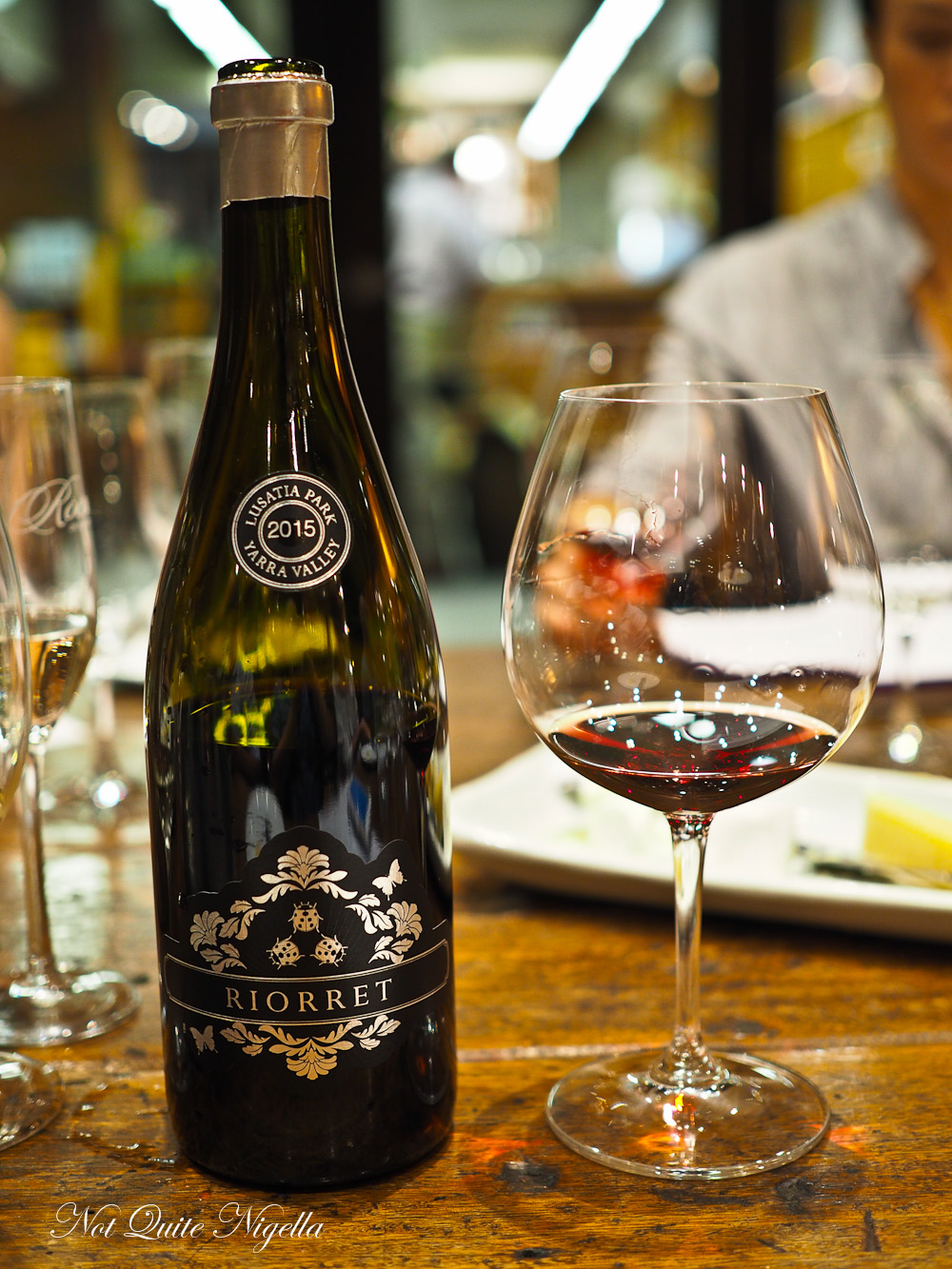 Then we try what ends up being one of my favourite reds: their Riorret Lusatia Park 2015 Pinot Noir. It is the highest altitude vineyard although not particularly high in elevation. The prevailing winds give the vineyard a coastal influence in the Upper Yarra vines. The grapes are hand picked and hand sorted and this is a limited drop. I enjoy it so much I buy two bottles, one for us and one for a gift.
Then we try an Estate grown Shiraz before ending on De Bortoli's flagship drop: Noble One Botrytis 2010. The current vintage is 2014 but the 2010 is offered because it is a bit more special. This goes beautifully with the wonderfully smooth Bleu de Causses blue cheese. Once the cheeses are imported from Europe they spend time in the cheese room from anything from 1 month to a year. This allows the cheese to be "resuscitated" back to life.
Speaking of food, it's soon time to head upstairs for lunch. For lunch they lay a shared spread of fresh oysters, prosciutto, salami, trout salad, barley salad and an excellent pate and terrine and a tomato and bocconcini salad. Fresh warm bread is offered along with a glass of their Nebbiolo Rose.
Leanne explains that they have planted the Nebbiolo. At the moment it makes an excellent rose for them to work with. But the vines won't be ready in their lifetime but it's for future generations of winemakers here.
So tell me Dear Reader, what wines are you loving at the moment? Do you like high oak or less oak? And do you drink your wine by itself or do you prefer to pair it with food?
NQN was a guest of Ultimate Winery Experiences Australia but all opinions remain her own.
De Bortoli Wines
58 Pinnacle Ln, Dixons Creek VIC 3775
Hours: Open today · 10am–5pm
Phone: (03) 5965 2271
www.ultimatewineryexperiences.com.au/wineries/de-bortoli-yarra-valley-estate/