Australia first OzHarvest supermarket has just opened on Anzac Parade in Kensington. It's not your ordinary supermarket though. It stocks surplus foods donated from suppliers and customers can take a basket and help themselves to the fresh produce, freshly baked bread, snacks, drinks or frozen meals. Then when it comes to paying they donate what they can.
The supermarket occupies the ground floor space of TOGA Addison Project where Chinese restaurant Golden Kingdom used to lie. The space first came to OzHarvest's attention in November 2016. When the TOGA developers learned that it would take 1 year to get Development Approval (DA) they decided to use the space as temporary housing for vulnerable people. They contacted OzHarvest's founder Ronni Kahn.
Along with the supermarket space, the upstairs rooms have been donated for use as a pop up youth shelter while the hotel is being built. The supermarket and youth shelter will occupy the space until the DA comes through.
And this week they opened their doors. They work quickly here and Ronni says, "The beauty of OzHarvest is that we're nimble and agile and we don't talk about things we do them!".
TOGA originally suggested the space as a restaurant but there are two core reasons why OzHarvest decided to make this a supermarket. Ronni says, "The first reason is that we don't reach everyone when we deliver with our current model. This is an opportunity to open up to the broader community. Secondly, we are raising awareness about food waste and the value of the food chain. It is an education piece in the broader scheme." In the supermarket there are tips on how to use the food and how to store and lengthen the life of produce.
The store is around 100 square metres large and when you walk in a volunteer introduces themselves and offers to take you around. It is these volunteers that make the experience less challenging for people in this unfamiliar environment.
The first display I see is bread from The Bread and Butter Project (a social enterprise bakery where 100% of profits are reinvested into training and employment for refugees and asylum seekers as skilled bakers) with freshly baked loaves and pastries from today and yesterday.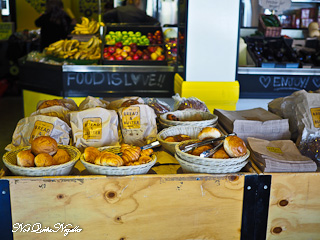 Displays of quinoa snack meals, biscuits, nuts, pulses, cakes, fresh fruit and vegetables, chocolate truffles, curry pastes, water and juices, teas, gourmet snacks and staples fill the shelves.
The freezers are replete with frozen kids meals, frozen pies, sausage rolls and meals. There is also a display of cleaning products and toiletries. It really demonstrates how much surplus food there is available and the breadth of it. Some of the items have passed their best before date but are still edible while others have been frozen so that they can be kept longer beyond the date.
People are offered a basket and the whole philosophy behind this is, "Take what you need, give if you can."
People also asked to bring their own bags to place their items in. At the counter items are placed in bags and people have the option to donate what they can be it by cash or card.
Alicia Kirwan the NSW State Manager at OzHarvest says what's available will vary from week to week, "Some things are fresh and abundant as we rescued them from a television set yesterday, some things we took from the bump-out of the Easter show last week that were in the exhibition. We get surplus from the airlines (Qantas, Virgin) and otherwise Bread and Butter Project are amazing. This is just their surplus, their baker's dozen. Harris Farm donated the fitout."
Ronni recalls a woman who walked in on one of the first days. She said, "I'm not poor you know". Then Ronni explains that after talking to her further, "It turned out that this person was starving." This gave rise to the community room with a microwave, urn, and kettle with chairs and tables where people can consume the food or help themselves to a cup of soup made in the OzHarvest kitchen by their chefs.
"We hope that this is a catalyst for other developers. This all came about because of a pop-up space offered to us. Considering how many buildings lie empty we totally believe that this will inspire other people to call us. I think in every state we could have one. Could we manage to fill another supermarket in Sydney? Time will tell. It's so new we have to see how the produce moves and what kind of produce is used."
But to her the most important thing apart from the take what you need, give what you can philosophy is that, "It's a place of dignity."
So tell me Dear Reader, would do you think of this idea? Will you be visiting this supermarket?
OzHarvest Supermarket
147 Anzac Parade, Kensington, NSW 2033
Open Monday to Friday 10am-2pm
http://www.ozharvest.org/market/