This post is brought to you by Olympus. Images have not been optimised in this post
The concept of photographing a meal in a restaurant used to be a strange one. I say used to be as more often people nowadays whip out a mobile phone so that they can share the image on social media channels. Even in a tourist friendly city like Sydney, tourists will often take out DSLRs to capture memories of a meal eaten.
People often underestimate how tricky it is to take good photos while eating out. In a studio, lighting is controlled and it can take hours to get the perfect shot. Not so in a restaurant where an image is snapped quickly. A good example of how they can go bad is Martha Stewart's twitter feed. Even so, there are some ways in which you can make photographing your meal less conspicuous and here are some tips that I've learned over the years.
Do ask if it is okay to take photos beforehand. Businesses will rarely say no particularly with social media being such a prominent form of marketing. But if you're out with friends this will help avoid any uncomfortable situations with staff who question it.
In a restaurant with other diners, don't use a flash. An on camera flash makes food look greasy and unappealing and also ruins the mood for other customers. External flashes can be used in settings where you aren't disturbing guests and bouncing light off a surface can simulate daylight.
Choose manual focus so that you can set the focus on the food to where you want it to sit. This is important with food when you consider the composition of a plate.
I shoot in manual rather than auto so that I can choose how bright or dark I want the images to come out. Shooting in RAW as opposed to jpeg provides you with much more detailed images with a lot of information, especially if you want to adjust the images afterwards. However RAW images are much larger than jpegs and you can easily fill your card, especially when you are travel blogging.
If it is very dark, use a secondary light source like the torch function on your phone or tablet. Have a friend hold it while you take the image and hold the camera steady.
Brace yourself well as movement can produce blurry images. You can use small tripods but we don't use them as it draws attention. It also helps if you take the image at the end of your breath as breathing in and out causes slight movement.
If you're like us and dine out with friends rather than go to media events, take the photos quickly and don't set up complicated lighting or equipment. That stretches friendship more than dubious bill splitting! We usually take the photos before anyone knows that we've done it.
For blog posts, I never style the food. The way it comes is the way that it is photographed because the whole idea behind restaurant reviews is to give the reader an idea of what their meal will look like if they visit. But for instagram, you may want to style things prettily for a better looking image.
For post processing you can use programs such as Lightroom and Photoshop to adjust the colours and brightness of your images.
Using an external light source from a tablet
From time to time I'm sent things to review. Recently I was sent the newest Compact System Camera by Olympus called the OM-D E-M10 designed in a retro style. It is said to have all of the features of a DSLR in a similar or even higher price range without the weight or the size. It's small and less intimidating than a full sized DSLR. It is also priced from $799 which makes it more economical than most DSLRs.
There were two features that I was most intrigued about for blogging reasons. The ISO goes up to 25,600 compared to high level DSLRs that go up to 6,400. The ISO helps to counter dark lighting and allows you to take photos without having to use the dreaded flash.
The second feature of the E-M10 is the camera's in-built Wifi that combined with Olympus's OI.Share App allows all photos to be sent wirelessly to your phone so that you can share it via instagram, facebook or twitter. I would imagine that this would help in dark lighting situations that smartphones don't handle very well. You can use your phone to take the image remotely once it is connected. This feature is perhaps in response to consumer demand and to think that only a few years ago Instragram didnt' exist and now Instagrammers with huge followings can make a living out of it. There are also numerous in built Art Filters on the camera so that you can add your own filters before uploading them or sending them.
So with Mr NQN holding the regular and heavy DSLR we both set out to look for restaurants that might challenge the camera. And for food bloggers, that's the dark and moodily lit restaurant. Here is a shot using the big Canon7D in a bar on top at ISO1600 and the little Olympus OMD E-M10 below also taken at ISO1600.
We visited plenty of dark restaurants and bars as there are no shortage of them in Sydney but the biggest challenge lighting wise was at Indian restaurant Malabar. Dark and moodily lit, we gave the camera a good try out. The following two images were taken on the E-M10 without any additional light in a dark restaurant: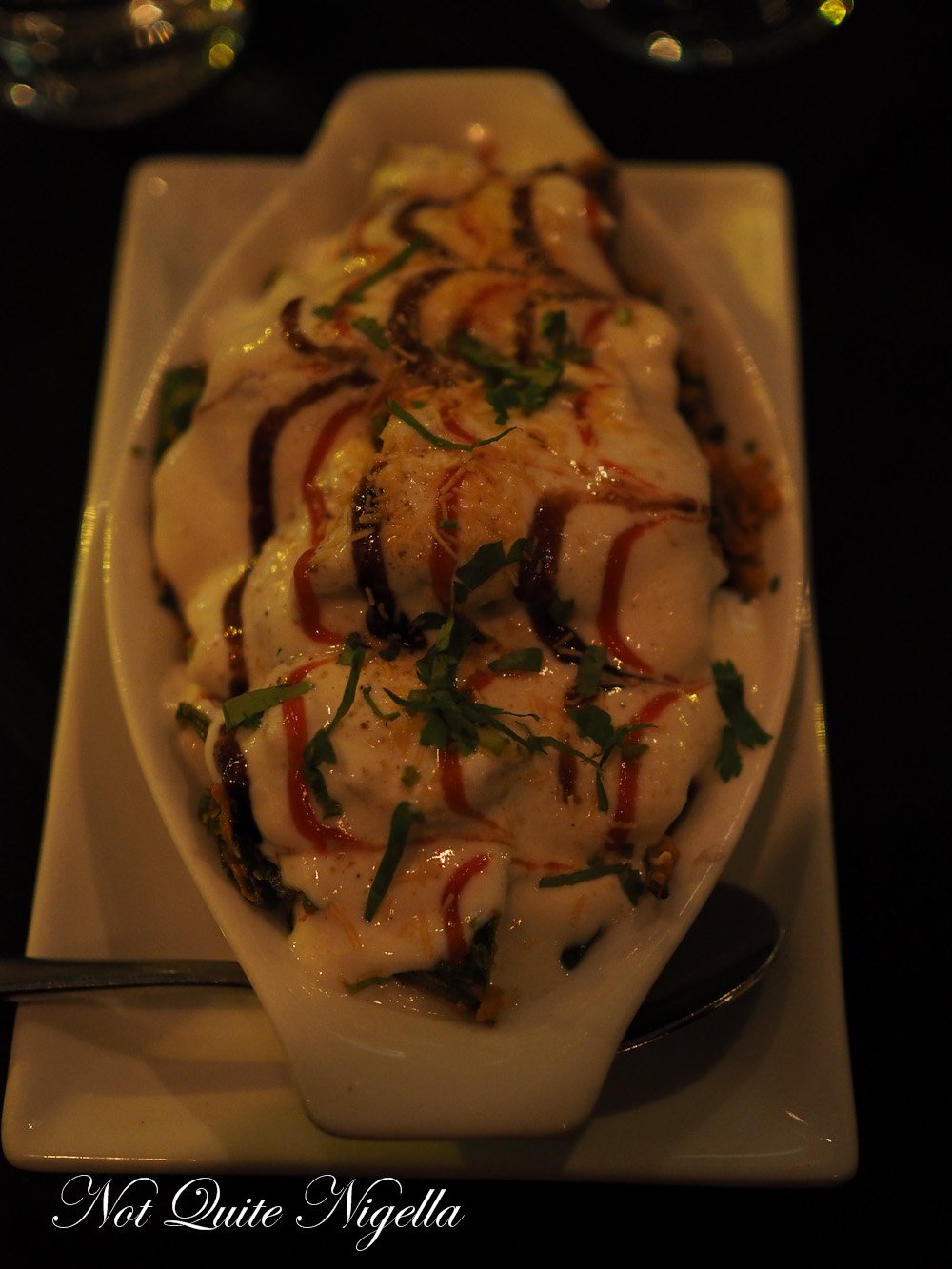 First image shot at 1/50, F1.8 1600ISO with a 25mm f1.8 prime lens, no post image adjustments
Second image shot at 1/20, F1.8 1600ISO with 25mm f1.8 prime lens, but with white balance adjustment, no post image adjustments
There were very few if any blurry images and for darker curries and foods which are harder to photograph, they turned out very well. And what we liked was that the camera was less conspicuous and yet took fast, clear shots.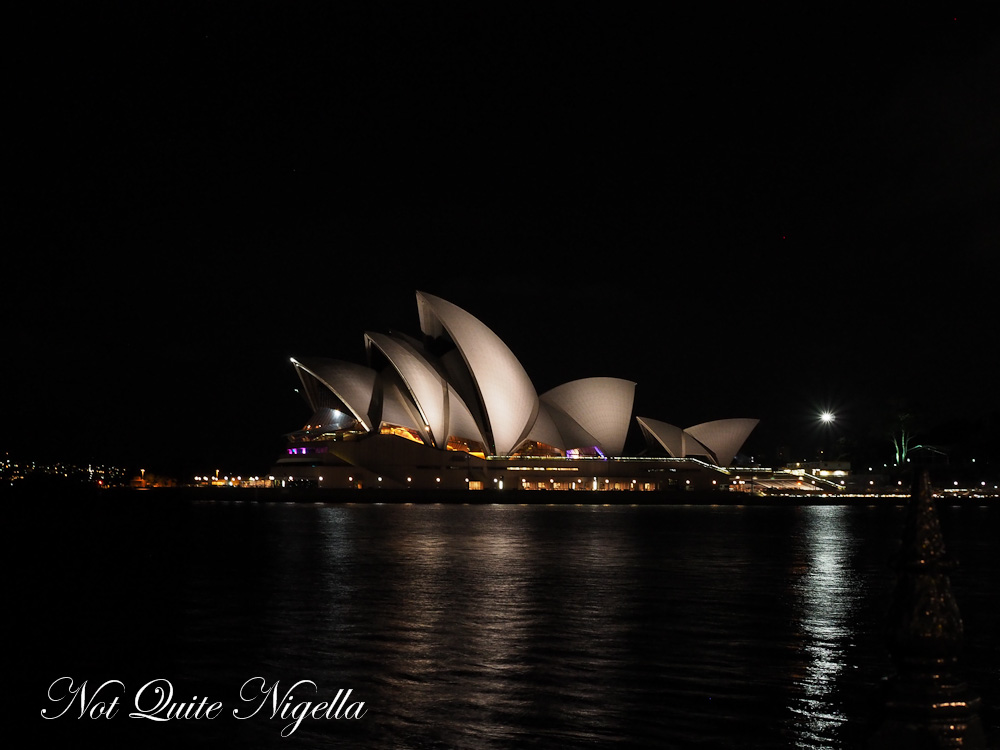 We then took the camera out at night for some "Sydney at midnight" images. Often, there was more light seen in the images than what we could see with our own eyes. We tried to keep the ISO as low as possible settling on 1600 because the higher the ISO, the grainier the image but it is handy to have when the difference lies between getting the shot and not getting anything at all.
So after lots of antics playing with the new camera, that brings me to the final, fun part. The competition! Olympus is holding a competition where 10 Not Quite Nigella readers can win a place at a lunch and photography workshop on Monday May 26th, 2014! In the workshop I'll be showing readers how to style food for recipe blogging and sharing all my little tips and tricks. The three course lunch and workshop will be held at Otto Ristorante in Woolloomooloo from 12noon to 3pm! To enter, all you have to do is tell me what your favourite subject for photography is and why! And do you take pics of your food?
The competition ends at midnight, the 18th of May, 2014! Simply add your answer as a comment to the story. You can enter this competition once daily and it is open to anyone within Australia but transport to and from the event is not included.
*The winners are:
Livein L.
Liz A.
Jaqi C.
Dana D.
Steph M.
Karin R.
Kate D.
Megann E.
Maria W.
Angela D.*
Good luck!
Love,
Lorraine
xxx