If you're looking for a vegetarian dish that feels as full in flavour as a meat one try these super easy ricotta balls in a rich tomato based sauce. Eat them as they are, with a salad, pasta or bread. This recipe is easy to double in quantity to feed lots of people and use my quick way to make meatballs to save time rolling!
Between the two of us with a side of pasta this fed us for three nights and I loved the fact that neither of us missed meat. They've got the addition of the goodness of chopped kale or you could use spinach if you prefer. And to make things even speedier I used a small ice cream scoop to scoop the balls. They're not perfectly round but using it saved a lot of time. And you know me, I love saving time on things ;).
Speaking of balls (haha!) the other night Mr NQN and I were invited to a dinner for the launch of Fifty Shades Darker on DVD. I will admit that I read all the books and even went to the first film. It was a 6 course dinner where we were to blindfold each other and feed each other sexy food like oysters Rockerfeller with Perrier Jouet champagne and figs wrapped in prosciutto with gorgonzola. The host former Miss World Erin Holland relayed some folklore about figs.
She said that one of the sexiest things is for a man to eat figs while naked in front of a woman. Mr NQN looked at each other and had to giggle and he mimicked how he normally eats figs-one after the after barely chewing or swallowing. "Hey honey do you want to see that?" he said grinning. "No and really I'd probably be mad that you're eating all my figs," I told him, no doubt breaking the romantic moment. I think we're too infantile for that as things like balls even make us giggle.
So tell me Dear Reader, do you think that it would be sexy watching a naked man eat a fig? Would you giggle or find it sexy? Did you read or watch Fifty Shades and what did you think of it?
Did you make this recipe?
Share your creations by tagging @notquitenigella on Instagram with the hashtag #notquitenigella
Ricotta & Spinach Balls in Passata
Serves 4
An Original Recipe by Lorraine Elliott
Preparation time: 15 minutes
Cooking time: 35 minutes
250g/8.8ozs ricotta
2 eggs
1/2 red onion
75g/2.6ozs. grated cheddar/tasty cheese
30g/1oz grated parmesan cheese
75g/2.6ozs frozen spinach, thawed (I used kale)
75g/2.6ozs. plain all purpose flour
1/2 teaspoon baking powder
For sauce
700ml/25flozs. passata sauce
1/2 cup sun dried tomato slices
4 tablespoons tomato pasted
2 teaspoons chilli sauce (optional)
1/2 red onion, finely chopped
3 cloves garlic, peeled and chopped
To serve:
1/4 cup chopped chives, parmesan cheese, salt and pepper to serve
Step 1 - Preheat oven to 180C/350F and take a large baking dish or a overproof skillet with high sides. Mix the sauce ingredients in the dish together and set aside.
Step 2 - In a food processor mix the ricotta, eggs, onion, two cheeses and spinach and blend. Empty into a large bowl and then mix in the flour until just combined (do not overmix). Then using a small ice cream scoop, make balls and place them in the sauce. Bake for 35 minutes (longer if you use a regular sized ice cream scoop).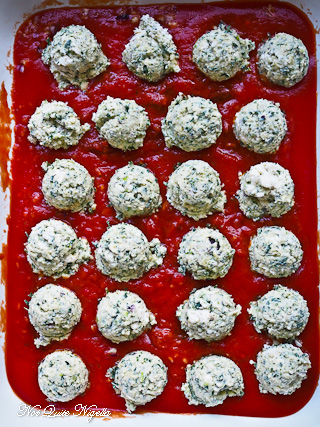 Step 3 - Garnish with chives, parmesan cheese and salt and pepper. I served this with pasta too but you can also serve this with bread.