This delicious vegetarian spinach lasagna has the goodness of greens with the classic ricotta and spinach combination. This lasagna is pure comfort food and you won't miss the meat in this at all!
This vegetarian spinach lasagna makes around 8 hearty serves of lasagna and has 1.2 kilos or 2.2lbs of spinach in it!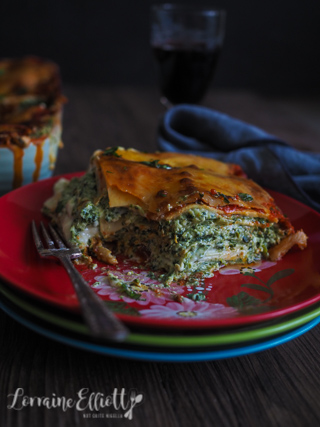 What to serve this lasagne with? Because this has so much spinach in it you don't actually need to serve it with a vegetable side dish. However if you do want something else with it I'd recommend having a peek at my new "Side Dishes" section to find something tasty to go with it! I like this crisp fennel and pomegranate salad or a Tangelo, Halloumi and Olive Salad or this Slow Roasted Beetroot and Orange Salad.
Other types of lasagna:
Smokey and sweet bacon lasagna
Beef Cheek Lasagna with Scalloped Cheesy Potato Crust
I'm not really great with home decorating but can I offer one tip: add greenery. There's something about greenery that makes things feel more welcoming and vibrant. For me however that was a struggle because I kill plants so last year I bought a whole lot of faux plants.
I've spoken before about my love for my fake plants. I've had them for around a year now and they're so good that I sometimes fool myself. I will find myself looking down at the them marvelling at my "gardening skill" only to remember a few seconds later that they are all fake!
So tell me Dear Reader, do you ever fool yourself about something? Do you have any home decorating tips? Are you good with plants?
Spinach & Cheese Lasagna