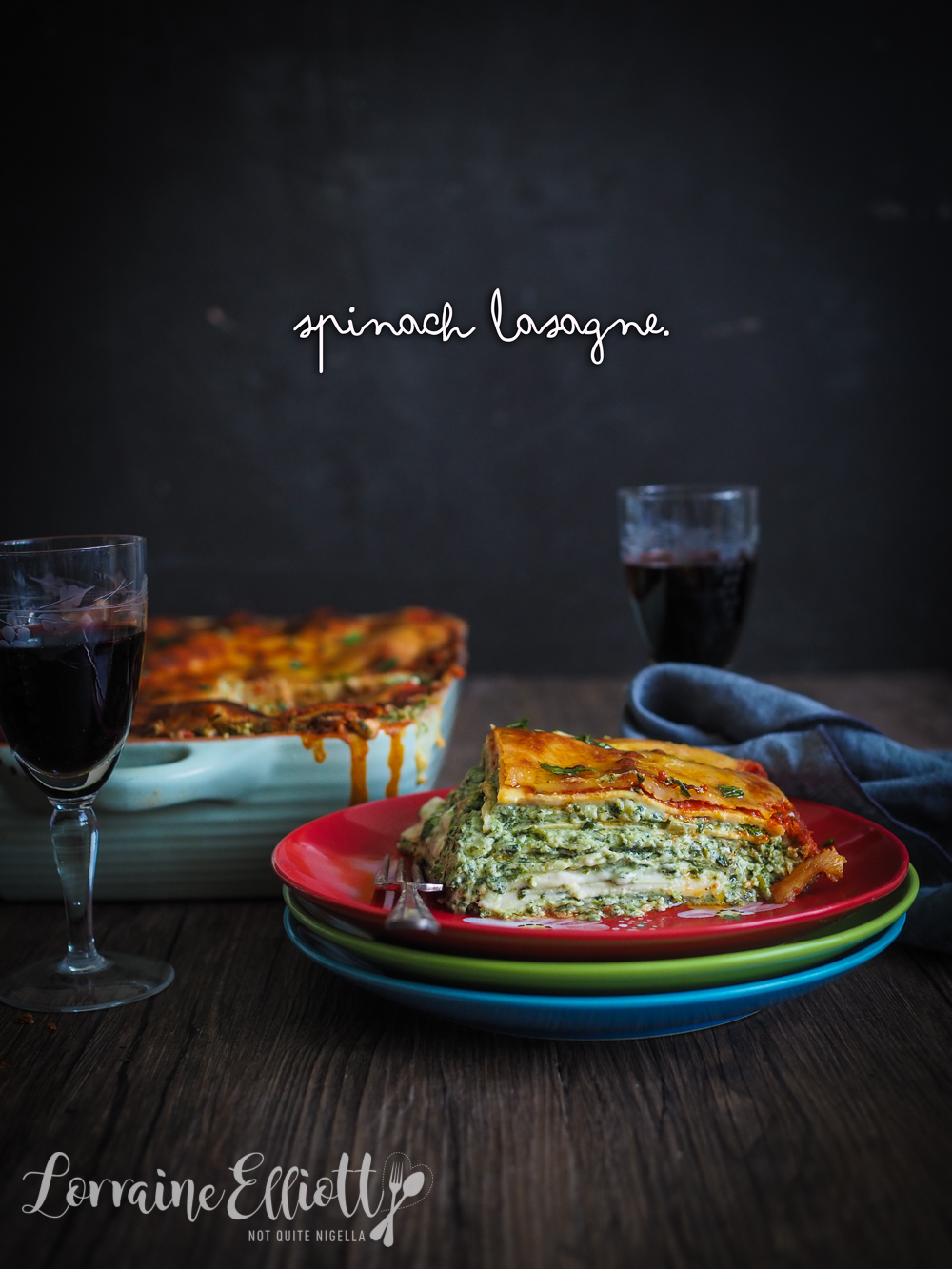 This delicious vegetarian spinach lasagna has the goodness of greens with the classic ricotta and spinach combination. This lasagna is pure comfort food and you won't miss the meat in this at all!
This vegetarian spinach lasagna makes around 8 hearty serves of lasagna and has 1.2 kilos or 2.2lbs of spinach in it!
What to serve this lasagne with? Because this has so much spinach in it you don't actually need to serve it with a vegetable side dish. However if you do want something else with it I'd recommend having a peek at my new "Side Dishes" section to find something tasty to go with it! I like this crisp fennel and pomegranate salad or a Tangelo, Halloumi and Olive Salad or this Slow Roasted Beetroot and Orange Salad.
Other types of lasagna:
Smokey and sweet bacon lasagna
Beef Cheek Lasagna with Scalloped Cheesy Potato Crust
I'm not really great with home decorating but can I offer one tip: add greenery. There's something about greenery that makes things feel more welcoming and vibrant. For me however that was a struggle because I kill plants so last year I bought a whole lot of faux plants.
I've spoken before about my love for my fake plants. I've had them for around a year now and they're so good that I sometimes fool myself. I will find myself looking down at the them marvelling at my "gardening skill" only to remember a few seconds later that they are all fake!
So tell me Dear Reader, do you ever fool yourself about something? Do you have any home decorating tips? Are you good with plants?
DID YOU MAKE THIS RECIPE? Share your creations by tagging @notquitenigella on Instagram with the hashtag #notquitenigella
Spinach & Cheese Lasagna
Rated 5.0 out of 5 by 3 readers
An Original Recipe by Lorraine Elliott
Preparation time: 45 minutes
Cooking time:
Serves: 8
Spinach Filling
1kg/2.2lbs spinach, wilted, chopped and squeezed dry
2 large onions (around 300g/10.6ozs), peeled and finely chopped
6 cloves garlic, peeled and finely chopped
1kg/1.1lbs ricotta cheese
200g/7ozs. block feta cheese, crumbled
2 eggs
1 cup/100g/35.ozs parmesan cheese
Salt, pepper and sugar
Bechamel white sauce
75g/2.6ozs. butter
1/4 cup/75g/2.6ozs. flour
3 cups/750ml/26flozs. milk, not
1 cup/100g/3.5ozs. grated mozzarella cheese
1 teaspoon ground nutmeg
Salt and pepper for seasoning
To assemble:
600g/21flozs. your favourite tomato pasta sauce (I used a spicy one)
2 cups/200g/7ozs. mozzarella cheese, grated
1/2 cup/50g/1.7ozs. parmesan cheese, grated
20 sheets lasagne pasta (to make 8 layers of pasta)
Step 1 - Saute the onions in the oil until softened. Add the garlic and saute for 1 minute. Then add the spinach and cook until the water has evaporated. Cool.
Step 2 - In a food processor, blend the ricotta, feta, eggs and parmesan. Then add the spinach mixture and blend. Set aside (you can do this the night before too).
Step 3 - Make the bechamel sauce. Melt the butter in a saucepan and then add the flour and cook for a minute. Then add the milk in 4-6 lots slowly at first whisking to combine it slowly until all the milk has been added and there are no lumps. You should have a silky mixture. Add the cheese and nutmeg and stir. Season with salt and pepper.
Step 4 - Preheat oven to 180C/350F. Spray a lasagne tray 33x33cms with oil. Spread some bechamel on the base. Then layer with pasta, then the tomato pasta sauce. Then keep layering with the spinach and bechamel making the last layer pasta and then the tomato pasta sauce on top. Sprinkle with the mozzarella and parmesan. Bake uncovered for 30 minutes turning around halfway to ensure even browning. Allow to cool for 2 hours.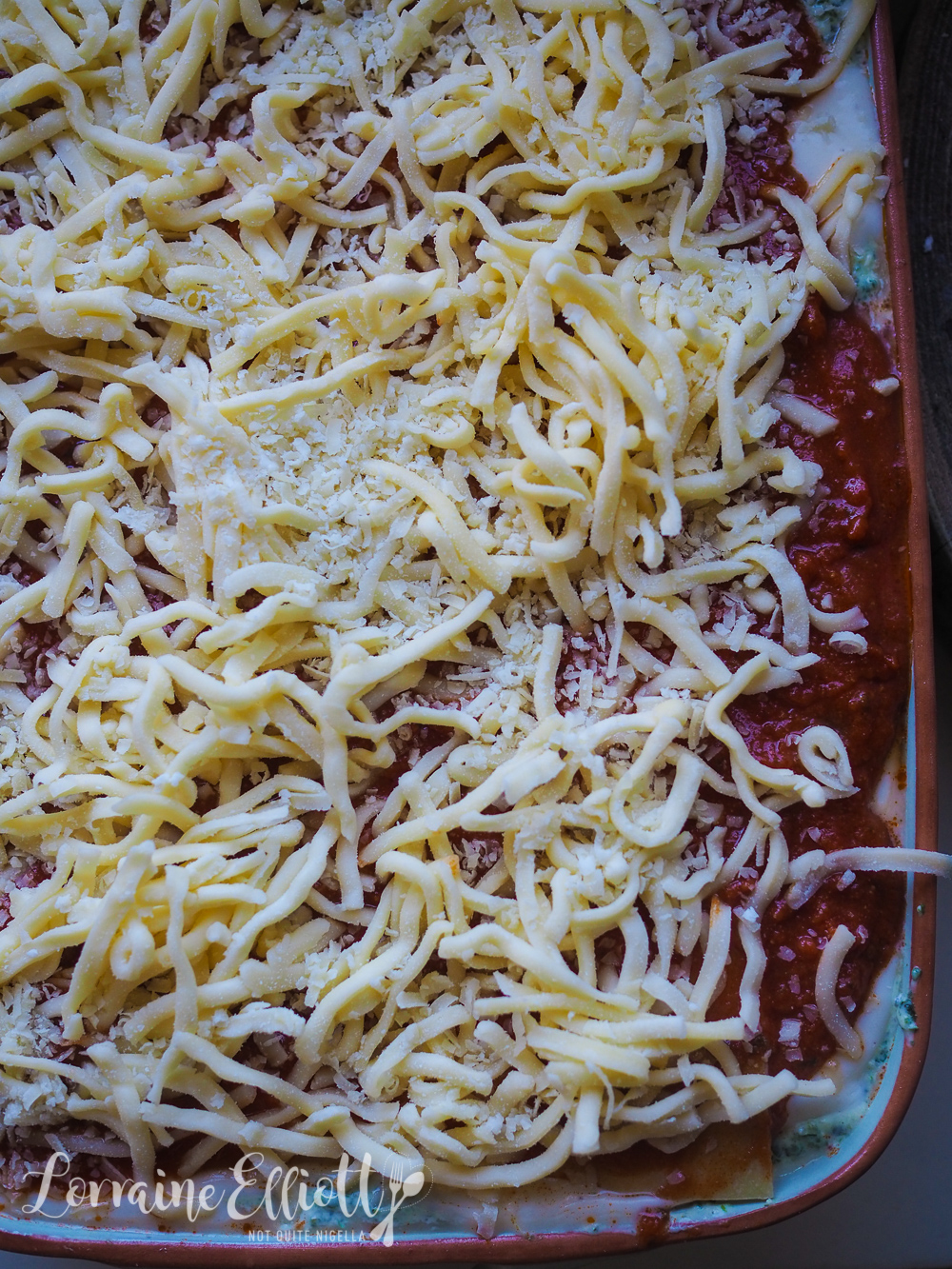 Note: to cut the lasagna cleanly, refrigerate for 4-5 hours or overnight in the fridge and then slice.