Lusikkaleivat. It's quite a mouthful isn't it? Lusikkaleivat are Finnish "spoon" cookies so named because they are uniquely shaped with a spoon. These browned butter beauties are short and crumbly, like shortbread and each pair is sandwiched with jam. They're the perfect morning or afternoon tea snack!
Scandinavian baking needs no intro and while I know many Swedish cookies Finnish ones had eluded me. Mr NQN's aunt Sisko makes pastries and cakes which we all enjoy. Then I came across Finnish spoon cookies and I had to give them a try. I've never met a Scandinavian baked good that I didn't like (even Mämmi is growing on me slowly). But these Finnish spoon cookies are much more accessible. They are so familiar yet unfamiliar if you know what I mean. That doesn't mean to say that I understand how to pronounce it though but I will definitely make these again.
I've got a few other new things in my kitchen this month-all of which are a bit easier to pronounce. The lovely Sherry from Sherry's Pickings now hosts it so thanks for taking it over! First up I have some longans. Usually we buy them on the branches as they are freshest then. These ones were plucked from the branches and put into a bowl for easier eating. They're like lychees but less juicy with different flavour. Do you prefer lychees or longans?
I got all excited when I saw these raw pistachios at the market. They were very expensive so I only bought a small amount. I tried brining and roasting them but had no luck really as they turned out soggy and not very good. Does anyone have any advice on what to do with them?
I first saw these pears a few weeks ago and the seller didn't know the name of them. She called them red pears and I can't fault her assessment because they were indeed very, very red. The skins were very delicate and they bruised and scuffed really easily. If anyone knows what they might be please let me know-I'd be ever so grateful :)
While on a weekend away we stopped in a shop in Berry where I bought a set of scissors. One pair is for cutting up roast chickens while another is for trimming flower stalks.
Speaking of Scandi things, I bought this Gjetost cheese thinking to serve it at a dinner party. It's a Norwegian cheese with a distinctly sweet flavour to it and they call it caramelised cheese. People describe it as [eanut butter or fudge with tang. I can't wait to eat it and see what I can do with it!
And plus I have these cookies so it all feels a bit international in my kitchen at the moment!
So tell me Dear Reader, do you prefer lychees or longans? And do you have any pistachio advice? Have you ever tried much Finnish food?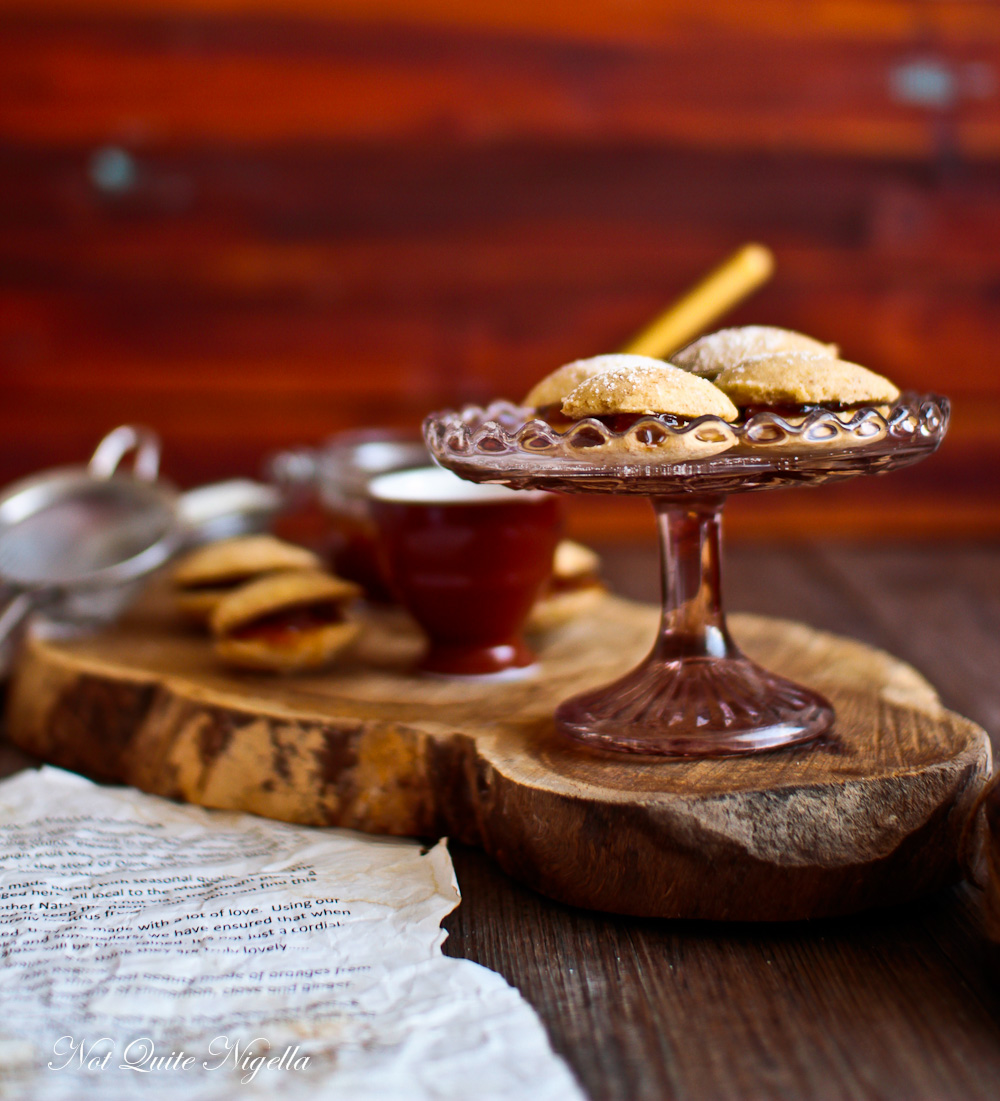 DID YOU MAKE THIS RECIPE? Share your creations by tagging @notquitenigella on Instagram with the hashtag #notquitenigella
Lusikkaleivat Finnish Spoon Cookies
An Original Recipe by Lorraine Elliott
Preparation time: 15 minutes
Cooking time: 20 minutes
200g/7ozs. butter
2 1/4 cups plain all purpose flour
1 teaspoon bicarb of soda
3/4 cup caster of superfine sugar
2 teaspoons vanilla
Fat pinch of salt
1/2 cup jam (I used fig and vanilla jam)
1 teaspoon sifted icing sugar to serve
Step 1 - Line 3 baking trays with parchment and preheat oven to 180C/350F. Heat the butter in a saucepan over high heat and cook until it becomes brown and nutty. Allow to cool while you measure the other ingredients.
Step 2 - In a bowl whisk the flour, bicarb, sugar and salt well until combined. Add the browned butter into the flour mix and then add the vanilla. Stir until it becomes a cohesive dough. Take a spoon-I used a scallop spoon which is larger than a teaspoon but smaller than a tablespoon-it doesn't really matter which size you use, it depends on how big you want your cookies to be. Spoon some of the dough into the spoon and scrape along the edge of the bowl to flatten it. Then use your palm to flatten it and scoop it out of the cavity with your fingers. It takes a bit of practice-by your third one you should be a pro at it.
Press the cookie dough against the side of the bowl to flatten...
Then slide out
Step 3 - Bake for 12-15 minutes until firm and cool. Sandwich two rounds together with jam and sprinkle with sifted icing sugar.