I was looking for a place that would satisfy Nina's two criteria: it had to be within her 5km travel zone and it had to have wine. Enter Wyno, the newest small bar from the people from Porteno, Continental, Stanbuli and Bodega. Located where 121BC used to be on Gladstone Street off Holt Street in Surry Hills, it's a tiny small bar with a great wine list and food menu.
How early is too early to eat? Well 5pm suited early riser Nina and Garth (she gets up at 4:30am to train clients) and we figured that way, we'd be sure to get a seat at Wyno. Because if there's one thing we hate, it's queuing in the cold. Honestly we'd rather go home and order take out and eat with our legs under a doona.
At 5pm there are a few customers seated already. It's a bit chilly by the door so we huddle at the corner at the back of the bar and flick through the drinks. We decide straight away that it's the Vermouths and Amaros that we want, not the wines and they are very helpful at suggesting some of these for us, giving us a taster of each. Mine is the Professore, a citrus slightly herbal vermouth served on the rocks.
Service is lovely and genteel and they are patient with our never-ending conversation interrupting the ordering of the food. We end up ordering half a dozen things to eat which is most of the menu really. The food comes out quickly.
The focaccia is four slices of bread studded with grapes and served with fresh rosemary ricotta. The bread is so comforting spread with the ricotta and I almost want to order another serve but resist. My dress is too tight for a second serve.
The pickled octopus is said to be very popular here. There are thin slices of raw scallop in this too and I actually prefer the scallop to the octopus in this.
The potato tortilla is an easy one to share with an egg omelette barely containing the slices of potato. I would have loved more of the Montgomery cheddar to lift this and give this a more savoury element as it needed a touch more seasoning.
The cannelloni element is represented not in pasta tubes but in thin crepes filled with eggplant with romanesco cauliflower, tomato and a sage butter around the edges.
And then we come to three of my favourite dishes of the night. The ricotta gnocchi with pieces of salt cod and a tomato vodka sauce hits all the right notes of seasoning, balance and flavour plus gnocchi is always welcome during a cold night. I wish we had ordered more bread to soak up the sauce-as it was I was close to running my forefinger along the plate to get the last of the sauce.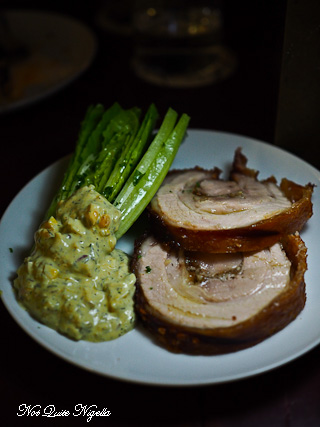 As soon as I heard jalapeno mayonnaise I was in (actually once I heard porchetta I was too). The pork has a crunchy rind and comes as soft, melting, tender fat and meat slices and the jalapeno mayonnaise has chopped up egg in it too. I don't get much jalapeno really, it is really mild if it is there but you can bet I'll make a version of it because it's too good an idea not to.
I can't say that I order minute steak very often but I adore this dish with slices of tender, medium-rare steak, toothsome chilli kale, a runny centered fried egg on top and shoestring seasoned fries. I love it so much I want to order another one (but refrain, stupid tight dress!).
The sponge cake is layered with walnuts, chocolate and sponge cake and coated with a coconut cream. It's lightly, fluffy and very soft and heavenly but also very sweet. Even between the four of us we can't quite finish the epic slice. And the best thing about dining early? We get to go home and do a donut and cake tasting afterwards...
So tell me Dear Reader, does your dress ever inhibit you from ordering more? And how early is too early to eat for you? Would you visit a place at opening to make sure that you get a seat?
This meal was independently paid for.
Wyno Bar
4/50 Holt Street, Surry Hills, NSW (entry via Gladstone Street)
Open Tuesday to Saturday 5pm-12am