Poly is a new wine bar in Surry Hills by the team from Ester (poly-ester, get it?). It's a wine bar located in the Paramount House Hotel with around over 25 wines available by the glass, sakes and a neat food menu that includes octopus with Sichuan oil and a blood sausage pie with a crunchy malt puff pastry covered with herbs.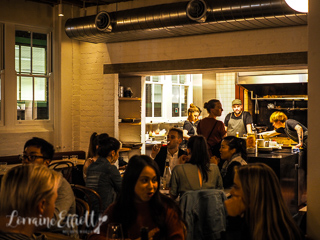 The booking system at Poly is a bit baffling. We turn up at 5pm figuring that it's a good time to get a table because last time we turned up was peak hour around 6:30pm on a Friday evening the wait was 1 hour. However they do take some bookings for groups of 4 or more between 5-7pm and from 9-10pm so this means that the longest we can stay here is one and a half hours because all of the tables have been booked. The website does say "The majority of our seats are kept free for walk-ins every day" so we figure we'll eat and drink a bit and then go somewhere else.
With this time limit in mind (and deju vu of when we ate at Ester and were rushed through a dinner there) we let Ivy and Ryan know that we have one and a half hours. The decor fascinates Mr NQN and Ryan who look up to see exposed insulation pads and foil covered pipes. Service is friendly and professional.
We start with glasses of wine-we're dithering between a few and they bring us tastings of each until we settle on a glass that we like. The wines are broken down into categories like "skin contact - subtle & robust", "rich & textural" and "oxidative". We ask for some food recommendations from our waitress and order quickly (because well, 1.5 hours!).
They bring us some puffed buckwheat to snack on. This looks like crushed, slightly burnt popcorn at first but it's a tasty, salty start and said to be an homage to their neighbour the Paramount Theatre.
Grilled Sourdough, Sesame Dip $12
We start with a fat round of grilled sourdough with a creamy sesame dip with parsley oil. Some might see $12 as a bit high for a small bread round but it's so good that we end up ordering another (it's $8 for the bread by itself). The bread is crispy edged and served hot with a brushing of oil while the inside is dense and spongy. The sesame dip is creamy and given freshness from the parsley oil.
Salt and vinegar haystack onion $10
The salt and vinegar haystack onion arrives next. It's essentially onion crisps with a salt and vinegar powder on top-tasty but not what we expected. I dip the bread in the salt and vinegar powder. Heaven!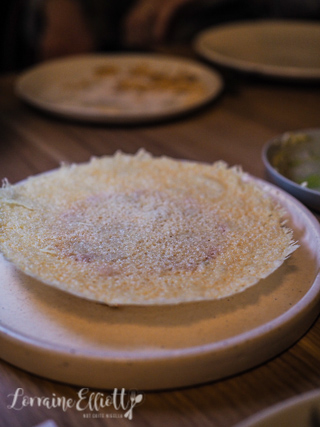 Raw Beef, grilled cheese $24
The next dish is my favourite of the night. It's a beef tartare with baby capers and coriander set atop a layer of creamy egg butter. On top of this is a layer of grilled, crunchy parmesan cheese. We are instructed to break the cheese on top of the beef and then use the shards to scoop up the beef. I enjoy every mouthful and I like that the cheese is quite thick so it is sturdy enough to hold the beef.
Roast Cabbage, Labneh $15
The roast coronet cabbage certainly looks striking with its charred burnt outer and soft, tender inside. It's served with a herbed labne on the side. It needs some more seasoning, especially as it follows the other more flavoursome dishes. We sprinkle a bit of the toasted buckwheat and it does the job of seasoning.
Octopus, Sichuan chilli oil $24
The octopus is a single curled around tentacle that is char grilled and served with potato noodles and Sichuan chilli oil. The octopus is very tender and goes well with the light crunch of the potato noodles while the Sichuan chilli oil and octopus juices pool to create a tasty sauce.
Prawns, salted egg yolk sauce $24
There were some dishes that we didn't really love as much as others. The prawns with salted egg yolk sauce are fine but not as remarkable or inventive as we've learnt to expect.
Blood Sausage Pie, hot mustard, herbs $22
Also the blood sausage pie which we'd read a lot about is nice but not our favourite. The pie is served hot and split in two and there's a malt puff pastry, blood sausage filling, a date puree, hot mustard and a generous scattering of chervil and dill. We would have loved more of the blood sausage flavour to have come through with this.
Milk and honey panna cotta $16
The milk panna cotta comes in a bowl and isn't overly sweet by itself. But the whipped meringue honey on top balances this along with the finely chopped macadamias that give it crunch.
And we look at our phones for the time and laugh-it's 6:30pm and we've finished dinner! They remind us that they need our table so it's onto our next destination because it feels odd going home at 6:30pm on a Saturday night.
So tell me Dear Reader, would you feel odd going home at 6:30pm on a Saturday night?
This meal was independently paid for.
Poly
74-76 Commonwealth St, Surry Hills, NSW 2010
+61 2 8860 0808
Monday to Friday 5PM - late
Weekends 12PM - late
www.polysurryhills.com.au