An American style diner food in the heart of Sydney? The Nighthawk Diner serves up fried green tomatoes, fried chicken steaks, gumbo and pie in a modern diner setting. All with a giant screen playing classic movies like Raiders of the Lost Ark!
It's bucketing down with rain and hail on the night of our visit. But when Viggo messages me to ask if we are still going out for dinner, my response is "Rain schmain, we are still on!". Nighthawk Diner started as a food truck serving up burgers, fries and Cuban sandwiches. They named the food truck and diner after Edward Hopper's famous oil painting "Nighthawks". Nighthawk Diner's chef Alistair Fogg lived in North America for much of his 20s and has held various jobs such as a diamond digger, superyacht chef and taxi driver but always came back to cheffing.
We take a seat in the movie room which is spacious but I look over longingly at a blue booth and ask to move there. "Have booth, will sit," is my motto. Service is friendly from our American waiter. Comically, there's a miscommunication and everything arrives at once (we ordered two starters and four mains and two sides between the four of us).
There's a look of hushed silence before Viggo says uncertainly, "Is there more food coming out?" while the couple next to us look upon us with a combination of horror and fascination as every surface of our table is covered with food or drink. "Let's just move the sauces shall we?" says Louise trying to make room.
There is a list of classic cocktails as well as an option for a regular and a boozy shake. I wanted a breakfast cocktail (there's an all day breakfast menu too) but unfortunately they're out of protein balls. Louise is frazzled because she has just spent almost 2 hours driving across the Harbour Bridge in delays because of an accident so she needs a stiff drink. There are two types of shakes that they can make boozy shake: an Oreo or a salted caramel one and she opts for the former with a shot of whatever takes your fancy. In this case it's bourbon. It's delicious and I end up trying quite a bit of it (tipsy, moi?). It's rich but there is just the right amount of bourbon in this.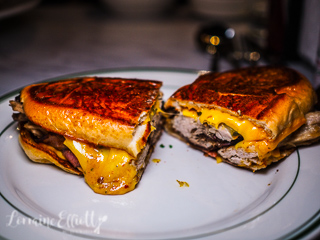 I tossed up whether to get the Miami Cuban sandwich which I've had at the food truck and really enjoyed because the menu is quite extensive and there were other things I wanted to try but Viggo and Mr NQN were total enablers, convincing me that they also should try it. The soft hoagie roll is filled with slices of citrus pork, maple smoked bacon, house made pickles, American cheese and chipotle mayo. There's a certain gloriousness to a meal whose only vegetable involves a pickle. Your brain says, "This won't be healthy" but your mouth says "Hell yeah".
I have only had fried green tomatoes served in a very rich way which is breaded and fried with a thick country style gravy. This is a fresher version with four crumbed and fried slices of green or unripe tomato on a bed of sweet corn puree with a wild rice succotash and the freshness of a peach and jalapeño sauce.
I remember having a Fritos pie when in Chicago and this is a larger version made with corn chips instead of Fritos. It's a bag split open with the corn chips topped with Nighthawk cheese sauce and red salsa. We also added some pork for good measure because Viggo couldn't eat the gumbo and he loves pork. The pork comes in large shredded chunks - perhaps smaller pieces would be good for better distribution over the corn chips and ratios. Because you know I think about this stuff a lot.
And then comes one of my favourite dishes. And when they set it down I think my eyes bulged out of my head cartoon style at its sheer size. It's an enormous buttermilk marinated boneless chicken breast (although seriously, it's like two or three chicken breasts in size). It is dipped in seasoned flour and then fried and then topped with a white country style gravy with plenty of ham. It's so rich and gloriously crunchy and creamy-an unashamed screw you to anyone suggesting a salad for dinner.
I also love the gumbo, a rich deeply flavoured stew made with prawns, chicken and Andouille sausage with herb ranch and a thick wedge of toasted sweet buttery cornbread on the side. The cornbread is spectacular - decidedly sweet but goes so well with this savoury stew.
Viggo spotted the mash and gravy and wanted to try this as you don't often see the two together on a menu. "Would you like some potato with your butter?" he says spooning a creamy heap onto his plate. The brown country gravy is delicious with the buttery mash.
You'd think we had ordered enough but no we needed fries right? These are shoestring fries served with a house-made smoked cheese sauce to which we added some maple smoked bacon and fried jalapenos. Just because we are going for the full American experience here y'all. I would have loved some more cheese sauce on this.
It's dessert time. The sundae du jour is no shrinking violet and it's a soft serve with cream, a thick chocolate fudge Nutella sauce and deep fried Oreos. I'll just let that all sink in for a second. Yep, deep fried Oreos. And they're pretty damn good and remind me of going to the deep fried capital of the world, the Dallas State Fair where they deep fry butter, Thanksgiving dinners and cake.
There was a peanut butter brittle pie that got me very excited because I love peanut butter. But we end up getting the last piece of pumpkin pie instead which while very smooth, spiced and delicious (not to mention an enormous slice) isn't quite scratching that peanut butter brittle itch that I was hoping for. Alas that will have to wait for another time because we could not fit another bite in!
So tell me Dear Reader, do you like American diner style food? Has all of your food accidentally arrived at the same time? And has rain or hail ever caused you to cancel plans?
This meal was independently paid for.
The Nighthawk Diner
69 Abercrombie St, Chippendale NSW 2008
Tuesday to Saturday 11am–10pm
Sunday 11am–4pm
Monday Closed
thenighthawk.com.au
Phone: (02) 9319 0548