As a South African native Nina has an interesting take on Australians. "Whenever the weather gets a little bit cold, Australians freak out," she said over lunch at Osteria Riva, an Emilia Romagna restaurant on Bronte Road in Bondi Junction. It's true, we moan about the cold and wrap ourselves up in blankets and layers and eat comforting foods like creamy pastas. Oh hang on, that might just be me using any excuse to do it!
Osteria Riva is a simple looking neighbourhood style restaurant focusing on food from the Emilia Romagna region. The food from the Emilia Romagna region in the North of Italy has its own identity - foods like prosciutto de parma, culatello, Parmigiano-Reggiano, piadina and tagliatelle al Ragu (taglitatelle bolognese) feature. I became obsessed with finding a restaurant that served it after my recent trip to Northern Italy.
The reason why we're a bit cold is that we have two canines today for lunch. There's Mochi but also enormous Chevy a Vizsla dog so it's out the front for us today. Ordering is a bit confusing as the waiter suggests a lot of things, we order a whole lot of things and before we know it we've got an enormous selection in front of us. The restaurant also has a partnership with a farm in Rylestone that supplies them with free range meat and eggs.
We asked for a few specific things on the antipasto platter. I adore stracchino cheese, that soft, gooey cow's milk cheese on rocket and they also put a little pecorino on there too as well as a little serve of sticky onion jam.
There are three selections of cold cuts: the culatello which I loved when I visited and coppa. The culatello is silky and thinly sliced and not as aged as I had in Italy but it's nice to be able to try it. They go well with the bread although we needed a second serve of bread for the entrees.
Instead of having buffalo mozzarella they are nice enough to replace this with the burrata which oozes beautifully all over the sliced tomatoes.
There's a little gap before our mains arrive and when they do Garth's eyes widen. He thought that the entree was everything that we had ordered. Then there was some confusion with the salad which we thought was the caprese salad but there is also a regular salad too which we really didn't need.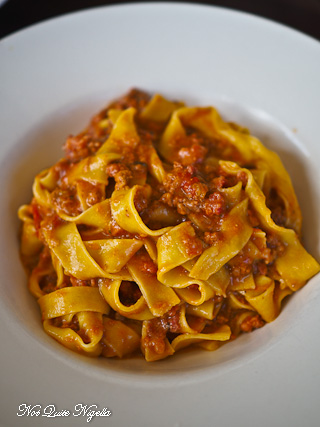 I had to give their version of the tagliatelle a try. If you've read the recipe to the tagliatelle bolognese you'll know that the Bolognese people serve their ragu sauce with tagliatelle not spaghetti. Here they make their own pastas and it's served with a rich Bolognese sauce strong in beef flavour just like the one I had in Bologna.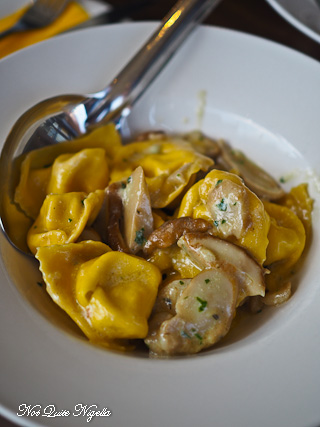 Filled pastas are popular from the region too-there's no tortellini or tortelloni but other ones like cappelletti (shaped little a little hat, hence the name). It's a fat tortellini type shape filled to the brim with cheese with served with sauteed porcini mushrooms. Heavenly.
Another favourite creamy filled pasta is the handmade ravioli which is filled with cheese and served with crumbled Italian sausage and a creamy saffron sauce. It's rich and decadent and you cna find me under a big plate of this during winter.
This was Nina's choice as she didn't feel like anything too heavy and there are slices of zucchini, capsicum and eggplant grilled with olive oil.
I tried a bit of this but really when it's cold and you're given a choice of salad or pasta I was on team pasta.
As full as we are I can't resist the lure of something sweet (and at this late lunch hour we are edging into afternoon tea time here or so I convince myself). The tiramisu is good, soft and light with a light hit of coffee. Which we need because we just want to curl up and nap right now...
So tell me Dear Reader, do you ever find that you get talked into ordering a lot more than you want? Have you tried much Northern Italian food?
This meal was independently paid for.
Osteria Riva
1/96 Bronte Rd, Bondi Junction NSW 2022
(02) 9369 4071
Friday to Sunday 12–10pm
Monday to Thursday 6–10:30pm
www.osteriariva.com.au/