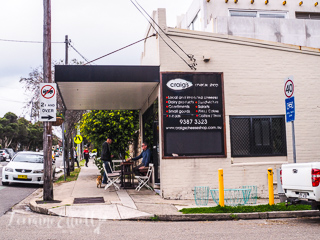 Although she doesn't love eating out, almost every Saturday morning you can find Nina and Garth at their favourite cafe, Craig's Cheese Shop in Bondi Junction. "They're never friendly to me," said Nina warning me that although she had been coming for months, they had barely to crack a smile in her direction.
Despite the name, it's not really a cheese shop-sure there is a cheese plate on offer but it's really a cafe than a shop that sells a wide variety of cheese. There is a small amount of window bar seating inside but most seats are outside which make it perfect to take Mochi along to. We wait for a break in the rain one grey Saturday morning and by 11am the clouds have parted and we are bathed in sunshine.
You order and pay inside and the crowds come in waves. There's a display of things as well as a menu so you have to peek in between people waiting for coffees to take a look at the display. I brace myself for the curt service that Nina warned me about. Except today they're really nice and friendly which confuses Nina somewhat as she is unused to it. Prices are very reasonable and we take a seat outside and wait for our food.
The coffees and tea come out and my chai latte is sweet with honey and nice spices while Mr NQN really likes his coffee (not something he often says as he's very fussy with his coffee).
In my confusion and nervousness I've ordered two pies but that's just a happy accident. The first is a Sri Lankan chicken curry pie. They tell us that all pies are house made. It doesn't really need the yogurt and chutney but it's a nice pie.
The chunky Angus beef pie is full of big chunks of soft beef and a rich, thick gravy. There's a shortcrust base and a puff pastry top and I'm not sure which pie I prefer.
The Craig's plate is a salad and protein plate with a choice of roast chicken or ham. We go for the former and there's a generous amount of warm roast chicken with a rocket salad, labne, almond creamed dip, roast pumpkin and eggplant and quinoa toast. I like the mix of items and it's very hearty for a salad plate.
Garth's order every time he comes here (which at times is several times a week) is the ocean trout baguette. In fact they both order the same thing every time they come here and the guy behind the counter anticipated both orders ("I didn't even know that he knew who I was" said Nina). I try some of Garth's baguette and it is really good. The Organic Republic baguette is crisp in texture and is filled with gravlax, bread and butter pickles, red onion, goats cheese and salad greens. It's a good balance of flavours and there's just the right amount of filling.
I didn't try any of Nina's avocado on sourough toast but she seems to like it. Well she must if she orders it every time she comes!
Garth is still peckish and there is an item that he has always wanted to try so he goes back in to order it. It's a balsamic caramelised onion tart with eggs and Meredith Dairy goat's cheese with a nice crumbly pastry to it. It's on the sweet side with a generous layer of caramelised onion and I'm a big fan of the home made pastry.
And after brunch then it's off to pick mulberries from a nearby tree!
So tell me Dear Reader, do you regularly patronise a place even though they aren't friendly to you? And do you ever order the same thing at a place every time that you go?
This meal was independently paid for.
Craig's Cheese Shop
59 Birrell St, Bondi Junction NSW 2022 Monday Closed Tuesday to Saturday 7am–3pm Sunday 7:30–11:30am Phone: (02) 9387 3323 craigscheeseshop.com.au