Matteo is an Italian in Sydney's Double Bay. It's buzzy and busy with a menu of wood fired pizzas and pastas inspired by Chef Orazio D'Elia's time on the Amalfi Coast.
My friend Hannah was visiting from Melbourne and I asked her what sort of food she wanted and where she was saying. When she mentioned she was staying in Darling Point I booked us into Matteo in nearby Double Bay.
Just a tip: if you want to book at Matteo before 6pm then the minimum spend is waived (it's $100 per person and you'll quite likely get close to it anyway but both Hannah and I hate being told what to do). But unless you're in the front section you'll likely spend dinner betwixt families with small children.
Which brings me to tip 2: ask for a table in the front section which allows you to do the popular Double Bay past-time: people watching.
It's Friday night and cocktail time! I order a Spicy Matteo while Hannah goes for a glass of Vermentino. The Spicy Matteo is made with chilli infused Jose Cuervo, Aranciata Rossa and lime with a salted chilli rim and is spicy and delicious and very easy to knock back.
We love both of the entrees. The wood fired Schiacciatina bread is puffy and blistered and comes with a generous amount of whipped local ricotta. I ask for some chilli oil to drizzle on it.
The beef carpaccio is perfectly seasoned and melts on the tongue with ricotta dura (salted, hard ricotta) for richness and confit tomato puree for acidity
Segueing into more substantial dishes, the veal cotoletta is a tender, large veal fillet in a dark golden crumb crust with slices of tomato, pizza sauce and grated parmesan on top. It's tender and crunchy crumbed although I would have loved a bit more salt and some lemon with it too.
We both looked at this pizza with great curiosity. Earlier Hannah had divulged that she wasn't really into pizza which made me do a double take and wonder if my friend was indeed human or real. We ordered this more out of curiosity because my instinct is always to get the Diavola pizza. This is a bolognese sauce pizza with fior de latte, beef bolognese, peas and parmigiano cheese shaved on top at the end. It is exactly what it sounds like, a rich bolognese sauce and peas on a pizza and the topping really falls off the hot pizza so you're best to wait until it cools a little. The crust itself is excellent with chewy, puffy sides.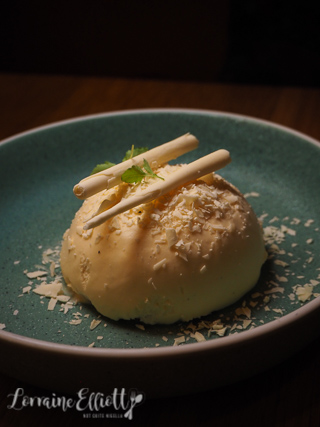 The delizia limone is a dome shaped lemon cake made with limoncello soaked sponge cake and cream.
The chocolate and hazelnut Chiacchiere is not quite what I was expecting. Chiacchiere are small deep fried puffs of dough that are popular during Carnevale (they translate to "little gossips" due to the crunching sound made when biting into them). I was expecting a serve of the Chiacchiere rather than a cake. It's a slender slice of rich chocolate and hazelnut cake with crunchy deep fried Chiacchiere.
So tell me Dear Reader, what time do you eat normally? And what do you think of minimum spends?
This meal was independently paid for.
Matteo Double Bay
29 Bay Street, Double Bay, NSW, 2028
Tuesday to Thursday 5pm to 10pm
Friday & Saturday 12pm to 11.30pm
Sunday 12pm to 10pm
(02) 9327 8015