Our dinner at Totti's in Bondi was four weeks in the making. That's how far ahead I had to book for a Saturday night for four people there and even then it was an early dinner at 5:15pm. Totti's is one of those places that everyone wants to go to and once they visit, they want to go back.
With the reservation made so far in advance I had four weeks to study the menu and I had a fair idea of what I wanted but then that morning Katie, Valentina's darling daughter stopped by to drop something off and she has been a few times and recommended some items.
Totti's is attached to The Royal pub on Bondi Road. We get there, slide into a parking spot right outside and walk upstairs to the restaurant which is heaving with people even this early on.
As it is teeming with rain this week the outdoor area isn't being used to everyone is sitting inside. Service is friendly and efficient. The chefs are Mike Eggert of Pinbone and Khan Danis of Rockpool.
An enormous wood fired oven sits in the corner, a chef taking out puffy bread after bread-this is the famous wood fired bread puff.
I rarely see cocktails for under $18 if ever so that's a nice surprise. The cocktail list has a desirable hit list (and Negroni fans you can order Negronis by the litre). Ivy has never tried a Sgroppino so she orders one at my urging (it is the slushie of your dreams) while I try a Rossini with strawberry and Prosecco which is nice but needs a touch more sweetness. Mr NQN has a Garibaldi with Campari and fluffy orange which is gorgeously bitter and fragrant with orange.
I lose count of the number of these wood fired breads that I see coming out past our table. Ours arrives with all of the side plates. We pull the hot bread apart and it deflates leaving us with a thin centre and a puffy edge, much like an unadorned wood fired pizza.
We all adore the octopus with fennel, garlic and olive oil. The octopus is tender and the oil is so flavoursome that I dip the bread in the oil long after the octopus pieces are gone.
Everyone talks about the burrata at Totti's and I've got some bad news for you if you want to buy it for yourself. You can't. It's made exclusively for them by a wholesaler. The key to this burrata is the gorgeously soft and melting texture. Most burrata is served cold but if you leave it out at room temperature it just becomes that much more oozy and soft.
The chicken liver parfait is rich and buttery smooth and light. It's a bit more intense than the rest of the dishes so I like the contrast.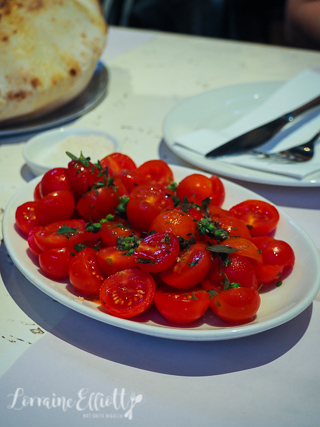 Katie recommended the tomatoes. "I know it sounds odd but it's nice to have something fresh with the meats," she explained. She's quite right although this is not what any of us were expecting with the tomatoes. It's like almost a punnet of tomatoes cut in half, drizzled with oil, seasoning and chives. They are tasty though and as Katie said, good as a reprieve from the richness.
We order the corn fregola and chilli as we all love corn and chilli. It's creamy and reminds me of a creamy polenta although the chilli is very light so it isn't spicy at all. This is fixed by asking for some chilli sauce which they bring out that gives this the needed pep. We like the chilli sauce so much we get two more bowls of it for our mains.
There are two types of schnitzel: veal and pork and we went with the pork as Ivy doesn't eat veal. It is coated in crunchy panko crumbs with a side salad and comes pre-sliced which makes for easy sharing. The schnitzel needs a bit of seasoning and my first piece is mostly sinew but the second piece is better. We also add some of the chilli sauce to this and it really picks it up nicely.
The spinach and herb linguine is a very thin linguine with walnuts and pangrattato crumbs. It's a nice vegetarian or vegan side to have with the meat. It too is helped with the chilli sauce. The mains are nice but honestly our favourite part was the starters with that enormously puffy woodfired bread and sides of your choosing.
We're quite full so there's only room for one dessert. The tart of the day is a free-form apricot crostata with a dab of thick, unsweetened cream on top. The apricots are quite tart but the pastry is rich and the tart is served warmed up. We also order a scoop of vanilla gelato to go with it that really balances the sweetness of the crostata and the fruit.
So tell me Dear Reader, how far ahead do you book your restaurants? If you could order a cocktail by the litre, which one would you order?
This meal was independently paid for.
Totti's
283 Bondi Rd, Bondi NSW 2026, Australia
+61 2 9114 7371
Mon-Sat11:30 am - 12:00 am
Sunday 11:30 am - 10:00 pm