Forget using chai powders or teabag mixes. The best chai latte I've ever had that has been consistently fantastic was in Siem Reap in a cafe and cake store called Bloom Cafe. With just the perfect amount of spice and sweetness the kind folks at this cafe shared the recipe with me. And the best thing is that it is super easy and makes enough to make a couple of dozen cups and keeps well in your fridge!
Dear Reader I've been saving this recipe to share with you for winter. It has been pointed out to me that I am predictable in my ordering of chai lattes. I was in Melbourne and had just sat down at a table in a cafe and Nina texted me. I told her where I was and she said "You just ordered a chai latte." I laughed because I just had done just that.
How to make a chai latte mix video
Chai lattes are based on masala chai. They're available at most cafes in Australia but if you order one in a cafe in another country they don't often have them (outside masala chai at an Indian restaurant). Anyway back to the lovely people at Bloom Cafe, they teach impoverished women cake decorating skills so they have a vocation and a brighter future and these women are seriously skilled. Their cake and cookie decorating is delicate and gorgeous. This recipe is from their lovely manager Melissa.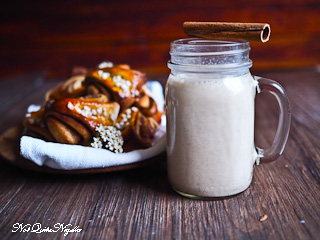 Anyway I've been rambling long enough, all I have to say that if you love chai lattes, you have to give this recipe a go (yep it's a pushy recipe!). Most chai lattes in cafes are made with a powder but this is made from scratch with all the spices blended by you. The primary spice is cardamom and there's quite a bit of black pepper in it but it totally fits. Make it try it and I hope you love it as we do here in our household!
So tell me Dear Reader, do you often order chai lattes? What's your go to order at a cafe?
The Best Chai Latte Recipe EVER