We get a sneak peek at the new range of Qantas cutlery and crockery by Noritake and Australian designer David Caon in consultation with Rockpool's Neil Perry. And find out what 90 African elephants have to do with it too!
Ever considered your cutlery on a plane? Just mere grams can make a huge difference in the whole business of plane travel. This year, in conjunction with the new 787 Dreamliner comes another new offering: a redesign in Qantas's seats, cutlery and crockery. The new range is made by Noritake who have been making inflight tableware for Qantas since 1962.
There's a practical bonus with the new range too. It will help reduce Qantas's carbon footprint by reducing the weight by 11%, saving 535,000kgs of fuel a year - or 90 African elephants! Additionally, the weight of the meal carts on the 787 will be reduced by 40%.
The last refresh was in 2009 with designer Marc Newson for the A380. The new collection designed by Surry Hills based designer David Caon has reduced the number of pieces from 19 to 16 pieces of crockery. The collection is made up of fine bone china china, a five piece brush-finished stainless steel cutlery setting and glassware. The key aesthetic is a 800mm curve. "We had to keep everything looking like a family," says David and using this measurement across all pieces allows them to keep in line. Straight lines were minimised (cutlery notwithstanding) and they were inspired by the interiors of the 787.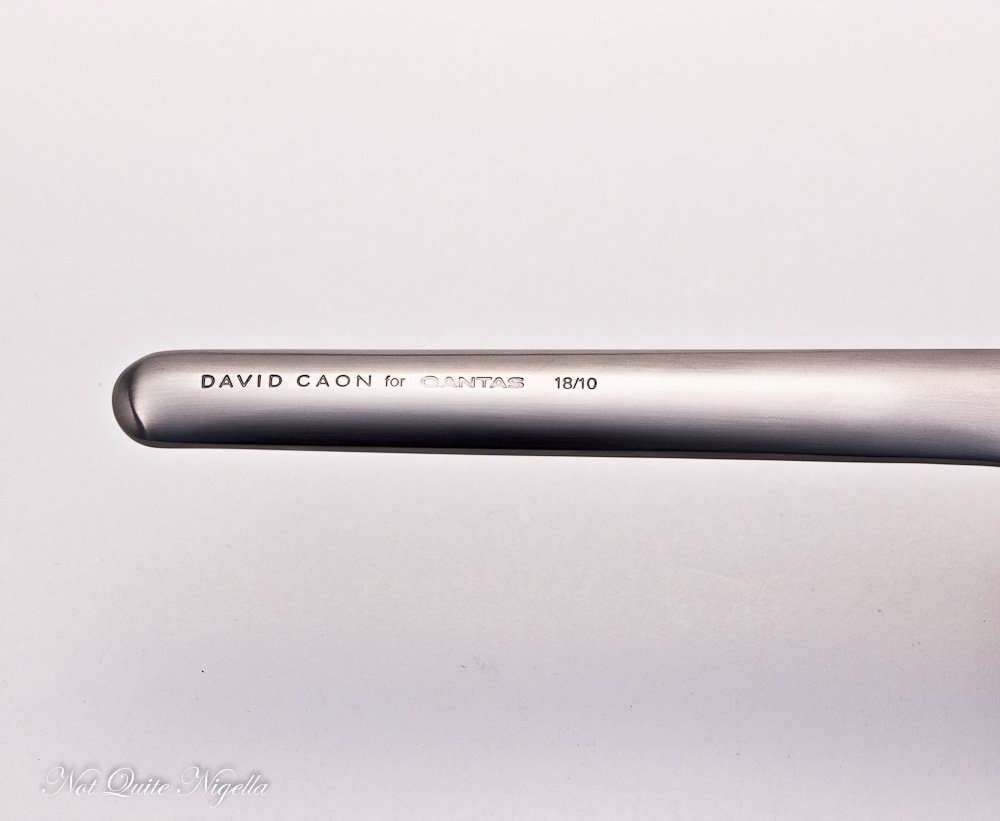 "We had to have a lot of conversations with staff, with passengers and a lot of people who were expert at the life this product has once it enters into the Qantas network. I guess I became obsessed with observing how people use the product," said David.
Shaving that extra weight was a difficult process, "This is the same bone bhina that Noritake use in all their products. We reduced the weight by being careful in the design of the profiles of each object. We couldn't make super thin products - they would simply break. Noritake's expertise helped us set the various thicknesses of different areas of the product to ensure maximum strength and minimum weight."
Planning your next trip? Ensure you have the right coverage with HeyMondo travel insurance that includes COVID-19 protection. Plus, if you use our link, you'll receive 5% off the price. Find the best deals on flights from all airlines in various currencies with SkyScanner and set up alerts to get notified when prices drop. For reliable transportation options, look no further than 12Go Asia, offering train, bus, ferry, and flight transfers worldwide. Book your transportation now and enjoy a stress-free journey.
When you purchase through these links I will get a small commission at no cost to you. Thank you for supporting me! :)
David and Neil had to scrap ideas of grooved patterns as they simply did not work for the job the products needed to do. "Primarily I think we put function above form, I think you have to and it's an important ethos to me. The product can be as beautiful as you like but if it doesn't work well it doesn't perform and doesn't achieve its functional goals, the product is not successful."
One change that you may not hear is the teapot lid that locks into the teapot-that's designed to be less clinking in the breakfast service.
And when will it come into effect? It will be on board Qantas flights from the first Dreamliner service from Melbourne to Los Angeles on December 15, 2017. It will be used in International First and Business. The Premium Economy and Domestic Business cabins will see a new dish made of porcelain rather than fine bone china. And still the most popular item in First Class is the steak sandwich-they serve up more than 600,000 a year worldwide. And like when the 2007 Marc Newson range for Qantas came out, they're expecting some to go mysteriously "missing".
So tell me Dear Reader, do you ever souvenir items from flights? Do you notice things like cutlery and china?
NQN previewed the new range as a guest of Qantas.