I don't need to tell you Dear Reader that there's a vast difference between flying Business Class and Economy Class. In economy, you cannot wait for the flight to be over and you simply envisage yourself at the destination end, walking through the doors. In Business Class, well there's so much to see and do that sometimes you don't want it to end (to a point, I will concede ;) ).
Today I'm testing out Qantas's business class service to Hong Kong on the A380. My journey starts at the business class check in counter at Sydney airport where there's a private waiting area. The business class queue is short (and the first class queue even shorter and blocked from view) while the economy queue, well let's just say I've never seen so many people queued up for check in before! Service at the check in counter is adequate although not particularly friendly and we  have to ask for Express Path passes twice.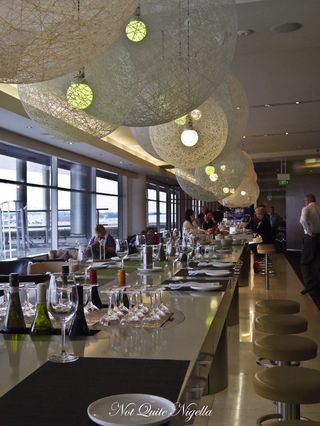 Clutching the Express Path passes allows us to short cut some queues and we make our way through customs and to the business class lounge where Rockpool chef Neil Perry is tasked with overseeing the food here. We have about an hour to kill and I'm quite ravenous as I haven't eaten so I take a seat at the island table which is where you can order food cooked to order. There are also two buffets but I prefer a la carte.
I spot a man making coffee and tea nearby and am about to order a cup of tea until I see the sign for Valrhona hot chocolate with marshmallows, pearls and white chocolate buttons-hot chocolate made with Valrhona trumps tea I'm afraid so I order one. I inquire about where to order and unfortunately, we've hit them at a time where there isn't island service and we'll be boarding by the time it resumes. But no matter as he tells me that he can arrange for something for me and asks me what I'd like. I spotted a smoked salmon and ricotta breakfast on the menu when we walked in and when I go to sit down and sit my dark hot chocolate, it arrives a few minutes later. Now that's service!
I was initially thinking that the bread might be too thick and hard for the smoked salmon topping but it's very fresh and soft so it is just right. The smoked salmon is good quality with a creamy ricotta underneath it and microherbs prettily presented on top.
A little later, a staff member comes around with fresh ham and cheese croissants and offers them to guests. I am a fiend for a good croissant and I can't resist. The croissant is buttery and filled with smoked ham, a tomato chilli jam and cheese (although I prefer the bits with just ham and cheese).
Just for research purposes (yes, really!), a nearby display of gluten free chocolate brownies proves too tempting and I split it with my travelling companion Miryana. It's dense, dark and cocoaey with nuts studded through it. Miryana has some gelato and reports that it is delicious.
We make our way to gate 10 and onto the flight. The queue for business class isn't marked but business class and premium economy is on the top floor while first class is on the bottom floor where I presume economy class sits too. I just realise that I've forgotten to bring my plane pyjamas with me so a request for a sleep suit is made and this is furnished. I change and settle into my seat, 11A, a window seat at the front of the business class cabin and survey surroundings. I'm now using my cute 'lil retro styled Pentax Q camera for all airline reviews because it's much smaller and less bulky and conspicuous to whip out.
The onboard lounge
Seats are in a 2x2x2 configuration with a hard shell seat with an adjustable privacy partition between them. There's a handy pocket down the side for bottles of water and plenty of leg room (although for me, this isn't usually an issue being short!). I love the two storage bins to the side which can hold your bags and goodies. In front of the cabin is a lounge area with a good selection of magazines. The extremely helpful staff even offer me a bigger selection.
Champagne is either Billecart-Salmon brut or Charles Heidsieck Reserve Brut. Today it is the latter which is offered along with orange juice and water. An amenity kit is offered with a Florence Broadhurst pattern although a new Kate Spade bag is being offered soon. Inside are toiletries by Malin + Goetz including three travel sized tubes of hand and body lotion, lip conditioner and face cream. There are also ear plugs, a sleep mask, socks and a toothbrush and toothpaste. The temperature on the flight is actually quite pleasant-I usually find Qantas cabin temperatures extremely cold but this is ideal, perhaps it is the A380.
Flicking through the latest gossip mags and the Rolling Stone passes some time and before we know it, lunch is being served. We're offered a menu which has a choice of two entrees, four mains and three desserts, along with a list of snacks. I'm not really hungry at all having had so much in the lounge but of course I need to try everything.
Zucchini, basil and parmesan soup with croutons
The zucchini, basil and parmesan soup has a great flavour and a little texture to it although it could be a bit hotter. The croutons were plentiful, a bit too plentiful and weren't very crisp so they ended up getting wet quite quickly. It's served with a green leaf salad and a fantastic merlot vinaigrette. Sourdough and rye bread was offered but I wasn't hungry enough to try them.
Roasted barossa valley chicken with rosemary kipfler potatoes, ratatouille and port wine jus
I decided to go for the healthier option menu as I clearly hadn't when I said yes to a ham and cheese croissant this morning. This serving was enormous and very nicely plated. The chicken was tender and not dry at all, even at the thick of the breast portion and the ratatouille full of flavour-I only wish there was a bit more ratatouille. The chicken sat on a bed of sliced, roasted rosemary potatoes although I preferred to fill up on the chicken and ratatouille.
Seasonal cheese selected by Calendar Cheese Company and sliced fresh fruit
The other dessert offered was profiteroles but I really felt more like cheese. There were two types offered, a gruyere and a blue cheese. They came with crisp water crackers, a juicy, sweet medjool dates and a slice of Pastilla Nash. The fruit plate was full of sweet fruit including some really delicious grapes (I know, is that random to mention the grapes? Props to the grapes!). And to end? Some wrapped Valrhona chocolate batons.
Bathrooms have Malin + Goetz toiletries and proper cloth washers with which to dry hands and appear to be cleaned regularly. There are also sensor activated taps where you can control the temperature of the water.
Onto important things like television shows and movies. I perhaps won't indulge what I watched...Ok it was The Dictator...in between lots of napping on the bed.
About an hour before descent starts, the flight attendants come around and ask us whether we would like anything from the refreshment menu. As my stomach is on Sydney time, it tells me that I've missed dinner so I toy between the mac and cheese with Swiss browns and capsicum jam or the glass noodle salad which wins out in the end.
Glass noodle salad with seared yellowfin tun and lemongrass dressing
The glass noodle salad was seasoned with a lightly creamy lemongrass dressing and pieces of seared yellowfin tuna. The dressing was delicious, the noodles crunchy and the tuna generously portioned and I kept thinking that I'd love to make something like this at home. It was a little messy to eat with the dressing from the noodles and I'm glad that was still wearing my pyjamas!
Coconut ice cream
There was a choice of coconut or raspberry ice cream by Paddington brand Nice Cream and I chose coconut. It had little pieces of shredded coconut and was a little icey but tasted of sweet, pure coconut milk.
We're touching down before we even know it and perhaps it's the added height from the top floor but the landing is pure silk.
So tell me Dear Reader, do you change into a different outfit when you fly once you board? And do you enjoy flying or do you just want to be at your final destination?
NQN tested out the flight as a guest of Qantas
Qantas
www.qantas.com.au