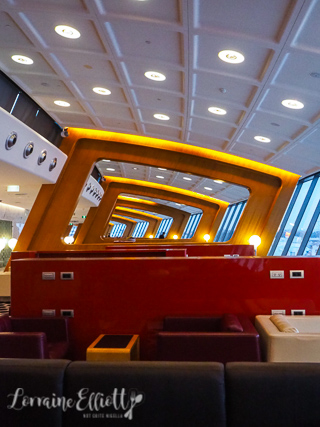 The flutter of the flight status screen and the tinkle of cutlery and crockery are all you'll hear in the Qantas Sydney International first class lounge. The Qantas First Class lounge is located one floor above the Qantas Business Class lounge and is a more private, quieter experience. There's also an in-house spa, table service, a modern Australian menu designed by chef Neil Perry and Rockpool and a host of wines to choose from.
Although I'm not flying first class, a glimpse into the lounge makes me wish I was. From the moment you walk into the timeless and spacious Marc Newson designed lounge past the curved living wall of plants it is quite an experience.
My stomach is growling and urging me to attend to it. We had deliberately planned an early arrival at the Sydney International Airport arriving at 12:30pm for our 3:55pm flight so we could make the most of our time in the lounge.
A lovely staff member comes up to us to show us a seat in a quieter area of the lounge. We pass the marble bar with four seats in front of the open kitchen and past the drinks station. The business class lounge is more buffet style and certainly you can help yourself here but the staff are also happy to bring you whatever you desire.
We start with glasses of Mumm rose champagne to toast our trip. And we go through the menu asking for suggestions from the lovely staff member Kikki. The menu changes seasonally and we are dining from the Autumn menu.
Gua Bao with slow roast pork belly, chilli paste and pickles
The bao are served per piece and are filled with pickles, coriander, shallots, chilli paste and a thick slice of meltingly soft slow roasted pork belly inside. They're quite sizeable and very tasty.
Heirloom tomates with bocconcini, basil, balsamic and olive oil
It's probably a bit too late in the season to order a tomato salad but I can't resist. There are a variety of tomatoes from crisp green tomatoes to sweet cherry red ones with torn bocconcini, fresh basil and a fresh balsamic and olive oil dressing.
Salt and pepper squid with green chilli dipping sauce and aioli
The next item is the lounge's most popular dish. The salt and pepper squid is pretty damn fantastic. In fact it rivals or beats most outside of the airport and has a cult following. It comes with two sauces (yay!)- a green chilli dipping sauce as well as an aioli for a bit of creaminess. I also like the serving sizes here. There's enough but they're not overwhelming and let you taste a range of things.
Beef brisket, shallot tarragon sauce, Tuscan kale with anchovy butter and baby kipflers
The beef brisket is cooked for 8 hours and it shows as it gently pulls apart with a knife and fork. It's delicious and served with shallot tarragon sauce on top, sauteed Tuscan kale with anchovy butter on the side and baby kipfler potatoes. I think I would have loved a bit of bread with this too.
Spicy cumin lamb noodles with sesame, cucumber and chilli oil
Mr NQN's choice was borne of a hankering for something spicy. The spicy lamb noodles are thick, like udon and chewy with a sesame, cucumber and chilli oil sauce. They're plentiful and lightly spicy and the lamb is soft and falls apart.
Butter mochi cake with pineapple, chamomile jelly and coconut sorbet
It's dessert time! When I spied butter mochi cake on the menu I got rather excited because it is usually an Hawaiian only item and I had planned to make it myself. Butter mochi cake is not exactly like Japanese mochi (the round sweets). It is a cake made of sweet glutinous flour and is baked like a regular cake. It has a lovely chewy texture from the rice flour and it is paired with thinly sliced pineapple, chamomile jelly and a refreshing coconut sorbet. It's my favourite dessert of the three as it is so light and unusual.
Chocolate mousse with honey poached pear, spiced rum, hazelnut and chocolate sorbet
The chocolate mousse is more a classic dessert. It's a mousse spread out on a plate and topped with a rich chocolate, spiced rum and hazelnut sorbet with slices of honey poached pear.
Signature pavlova with raspberries and blueberries
And last but not least, there's the signature dish. The pavlova is served with meringue discs, fresh rapsberries, blueberries, cream and pashmak and it is the most popular dessert on the menu.
I take a peek into the spa with its lush green "living wall" of plants. Unfortunately it is fully booked up and it is a very popular part of the first class lounge. The spa menu offers 20 minute treatments from massages to facials but needs to be booked 24 hours in advance.
We spend the rest of our time in the quiet end of the lounge watching plane activity in front of us and doing work. And before we know it the boarding display flutters one last time for us and it's our time to board.
So tell me Dear Reader, how far ahead of your flight do you usually get to the airport? Do you usually try and eat before a flight?
NQN and Mr NQN tested out the Qantas First lounge as a guest of Qantas but all opinions remain her own.
Qantas
qantas.com.au