Yahkni is stock or broth in many countries. Indeed this fragrant broth is replete with flavours of chicken, spices and vegetables that cook through enriching the broth. It's the perfect item to serve for dinner during a chilly night with a helping of couscous, rice or grains to accompany it. At the heart of this is a mix of sweet, aromatic spices called Qidra, a mix of 9 delicious ingredients that can also be used to marinate roasted meats too. It's a clove and garlic heavy spice mix that bursts with sweetness and bold aroma.
The smell of this dish while it is cooking is very tempting. It's the sweet spices that lures you and if you are like me, you cannot wait for it to be ready. The chicken becomes velvety soft so that it falls off the bone and the soup is fragrant but with chunks of carrot, pumpkin and little rounds of chickpeas to add to the wholesomeness of the dish. And the Qidra mix is one that is used in Qidra, a festive lamb dish made with rice in a clay pot.
I made this the day after I went away for a few days. I came back and it was cold, wet and miserable and there wasn't much in the fridge, just a bag of chicken wings in the freezer, some carrots and the rest were from the pantry. The recipe is originally from a cookbook called The Gaza Kitchen by Laila El-Haddad and Maggie Schmidt. We ate this dish at a "Taste of Gaza" dinner and I earmarked it as something I wanted to cook. I have adapted it to suit what I had though so there wasn't any looma or dried limes in my pantry but there was pomegranate molasses. I also changed the method to keep in more of the flavours so that it had a bolder flavour. But this is a really wonderful take on chicken soup.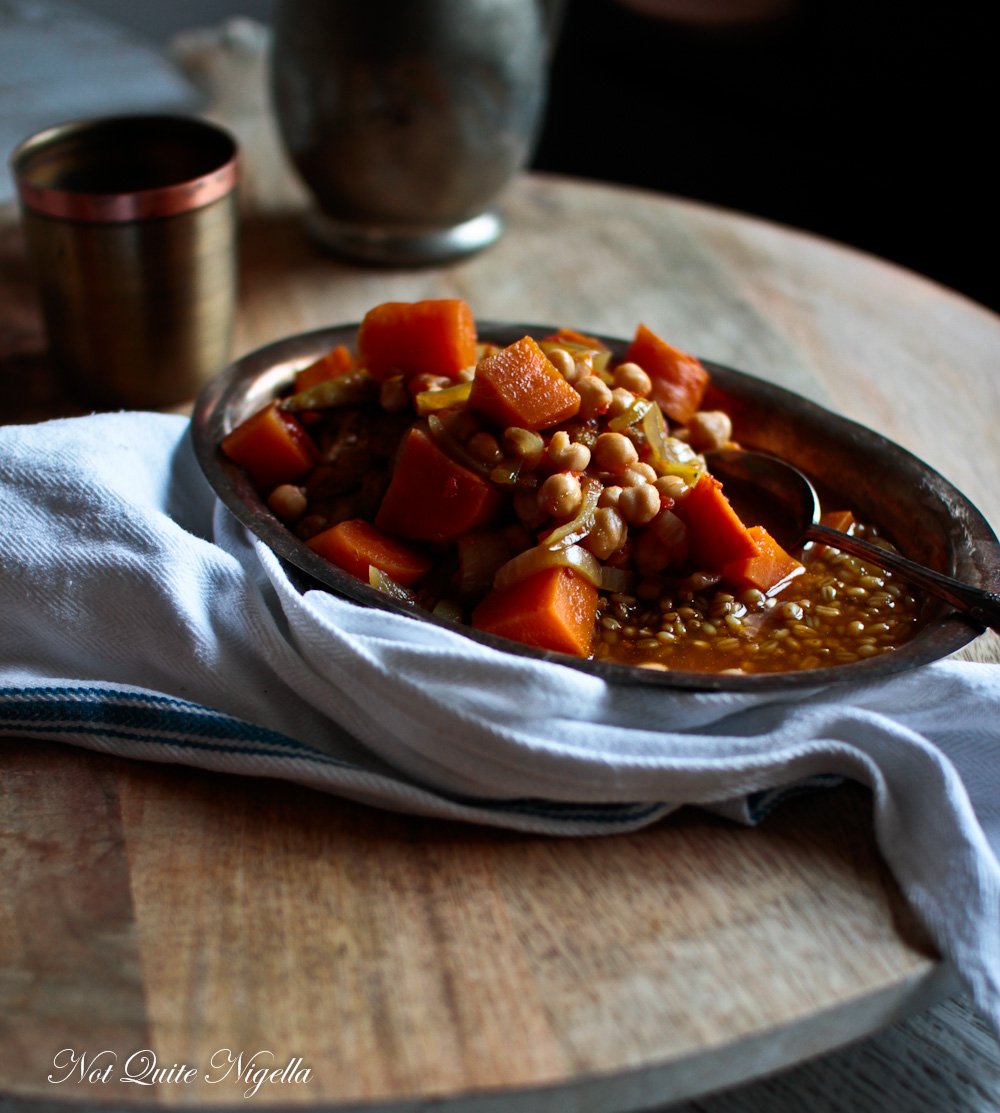 There was someone in the house that was also in love with this soup. That is little Mochi. Her favourite food is chicken or duck (specifically Peking duck but she doesn't have it very often). But she adores chicken and when she saw the chicken in this dish her beautiful big black eyes widened and she sat in front of the kitchen entrance. She has become such an important member of this household and has really become used to me being away. While I was in Peru she slept on my pillows every night.
She is much more communicative and confident too-the other day when she needed to pee she tapped me on the arm. When I wasn't sure what it meant and I continued talking to my friends she did it a couple more times before we realised she needed something and then took her out. When I go away I miss her terribly and when we were in the Maldives a couple of months ago Mr NQN and I were sitting on a day bed outside looking out at the ocean together. I turned to Mr NQN and said wistfully, "Wouldn't it be funny if Mochi came swimming towards us and up the stairs to join us?" and you know for a moment I really thought it might happen and I could see her fluffy little white face.
For now I'll give her some chicken and we'll feast on this wonderful soup stew. If you're feeling in need of a soup stew (stup?), please give this a try!
So tell me Dear Reader, do you like soup stews? What is your favourite spice to use?
P.S Mochi has her own Instagram account too! You can follow her at (@mochielliott)
DID YOU MAKE THIS RECIPE? Share your creations by tagging @notquitenigella on Instagram with the hashtag #notquitenigella
Yakhni Gaza Chicken & Carrot Stew
An Original Recipe by Lorraine Elliott
Preparation time: 15 minutes
Cooking time: 2 hours
Oil for frying
1kg/2.2lbs. chicken wings
1 large onion, chopped
6 cups water
1 tablespoon qidra spice mix (see recipe below)
1 teaspoon ground cumin
1 teaspoon pomegranate molasses
1 teaspoon ground turmeric
2 onions, sliced
2 cups carrot chunks
410g/14.5ozs. tin diced tomatoes
2 cups peeled pumpkin chunks
410g/14.5ozs. tin chickpeas, drained and rinsed
Salt and pepper to taste
Couscous or rice to serve (I served mine with farro)
Qidra Spice Mix (this makes more than you will need but it is a great rub for meat)
1/4 cup garlic powder
1/4 cup black pepper
1 tablespoon ground cardamom
1 tablespoon ground cloves
1 teaspoon turmeric
2 teaspoons ground cinnamon
2 teaspoons ground allspice
1 teaspoon ground nutmeg
1 teaspoon ground red pepper
Qidra spice mix
Step 1 - Heat a large pot on medium high heat and add oil. Brown chicken on all sides. Add the onion and a bit of salt and pepper and fry until onion is translucent. Add enough water to cover the chicken and bring to a boil. Remove any scum from the top.
Step 2 - Add the qidra spices, ground cumin, pomegranate molasses and turmeric and bring to a boil. Simmer for 1 hour with the lid ajar.
Step 3 - Remove the chicken pieces from the pot. In another pot sautee the 2 additional sliced onions in oil until translucent, add the tomatoes, carrot and add the broth to this pot. Bring to a boil and simmer for 30 minutes. Then add the pumpkin chunks and chickpeas and simmer uncovered for another 30 minutes. Place the chicken back into the pot and add salt and pepper to season. Serve with couscous or bulghur.