It's almost Halloween aka the witching season my ghoulies! And let me share with you these adorable Rice Krispie Treat Owls! They're not only adorable and super easy to make but they're also delicious :) Try this easy, cute Halloween snack that kids and adults will both love.
I don't know about you Dear Reader, but I cannot say no to a rice krispie treat, especially a homemade one coated in chocolate (we cannot keep them in the house). They're chewy, gooey and stretchy and for a something so moreish they're very simple to make. Halloween-ifying them is easy: dip a home made rice krispie treat in chocolate and then use mini Oreos and m&m's to make the rest of the face! It's simple but visually effective.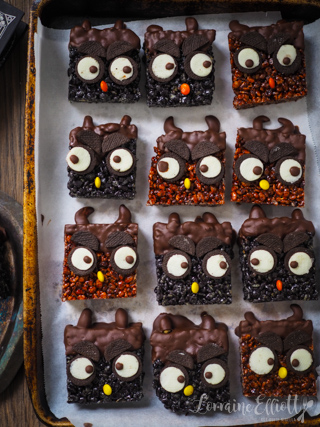 I made two batches of these Owl Rice Krispy treats, one a black colour and one brown. They were a breezy joy to make as simple things are. I dipped them in chocolate, stashed them in the fridge and then came back to them the next morning once I had procured the eyes and nose. Originally I was going to make fondant or gum paste eyes but honestly that can be fiddly and then I remembered that there were mini Oreos so I made a run to the shop to get them. You could probably even use full sized Oreos on these to make comically enormous eyes on your owls too.
While I find owls endlessly cute and fascinating I don't think having an owl is ever going to be on the cards although a part of me would love to adopt a murder of crows or a unkindness of ravens (note: how fantastic are collective nouns?). Crows and ravens please DM me, I always have food. Let's look out for each other.
Another family member that loves birds is Milo. He loves running into a flock of birds watching them fly away. Every time I see it, he reminds me of George Costanza running into the flock of pigeons. He really makes us laugh - our dog sitter also told us that one day he got impatient with waiting for them to get ready for a walk. He already had his harness and lead on so he took the lead in his mouth and walked off by himself and took himself for a walk.
Despite how much they beg, Teddy and Milo aren't likely to nab themselves one of these rice krispie treats because dogs should avoid eating sugar. One thing that I always try to do is keep Milo's teeth clean because dental health is linked to heart health. We give him dental treats and we also brush his teeth every few days but that involves two people and I have found a way around keeping his teeth clean and white. Every night, when he is tired and asleep in his bed, I scrape his canine teeth with my fingernail. He has a white "Hollywood" smile but I have to be diligent about this.
Recently we were away in Thailand and Milo and Teddy were staying at Mr NQN's sister's house so he hadn't had any teeth brushing. I saw there was a bit of plaque on his teeth but it wouldn't come off with my fingernail so I wondered if Milo would mind if I took the blunt end of a tweezer to it and did some light dental work to scrape it off. Usually dogs need to be sedated for this but to my double surprise, it worked and the brown plaque came off and I could not believe it but little Milo slept through it all! Now there's no way that Teddy would let me do this but Milo is another story!
So tell me Dear Reader, do you have a dream animal you'd like to have or make a deal with? Do you like rice krispie treats?
Owl Rice Krispie Treats