Hello my pretties! It's time for this year's annual Halloween party and this year's was a doozy and the best yet! Held at a historic Cemetery Lodge the atmosphere was pure electric- from the wild thunderstorms above to the spooky 13 items to the party guests that dressed like it was the last hurrah! And check out some of these easy last minute Halloween food ideas for the big day tomorrow!
For the last 10 years worth of Halloween parties, it has never rained for my Halloween party - ever. But this year the rain would prove to be my nemesis as well as a blessing. If you were in Sydney at the time, chances were you were drenched in the rain or at least hiding from the flash foods and lightning.
It was all happening at Cemetery Lodge where I was holed up decorating and putting out food. There was a fire that blocked up the main street, the royal visit had closed off the harbour tunnel and the thunder grumbled outside the spooky little cottage.
"What if everyone cancels?" I said to Mr NQN. My phone buzzed constantly. Friends giving me weather updates-I'm sure trying to be helpful but only adding to the stress because I had been checking the forecast every 10 minutes myself.
Bloody eyeball punch
The messages read:
"Looks like rain...And thunder"
"We are running really late and Garth just dropped all the beers on the kitchen floor so now he has to clean it up"
"Headed your way! Had a bit of costume issue"
"I can't eat anything as I'm on an elimination diet" (that was an Elliott ;) )
Tarantula Cheese Ball
Voodoo doll hand pies
I pictured myself sitting in my outfit with Mr NQN at my side, just the two of us waiting for guests for an hour. But then people started arriving - early no less!
Werewolf cupcakes (recipe here)
Serpent Sandwich
Guests marvelled at lovely little cottage attached to cemetery. It was built in 1848 and was where the cemetery worker and his family lived-the side door is even where the bodies would be wheeled in to his office!
Ouija Board Cake (recipe here)
It has now been transformed into a cosy home by the lovely tenants and it is warm and full of colours. There's a community garden to the side and chickens that lay eggs as well as the world's oldest bunny.
Frog spawn drink
It has a kooky charm to it and I was honoured to have my party there. I transformed the space to become spooky with decorations from The Party People, my favourite party shop because their Halloween selection is incredible!
Scared tacos
Food-wise, because I was warned that the oven was a bit dodgy, I kept to things that could be made ahead of time and didn't need to be heated.
Skull sandwiches that can be made and frozen ahead of time
Brain chocolate peanut butter truffles
I get so excited every year to make Halloween food that I have a little draft of items that I add to throughout the year. I've already got 3 Halloween food ideas for next year!
Marzipan teeth
This was my costume this year. I decided to match with an item that I had made and came as a voodoo doll. The added bonus is that the makeup was super quick to do and required just 5 minutes with eyeliner and eyeshadow. I drew on stitches with the eyeliner and made one button eye and I was done!
The first to arrive were the Day of the Dead family with Viggo, Louise and baby Henry. He was born on Halloween last year so we dubbed him Halloween Henry!
Then came Araluen and her daughter Aura who came as Miss Havisham and Estella. Araluen loves dress up and had most of the outfit already-the skirt she found at the local Vinnies shop!
Tuulikki arrived with them (by the way they caught a bus dressed like this and she reported no odd looks). She came as an eccentric witch. She, like her son Mr NQN hates photos and liked being behind a mask!
Oh and here is Mr NQN! He was a bit worried that nobody would recognise his costume. Can you guess who he is? Here's a quote to help you, "Oh hi Mark!"
My sometime vegetarian friend Laura came as a Day of the Dead skeleton and brought me some gorgeous dark red roses. She knows the way to my heart!
And then Ivy and Ryan arrived. I thought that they might come as Donald and Melania (because terrifying!) but she came as Carrie and he came as Pennywise with an absolutely terrifying mask that freaked out a lot of people. What is it about clowns?
Then JY and Ben arrived as Crazy Rich Asians-how inspired and current pop culture!
Then we had not one but two Egyptians arrive. The first was Tania who came as a regal Nefertiti. And then I got a message from Queen Viv. Now cemetery lodge isn't the easiest to find so I gave everyone a map and everyone found it just fine but you know who is going to be the person that gets lost finding it? Yup our dear Queen Viv.
"Lorraine, where are you?" she said worriedly on her voicemail. She entered wearing her home made mummy outfit that she made using strips of painting sheet. Hers was the outfit that everyone wanted to own and when she told people that she was taking it to the Salvos afterwards there was a mini stampede for who would get it.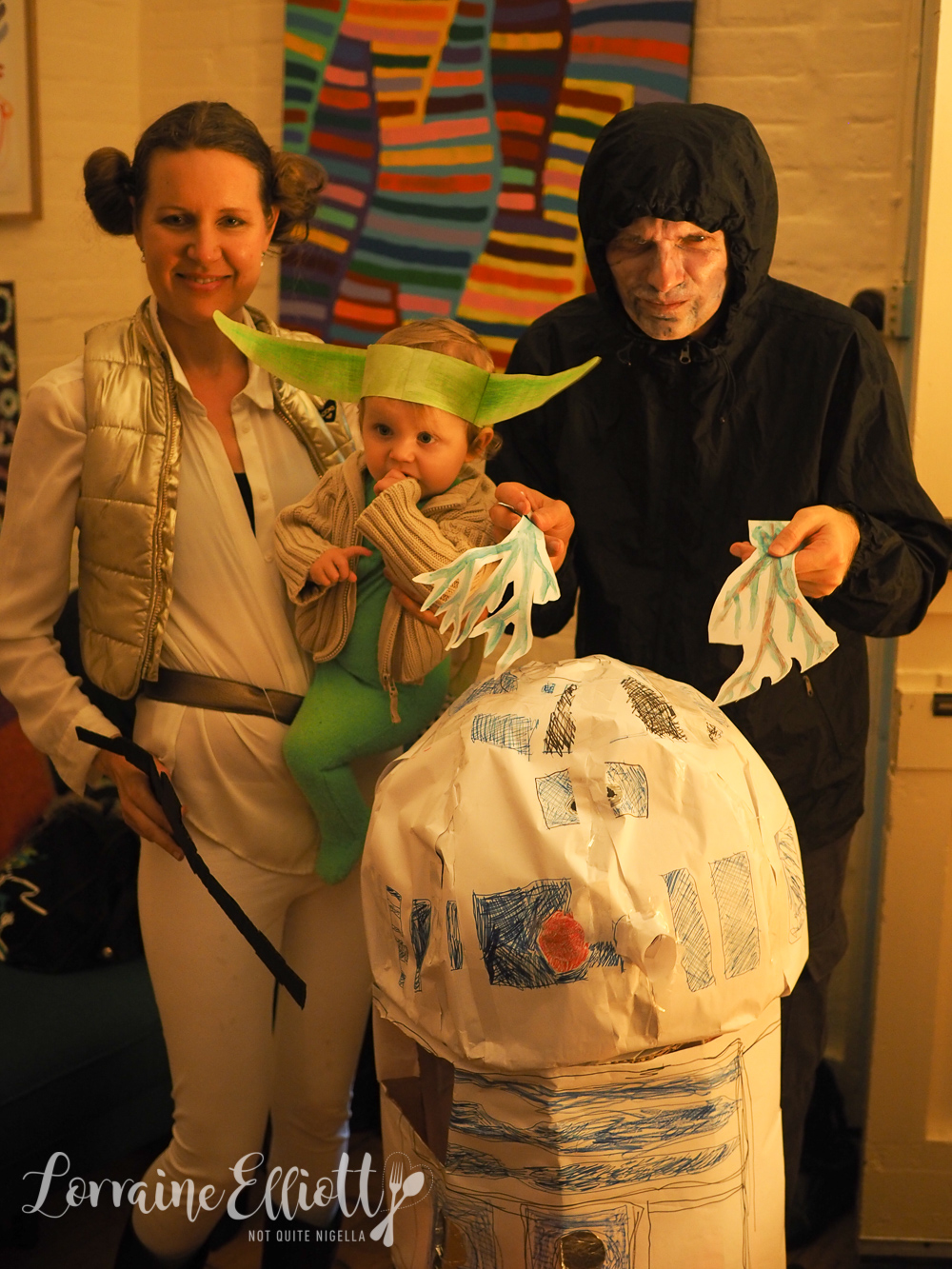 One of the most spectacular entrances was Amaya, Laporello and their kids Jett and Finn who came as Star Wars characters. They always make such an effort for Halloween and I was so impressed at how much effort they had gone to. Finn's RED2 even had light up buttons and sound!
Nina and Garth were not too far behind. She came as a Evil Countess and he came as the Joker-because she loves anything Batman related and I think she liked the costume more than he did!
The last to arrive were Girl Next Door and Baz who came as Instagram hashtags. There were some notable absences-Miss America has started a new job doing shift work and he was upset that he couldn't make it because he was even more prepared with this costume than ever.
Others like Julie and Lou and her family couldn't come due to health reasons but I was so excited to have my nearest and dearest and most fun friends and family with me on the night.
Time really flew-it was as though it was going at warp speed. People devoured the food and talked-there is one common element to this Halloween party and that is everyone is so much fun and easy going and friendly. People that come alone still have a great time because everyone is so welcoming.
It then came time for Halloween charades, a tradition at these parties. We split into two groups and wrote our list of terrifying things which was a mix of horror films, current affairs and scary people (eg shirtless Putin riding on horseback). It was so much fun that JY started to get an asthma attack from laughing so much but Laura had a ventolin inhaler on her so that fixed it up straight away! Phew!
The Finn piped up. Could he have a go at charades? I think we might have a little ghoul in the making here!
Then the last hardcore people all adjourned to the nearby cemetery. It was perfectly still, traces of the earlier thunderstorm gone. It was deathly and surprisingly quiet given that busy King Street was just a couple of streets away. Laura took out star shaped sparklers and Tania told us stories about the first fleet graves that lay here.
It was almost midnight when Queen Viv said "I must disappear back into my crypt!" And with that we bid her and each of the party guests goodbye only to learn later that some of my gruesome party guests had to escape the cemetery by climbing over the walls (a sight which I would have loved to have seen!). Queen Viv reported the next day: "Passersby barely interested. So Newtown!"
And without further ado here are the recipes below!
So tell me Dear Reader, are you terrified of clowns? And could you guess Mr NQN's costume? And would you be scared if you saw someone scary climbing over a cemetery wall?
DID YOU MAKE THIS RECIPE? Share your creations by tagging @notquitenigella on Instagram with the hashtag #notquitenigella
Brain Truffles
All Original Recipes by Lorraine Elliott
These were one of my favourite Halloween treats. They were easy enough to make but could sit shelf stable so they didn't always need to be refrigerated. I used cranberries as the sweetener instead of jam to make them shelf stable but also because the white chocolate was sweet enough as it was.
Makes a dozen brain truffles
Preparation time: 30 minutes plus chilling time
Cooking time: 20 minutes
700g/25ozs. pink candy melts
1 cup peanut butter
1/2 cup dried cranberries
Red icing gel pen
Silicone brain chocolate or ice cube mold
Step 1 - Melt the candy melts in a microwave at 50% power in 30 second intervals stirring. Spoon some into a brain chocolate or ice cube mold. Coat the inside thickly with chocolate as shown above. Chill until completely set.
Step 2 - Spoon in peanut butter and cranberries. Spread some chocolate on top and smooth over the top, making sure to remove any chocolate around the outer edge that may prevent them from coming out of the mold cleanly. If it is very hot where you are, you can always put it in the freezer between each step.
Step 3 - Place in the freezer for 15 minutes or until set. Unmold and repeat with the remaining chocolate and filling.
Pop out of the silicon mold
Ta-da!
Tarantula Cheese Ball
This cheese ball is super easy and effective to make and makes for great party food especially if you have vegetarians. You can use your favourite cheeses as long as you have a cream cheese base that will bind it all together.
250g/8.8ozs cream cheese (full fat, low fat isn't stiff enough)
50g/1.7ozs. gorgonzola dolce
1 cup cheddar cheese grated
1/2 cup parmesan cheese, grated
2 teaspoons onion powder
1 teaspoon garlic powder
1 cup poppyseeds
4 pipe cleaners for legs, cut in half
2 Pimento olive eyes
Crackers to serve
Step 1 - Blend all ingredients together until you get a smooth paste. Have a piece of cling film and empty out the cheese onto this and shape it into a ball. Place in the fridge for 20 minutes or so.
Step 2 - Place poppyseeds in a plate with a rim and remove the cheese ball from the film and roll around in the poppyseeds covering on all sides. Place on serving plate and add eyes and legs and surround with crackers.
Scared Tacos
These were a vegetarian and gluten free option that I also thought looked adorably cute. These are best made just before serving as the taco shells need to be heated in the oven but the rest can be made ahead of time. We served these around 8:30pm once people had snacked on the other food as I like brining out a hot option and everyone seemed to love them.
12 piece taco shell kit
Oil for frying
1 onion, peeled and diced
425g/15ozs. tin refried beans
salsa from kit
Taco seasoning from kit
Lettuce leaves
1 cup shredded Cheese
340g/12ozs. cherry bocconcini
Pimento olives, sliced in three for eyes
Step 1 - Heat oil in a frypan and then add the onion and saute until cooked. Add the refried beans, salsa and taco seasoning and stir until well mixed and cooked through.
Step 2 - Heat taco shells in the oven according to directions. Add some lettuce, refried beans and cheese to the taco. Then top with two cherry bocconcini eyes topped with sliced pimento olives.
Pâté Skull Sandwiches
Super easy and effective, not to mention delicious, these pâté skull sandwiches require minimum equipment and ingredients. These can be made a day or two ahead of time and then stored in a container and frozen. Thaw when needed.
1 loaf white bread
150g/5ozs. chicken liver pâté
A small amount of cranberry sauce or berry jam
Step 1 - Use a skull cutter to cut out the shape in the bread and divide into two even numbered piles of skulls. Use a large straw or an apple corer to cut out eyes in one half of the pile.
Step 2 - Spread the other pile of skulls with the pâté. Then spread the sauce around the eye area. Cover with the other half with the eyes cut out.
Slithering Serpent Bagel
This isn't a recipe so much as a guide as to how you might want to make this!
3 bagels, cut in half
Tuna salad or ham and cheese
Red capsicum forked tongue
Pimento olive slices and 2 slices cucumber for eyes
Step 1 - Arrange bagels in a S shape pattern alternating them but making the head at one end with 1/4 bagel. Top with tuna salad and ham/cheese and place olives for eyes and capsicum for the tongue.
Frog Spawn Drink
This drink was a real hit mainly because my friends are foodies and when I ask them if they like "slimy" things they answer yes. Basil seeds are similar to chia seeds-they swell up on cooking but the added advantage of these is that they look like eyes. This drink is similar to falooda which uses basil seeds. It's sweet, milky and delicious and I love the extra texture that the basil seeds give it.
1/4 cup basil seeds
500ml/2 cups water
500ml/2 cups milk
4 tablespoons matcha powder
Pandan extract
Sugar to taste
Buyer's tip: you can find these basil seeds at Indian and Asian grocery stores. They are called "wild starch pearl" but thankfully have a helpful pic. Pandan extract or flavouring can also be found at Asian grocery stores.
Step 1 - Firstly cook the basil seeds. Place them into a pot of boiling water and allow to expand for a couple of minutes. Drain and chill.
Uncooked basil seeds
Cooked basil seeds
Step 2 - Take 1/2 cup of water and mix with the matcha powder. Put the rest of the water and milk onto boil and then mix with the matcha mixture and some pandan extract. Dissolve sugar into this mixture (how much according to your taste). You can serve this hot or cold-I served it cold with the basil seeds on the side.
The pandan extract gives it the bright green colour
Eyeball Blood Cocktail
The real feature of this cocktail is the eyeball which is easily made with radishes. Keep the radish tail on so that it looks like the optic nerve that attaches the eyeball to the head!
500ml / 2 cups cranberry juice, chilled
100ml/3.5ozs. vodka
6 radishes
6 pimento olive slices
3 toothpicks, cut in half
Step 1 - Mix the cranberry juice and vodka together. Cut the ends off the radishes at the green end and cut out a hole to fit the pimento olives. Peel down the sides of the radishes.
Step 2 - Fit the olive into the hole and secure it with a toothpick and drop the eyeballs in the drink.