Two restaurants in one night? Over a dozen courses? It's all to satisfy out curiosity about copying allegations and the stoush between two restaurants with rather similar menus. We visited the brand new Park House Food & Liquor in Mona Vale and then Pazar Food Collective in Canterbury to see if the food was similar and how it compares!
It's 6pm, and the motley crew have assembled at my place for the drive out to Mona Vale. First to arrive is Miss America, then Belinda and then Queen Viv arrives and the last to complete our group is little Mochi. Mr NQN was an absentee that night as he was doing a cycling ride to Newcastle.
Our destination tonight is Mona Vale to check out the newest restaurant development called Park House. It's a bar and restaurant by restaurant group Sydney Collective and involves a multi million dollar fitout in the beachside suburb of Mona Vale. We set off for the 45 minute drive. Except of course google maps on my phone decides to go silent and I'm in a car with Miss America who never drives and has no idea where Mona Vale is; Queen Viv whose internal compass takes her everywhere via Croydon and Belinda who vehemently hates the North Shore.
We finally make it to Mona Vale and enter via the Harkeith Street back entrance which they asked us to do with Mochi. The woman at the front desk issues a tight smile of greeting but the rest of the service staff are all lovely, enthusiastic and friendly and dressed in theme. It's summer holiday here with plenty of whites and tropical touches. Mochi sits on my cape on her own seat and watches everyone around her quietly. The staff are excellent with her too.
The menu at Park House Food and Liquor is not without controversy. Pazar, a restaurant in Canterbury has alleged that Park House have copied some dishes from their current and past menus. If you look at Pazar's facebook page they have circled the dishes in question in green and red. The dishes in question also happen to be the dishes that our lovely waitress recommends to us so we end up ordering these.
The two large paper menus bear a striking similarity in layout and style. Complicating this is that Pazar's owner Attila Yilmaz was involved in discussions with Park House's owners about coming on board as a consultant chef for Park House. These discussions fell through in June 2017 and the two decided to not go into business together. He says he only learned of the similarities when people messaged him to congratulate him on his expansion to the Northern Beaches.
Attila says, "We did have several meetings, and I discussed menu ideas and methods. Contracts were with lawyers for some months during this time with amendments from both parties awaiting approval. I had every intention and desire to do the project but with the intention of creating a different and unique menu at the Park House. During the discussions between Feb and June my health took a turn for the worst and the management structure if my business changed added pressure on my already limited time and mental health. I withdrew as I did not feel I was in a capacity to honour a contractual agreement if I signed." Park House did not respond to queries.
We start with some bubbles and a Blood Orange Margarita. At first we think that they've given us the grapefruit margarita, the colour and taste would suggest that but they insist that it is the blood orange one. We sip what tastes like a grapefruit margarita.
The first dish to arrive is the applewood smoked labneh with thinly sliced yellow peaches, guajillo chilli and roasted pistachios. It comes with a thin round of bread that isn't quite big enough for the dip. We do love this dip though with its creamy smokiness and heat from the chilli. The peach goes well with it too. It just needs more bread.
The herb fritters are fat and flavoursome and there is a yogurt sauce sprinkled with sumac on top. I've had these at Pazar and they do bring back memories of it although it's a bit odd because it's a different restaurant.
The wood roasted octopus is a single tentacle curled around a red cabbage salad with mole verde and yogurt. While the octopus is tender there is perhaps something missing in this dish, something to bring it all together and make you want more of it.
The pork is quite nice, a sliced up cutlet that is still moist inside and served with smoked cauliflower, green apple cubes, sage, pekmez (a Turkish grape must based syrup) and cubes of crackling.
I really enjoyed the dish of broccolini, asparagus and snow peas coal roasted and served with a Caesar crema and sprinkled with toasted seeds and nuts as well as currants. It was moreish and I kept wanting to go back for more of the caramelised vegetables and creamy sauce.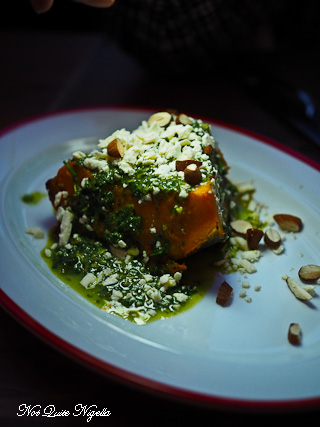 Most of us love pumpkin but this was like the octopus dish, it felt like it lacked something, perhaps even seasoning. The predominant flavour was pumpkin but this was quite a watery pumpkin so it wasn't something that we felt compelled to finish.
We decide to order two desserts, a coconut soft serve which is topped with a salty pineapple snow. Some spoonfuls are quite nice but then we would get one spoonful and a whole lot of salt that was just too much. You could always tell when someone got the salt because their face would pucker up.
When you introduce something as epic, you do set up certain expectations. While it is a perfectly nice brownie, it doesn't quite go as far as epic. Serving it warm would help to add to the gooey chocolate factor but it is served cold, topped with ice cream and salted caramel popcorn. It's not bad but we were expecting something a bit more epic as the name suggested.
We turn to each other. It's 8:30pm and the night is still young. We decide to perhaps put to rest our curiosity about these two restaurants and the copying accusations by trying the same dishes at Pazar. We hightail it across the bridge to a string of 90's rap songs and dance music. It has been a few years since I visited Pazar so only the zucchini fritters were familiar to me so an hour later we pull up at the pink neon sign of Pazar on Canterbury Road.
Owner and chef Atilla Yilmaz has stepped back from cooking and he has chef Alex Martin on board to give her spin on dishes. He looks after the front of house now and we are directed into the courtyard. We look at the menu and order the dishes in question.
The two zucchini ball dishes look almost identical. It almost feels as if we are eating the same dish again on the same night except at a different location. They're fresh, herby and moreish and topped with sumac sprinkled yogurt sauce.
The creamy labne comes with a basket of house wood baked flat bread and pide. It is smoky and creamy with a generous amount of roasted pistachios that contain the heat from the chile piquin. The apricot jam is sweet but not out of place here and we mop it up with fat spongey squares of Turkish pide bread.
The wood fired octopus is a single tentacle served with crushed peanuts, a chile de arbol salsa and a shredded green papaya salad. The octopus is so soft and tender it melts in the mouth and the flavoursome salsa gives it a kick of flavour that it needs.
The pumpkin here is sweet and served as a wedge. What we like is the generous amount of the pepita chimichurri which adds so much flavour. On the other side of the wedge is a generous amount of crumbled feta for more flavour. It's the sort of dish where you don't mind eating your veggies (well I love them but perhaps you know what I mean).
There was much love for the smoked wood roasted lamb forequarter which is utterly soft and luscious. It's an enormous serve and the soft lamb is lightened with a tomato and herb ezme and a bulghur pilav and plenty of fresh mint leaves. It's made for stuffing in a quarter of the flat bread with some smoked labneh.
Oh my kingdom for this tres leche cake! It's so soft and light with just the right amount of "three milks" in it. It's topped with chocolate crumbs, a blanket of delicious habanero caramel (please sell this so I can buy it) and a raspberry mezcal lime sauce that is the perfect accompaniment to the whole shebang. I wish I had had more room for this but the dozen or so courses preceding this put that idea to rest.
We finish on a light note. The snow dessert comes as an enormous mountain of finely shaved ice. There are chunks of sweet roasted pineapple right at the bottom, a centre of coconut sorbet and a blanket of pineapple lime shaved snow that falls on the tongue like fresh powder snow (albeit Splice flavoured). It's not overly sweet which we like, it's refreshing but if you want sweeter just dig deeper for the pineapple at the bottom.
As we drive home around midnight I turn on the radio and Weird Al Yankovic starts singing "Eat It". "What a suitable theme for tonight!" says Queen Viv recounting the number of courses that we've eaten.
So tell me Dear Reader, what do you think? Are the two menus too similar or different? Would you or did you notice a similarity? Have you ever seen similar menus before?
These meals were independently paid for.
Park House Food & Liquor
2 Park St, Mona Vale NSW 2103
Open 7 days 10am–12am
www.parkhousefoodandliquor.com.au
Phone: (02) 8998 3000
Pazar Food Collective
325 Canterbury Rd, Canterbury NSW 2193
Tuesday to Saturday 6–10pm Sunday & Monday Closed
www.pazar.com.au
Phone: (02) 8964 9334