If you're looking for a dinner with a difference and the chance to learn more about the refugee experience over a meal, try Refugee Chef dinners. These monthly dinners are held at Parliament on King in Newtown and are run by Local Sauce tours. Diners get a three course meal made by a refugee chef as well as the chance to talk to the chefs and learn more about their experiences.
It's a Wednesday night when Monica and I arrive at Parliament on King. This tiny, postage stamp sized café is like visiting someone's home with a collection of knick knacks and a boho vibe. And it is in fact the home of Ravi and Della Prasad who run it as a weekend café and at other times provides training, job opportunities and community for asylum seekers or recent arrivals to Australia.
A year or so ago Monica and I had been on a fantastic tour of Chinatown with Local Sauce tours. While Local Sauce's owner Justin Steele has a range of popular tours, it is the refugee chef banquets that he holds once a month that garners a lot of interest. He hosts the refugee chef dinners pro bono with all proceeds going to the chef and Parliament on King. "These dinners show them (asylum seekers) that there are people that want to eat their food and appreciate their culture," says Justin.
For $70 a person diners get a 2 or 3 course meal, a welcome drink (wine, beer, soft drink or juice) and extra drinks can be purchased on the night. The chefs change every month and come from a diverse range of nationalities from Burmese/Rohingya, Iraqi, Iranian, Palestinian, Nepali, Sri Lankan, Ugandan and more. The maximum size for groups is 14 and there is no minimum number for booking. Local Sauce also have the option to hold private dinners for groups of 8 or more. At the end of the night diners receive an email with links to resources and photos taken on the night. The chefs are encouraged to share their stories guests are welcome to ask them questions about the food and their stories of how they have come to Australia.
This evening it's a group of 8 of us that are sitting around a common table including a few NQN readers which is a very nice surprise. We start off with introductions and then Justin and Bebe the waitress brings out the entrees. There are beef kofta and an egg omelette Kuku Sabzi made with eggs, mixed dried herbs, garlic, walnuts and barberries. I particularly like the beef koftas with the herbed yogurt sauce.
The mains are served buffet style and while they bring these out Khatereh the chef comes out. Khatereh is from Iran and arrived in Australia in 2013. Iran was increasingly unstable for Khatereh and her family and they had to flee. She and her family paid $35,000USD to someone to transport them here by boat. When she arrived in Australia she converted to Christianity from Muslim and she has twice divorced her husband; two things that would not have been permitted in Iran.
Khatereh is giggly and enthusiastically sharing her food and very candid and engaging. She explains the dishes to us. There's Persian rice with jewelled barberries on top and saffron. She has also prepared a saffron chicken dish and a wonderful red lentil and sweet potato dahl that is rich with flavours as well as a fresh and crunchy Shirazi salad from the city of Shiraz where she hails from. A little treat is the crispy pieces of rice from the bottom of the pan which are delicious with the dahl.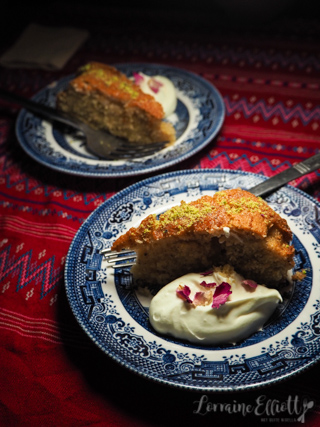 Dessert is a lovely citrusy Persian love cake rich with nuts and spices served with whipped cream and rose petals.
Khatereh is also pragmatic about the whole process although understandably a little weary as she is still on a bridging visa after 10 years. Although she pays taxes and contributes to society she cannot access any benefits. The COVID-19 pandemic was particularly hard for asylum seekers and that's where initiatives like the Soup of Happiness came in. This allows people that couldn't access benefits to work as chefs and get paid for cooking meals that are then donated to the homeless. Applying for asylum is an expensive process and she has to pay a solicitor $15,000 for their help.
Before she leaves Khatereh proudly shows off pictures of her family and her grown children. "I love it here because my kids can choose any religion," she says.
So tell me Dear Reader, would you enjoy a refugee chef dinner?
Refugee Chef Banquet
https://localsaucetours.com.au/tour/refugee-chef-dinner-banquet/