During these COVID times, you have to get a bit more creative with getting away. A staycation is one way to get a change of scenery without travelling too far. Laura and I have a girls' staycation at the Skye Suites in Sydney's CBD and enjoy the quiet charm of the city.
The excitement was real when Laura and I were planning our girls staycation at Skye Suites in the CBD. We decided that a few things were necessary to bring along with us and we packed the following for a great stay:
Champagne
Matching silk robes
Candle
Chocolates
Face, eye and lip masks
It's a Friday spring morning when I pick Laura up around noon and we drive into Skye Suites on Kent Street. The streets are quiet and I've never seen the city this deserted except for on a Sunday. I also realise that I have only been to the city just once in the past 6 months.
We pull into Skye Suites' turntable valet station and leave my car and place our bags on the luggage trolley. We head towards the lobby in the lift which only allows 3 people in each car at any one time (unless you are travelling together) and they check us in.
Skye Suites opened in 2018 and it is a 73 room hotel. Service is lovely and thoughtful and they offer us bottles of water while we check in. Staff are all wearing face masks and guests are asked to use hand sanitiser and check in using the Covid app. The hotel is 70% full this Friday evening.
The architecture of the building incorporates a unique arch design and there are a total of 59 arches throughout the hotel. We head up to the 9th floor of the hotel which is the highest floor of the hotel rooms while the remaining levels are for the serviced apartments.
Our room is a premier two bedroom suite, room #908 which is perfect for a girls' getaway and it's spacious at 68 m2 / 732 ft2. The suite is gorgeous with a spacious private terrace which is unusual for a CBD hotel. This is informally called the CEO suite of the hotel as it's the CEO's favourite.
Both rooms are the same size with queen beds and each has a bathroom so there's plenty of room. There is one bedroom alongside the terrace with an en-suite bathroom. The bedroom with the terrace doesn't have a television but the other one has a large television. Laura likes falling asleep to the tv while I rarely ever turn one on so it's easy to decide who sleeps where. The bed itself is very comfortable with nice pillows and a pillow top mattress, 300 thread count linen sheets and goose down comforter so it's like sinking into a cloud at night. Beds have USB plugs and electrical plugs near them for easy charging. Prior to COVID there were ipads provided and a service where you could select the firmness of your mattress but these services have been suspended.
The bathroom has a roomy shower with Kevin Murphy products as well as a toothbrush, amenity kit and shaving kit. It's a well designed bathroom with plenty of storage and bench space. The shower has a directional massage head and the Kevin Murphy products have a rose marshmallow scent.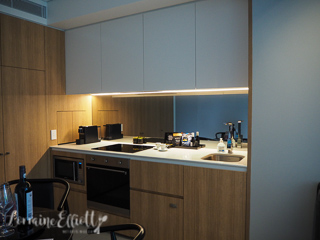 The kitchen is a well appointed one with a full sized fridge and freezer, oven, microwave, dishwasher, kettle, coffee pod coffee maker and toaster all tucked away and plugged in so they're ready for use (one of my pet hotel hates is having to unwind cords and find a well placed power socket). There is a complimentary mini bar that has interesting items like duck fat maple roasted peanuts and a range of beer, wine and soft drinks.
There is also a washing machine dryer in one of the bedroom cupboards neatly tucked away. Wifi is free for an unlimited number of devices and everything is well thought out. While I found Skye Suites in Parramatta more like a serviced apartment, this is definitely more hotel with lovely, attentive staff.
The pool is one of the hotel's drawcards and it too echoes the arch design of architect Koichi Takada. During COVID-19, guests get complete privacy as you are allowed to book the space for a period of 1 hour.
Food-wise nearby there's sushi, vegan sandwiches, bars and takeaway places. Next door there's also Skittle Lane with a few food businesses. We wander off in search for some lunch. It's a little chilly today so we stop by Laksa King for some lunch once the work crowd leave (I'm still funny about eating indoors).
Service is very friendly and this popular Malaysian eatery has been hit hard with COVID-19 with fewer customers as everyone works from home. This family run business had to move into smaller premises.
We start with the chicken satay which is four chicken satay sticks that are so delicious I finish two sticks which is unusual behaviour from me especially before the rest of the food has arrived. They're sweet, rich in peanuts and so moreish. The roti with beef rendang has a nice rich sauce to it. The roti isn't as buttery as some but it's flaky and delicious dipped in the sauce and the beef rendang has soft beef cubes and a gorgeously rich sauce.
Then I segue onto a hot and crispy vegetarian curry puff that is blistered on the outside and oh so crunchy.
The laksa which is what they're known for is great - it just needs a bit of extra sambal dunked in it to raise it to the gutsy flavour levels that we like. It's filled with hokkien and vermicelli noodles, tofu puffs, bean sprouts and a lip licking soup.
The char kway teow is also tasty and we have it with duck meat. There's no lup cheong in their char kway teow but plenty of vegetables and egg omelette.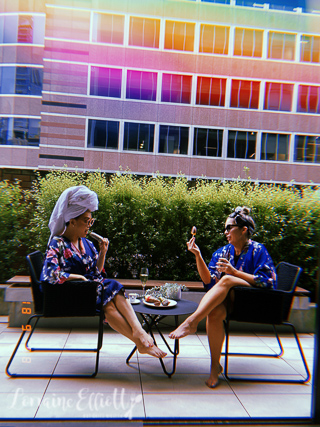 It's late afternoon by the time we walk back to our hotel. We change into our robes and relax in our suite. We had intended to go out for dinner but it's such a nice space that we don't want to leave. It's also just lovely to have a change of scenery even if it is just a few kilometres from home (and you know I love a staycation!).
We end up sitting on the balcony sipping champagne and chocolate covered fruit and then when night falls we the candle and watch tv and relax on the lounge. Around 5:30pm we start to think of dinner and we're both craving oysters. Room service has been suspended because of Covid-19 but it's actually not a problem at all as we have access to so many nearby restaurants.
"Shall I get some oysters delivered?" asks Laura and I nod eagerly. One and a half hours later a delivery arrives from Bondi Oysters, each briney, chilled oyster hitting the spot perfectly. I wish we had ordered four dozen.
At the same time our other order arrives of a dry hot pot from Master Bowl in Chinatown. We watch inappropriate and funny movies all night while doing face masks and then it's time to go to bed.
The next morning we check out and head downstairs to store our baggage at reception but they offer to load our bags into the car which is great service. Then we set off in search of breakfast. It's a 10 minute walk to Dutch Smuggler, a café that we had both wanted to visit for the longest time but never quite got to. Now it's open from 8am-1pm on Saturdays so it was perfect timing for us.
There are four outdoor tables socially distanced from each other and we take a seat at one. Dutch Smuggler Coffee Brewers is sort of hidden away to the left of the EY building if you're facing the building. Go down the stairs and you will be rewarded with coffee and toasties but not any kind of toasties. Specifically Mi Goreng toasties.
Service is super friendly and as of 2 months ago there are new owners. We order the Mi Goreng toastie which is filled with Indo-Mie goreng stir fried noodles and a fried egg. The reason it had taken us so long is that I thought that this might have been one of those toasties that looks great but doesn't taste great. But you know what? It's absolutely fantastic and I can't stop thinking about it long after it is finished.
The noodles are perfectly seasoned and I wonder why more toasties don't have fried noodles in them. However because it is carb on carb it is probably best shared between two.
Better still get two toasties (or in our case three) and split them. Our second toastie is also filled with noodles and is the daily special called The Prohibition. This is a croissant filled with truffle garlic noodles, prawn crackers, fried shallots and spring onion. This was inspired by the Los Angeles restaurant Crustacean whose garlic noodle recipe is so secret that it is made in their secret kitchen within a kitchen. This sandwich is fantastic although the croissant makes this a bit crispier and drier than the Mi Goreng toasted sandwich.
It's a hard act to follow a Mi Goreng toastie but The Reuben is a solid offering. It's a classic Reuben sandwich with pastrami, sauerkraut, pickles, Reuben sauce, mozzarella and cheddar cheese.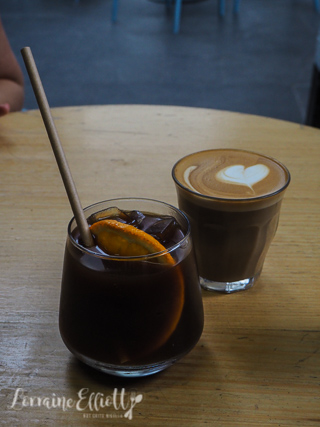 And of course to finish our brunch, a cup of cold brew and a latte!
So tell me Dear Reader, have you had a staycation recently instead of going further away? What would you take with you for a girls or boys staycation? And do you get room service or do you order delivery to the accommodation?
NQN and Laura stayed as a guest of Skye Suites but all opinions remain her own. All food in this post was independently paid for.
Skye Suites
300 Kent St, Sydney NSW 2000•(02) 9052 7588
skyesuites.com.au
Laksa King
37-39 Erskine St, Sydney NSW 2000 Monday to Friday 10am–2:45pm
Saturday 10am–2pm
Sunday Closed
Phone: (02) 9290 3680
Dutch Smuggler Coffee Roasters
200 George St, Sydney NSW 2000
Monday to Friday 8am–3pm
Saturday 8am–1pm
Sunday Closed