Love Indomie? Kusuka in Haymarket is a cafe and Indonesian food stall in one. On one side of the menu are acai bowls, eggs benedict and smashed avocado but the other side holds Indonesian favourites like Mee Goreng, sate and murtabak. You can probably guess what we chose!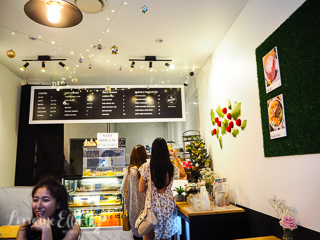 Kusuka means "I like" in Indonesian and is located down small Bijou Lane in Haymarket. It's a tiny shopfront with some inside and outdoor tables. As we have Mochi with us we take a seat at one of the two outdoor tables. Service here is super friendly. When I rang to find out if there were outdoor tables they offered to take a booking (which is surprising and nice for a cafe). Both the brunch and Indonesian menus are available all day and night but as it's dinner time we have a stronger hankering for the Indonesian food.
But the drinks are calling one quick peek at their Instagram account shows that they are quite photogenic. We order the Genesis, a sparkly hued butterfly pea flower drink that we are instructed to shake up. It's sweet and tastes a bit like lollies. The Iced Pink Latte is pretty and tastes just like a strawberry flavoured milk although they describe it as tasting of sweet berries and watermelon, the latter of which I didn't taste much at all.
The super bowl is their best selling bowl and they say that it can feed two people. Maybe not two people with an appetite like Mr NQN though as he wolfs it down. Indomie is a spiced instant ramen (yes those instant noodle packets!) and what they serve here is Indomie that is slightly fancied up with toppings. On the super bowl is a double portion of Mi Goreng with pork belly slices, corned beef topped with melted cheese, spicy sausage slices, grilled corn and sauteed greens. The pork belly slices have a nice crispy edge to them and it's pretty tasty and our favourite of the two noodle bowls. We also got the chilli matah sauce on the side as it is super spicy and that way, it is easier to control the level of spice.
The mee fried chicken is nice enough although I think I was expecting different sort of fried chicken like larger pieces. These are small pieces that are chopped up for easy eating. I prefer fried chicken that is crunchy and cooked to order. It is tasty but I think I'd be inspired to make something at home if I did crave Indomie. But clearly there is a market for it as the cafe is full on a Monday night.
The martabak caesar comes out last and it's a spongey, bready sandwich filled with vegetables and egg and topped with cheese. Again the chilli is on the side and a little goes a long way. The cooling sweet pickles on the side are a tasty little chaser.
There are desserts but we couldn't commit to something very substantial after all of that food (yes even we have limits! ;) ). Instead we go for some drinks served in a chocolate lined cone. You can choose from a range of drinks and we go for a Hypovocado, an Indonesian style avocado shake as well as the taro milk. I kind of wish all drinks came in a chocolate lined cone and the cone remains crispy as the chocolate protects it from getting soggy.
So tell me Dear Reader, do you like Indomie? How often do you eat packet ramen and do you ever fancy it up? And have you ever tried a coffee from a cone and if so did you like it?
Kusuka
Shop 4 , Bijou Lane , 107-121 Quay Street, Haymarket NSW 2000 Monday to Thursday 7:30am–8pm Friday & Saturday 7:30am–6pm Sunday Closed Phone: (02) 8541 8736