Silly Tart Kitchen is a gorgeous oasis from the hustle of the city and Kings Cross. Set in Kellett Street in Kings Cross, tables in the sun dappled, leafy green courtyard are the pick and there's a range of cafe staples with a twist-almost everything is house made or grown on the family farm.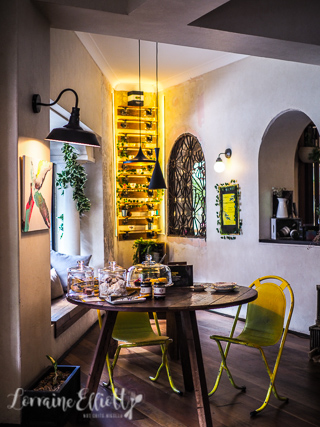 "This is why I love the cross," says Josh the chef and co-owner of Silly Tart kitchen. A drag queen strolls past at 2pm in her glamorous best possibly from the night before (but make up looks fresh as a daisy-go girl!).
We walk through the cafe carrying Mochi into the courtyard area. It's a triangular shaped restaurant and cafe and the courtyard area is abuzz with greenery and cocktail, a little oasis in the middle of a morning after a Saturday night.
The wall herb garden provides the cafe with all of the herbs it needs and Josh's mother drives up every couple of weeks with fresh vegetables and fruit from the family farm in Goulburn as well as a batch of her Greek shortbread (more on that later).
It's Sunday and I'm excited to see that they have a breakfast martini with home made marmalade made with chai spices. It is served with a spoon as a the marmalade pools at the bottom to scoop it up with. There's a thin slice of sourdough toast spread with marmalade on top and it's the perfect Sunday breakfast drink-even if you have it not for breakfast but at 2pm. We also try a blueberry gin fizz made with 60ml gin, blueberries, tonic, lemon and mint which is also refreshingly lovely.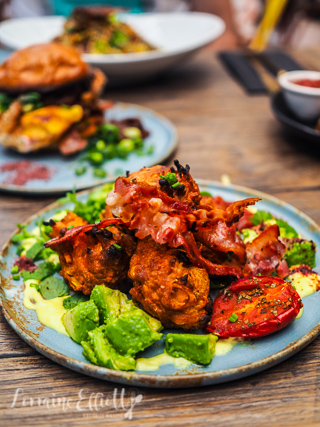 Food wise, the menu changes regularly but there are a couple of things that always stay on the menu. The corn fritters are one of them and they are not so much patties as puffs served with their house cured bacon which is like a crispy pancetta. It is served with avocado, house made sweet tomato relish and beetroot salt and they are super light and delicious. They go through 25 kilos of their house cured bacon a week. My own criticism? More bacon please! ;) But then that's also my life motto...
The poached chicken salad has the perfect ratio of chicken to salad. It is tossed in a yogurt, turmeric and lemonade (yes lemonade) dressing with toasted peanut dukkah and mint. And the lemonade in the dressing? It makes it taste fresh and doesn't taste odd at all - it's actually very good.
The egg and bacon roll is another menu stayer. It was also one of those situations where you only intend to have 2 bites but you end up eating more than half. Mr NQN looked on with alarm as the bacon and egg roll was quickly disappearing in front of his very own eyes. It's the house made bacon with a deep fried son-in-law egg and a rich tomato chilli and 5 spice sauce and green onions all on a soft milk bun. Heaven.
The potato scallops aren't flat scallops, they're hasselbacked chat potatoes that have been brined and cooked three times and served with aioli (and I asked for some extra relish too). They're crispy although I think I might have loved a bit more salt and vinegar flavour to them.
There's a whole lot of house baked desserts from soft vanilla and passionfruit cupcakes to a gooey spice laden brownie with white chocolate chunks, sparkling infused strawberries and a gin and tonic soaked mini bundt cake. They're all delicious, home baked style goodies - the cupcake is perhaps my favourite but it's hard to choose one.
I finish the meal off with my favourite way-with a honey soaked dandy chai that has extra black pepper added to it as well as one of Josh's mother's Greek almond shortbreads blanketed in icing sugar slightly unwilling to leave the leafy confines of the courtyard and go adulting back out there in the wilderness.
So tell me Dear Reader, do you enjoy breakfast cocktails? And do you prefer to sit inside or outside?
This meal was independently paid for.
Silly Tart Kitchen
1 Kellett St, Potts Point NSW 2011
Sunday, Tuesday to Thursday
Friday & Saturday 8am–3pm, 6–10pm
Monday Closed
thesillytartkitchen.com
Phone: (02) 9331 1048