Step into LATAM's B787-D Dreamliner and have a look at their premium business class offering with two flights: one from Sydney to Auckland and then Auckland to Santiago!
It's amazing the difference that a window makes. It was the first time I had really seen the new Dreamliner 787 aircraft with automatic dimming windows in action. I'd seen the debate on forums-those for an against. The for: to vex that pesky seatmate that loves to open the windows (I once sat near someone who would compulsively open up the window shades every hour on the hour to flood the cabin with light waking everyone up). Those against - those that were against enforced sleep. "I don't want to sleep," they'd say defiantly.
I'm on my way to Santiago. Eventually to Lima, Peru but via Auckland and Santiago with LATAM's premium business class product. The Sydney to Auckland flight is short and smooth at a mere 2 hours and 50 minutes. LATAM's Business Class passengers get access to the Qantas business Lounge which is heaving with people this early in the morning with few seats to spare. It's too early for me to eat so I settle for something I always get when I visit: a carrot, pineapple and ginger juice that hits the spot and internet that entertains until they call the flight.
The cabin is fairly empty for this short sector and I have seat 4H which offers even more legroom than most and is considered the best row on the B787D for the legroom. Since there are some empty seats I move to a window seat.
The seat configuration is 2x2x2 and there are 30 business class seats with a pitch of 75 inches and width of 23 inches. There are two business class bathrooms at the front for the cabin although the right one isn't in service during the flight.
Massage and reclining options for seat
They offer two kinds of South American sparkling wine - one from Brazil and one from Chile as well as a Pisco Sour. I love Pisco Sours so I order that and it comes with some nuts. Wet towels are passed out.
As the flight is short there is a snack offered and it is either a sandwich or a quiche. I love hot sandwiches so I go for that although the actual sandwich is not a hot salted roast beef sandwich but instead a ham and cheese croissant without explanation of the switch. There's also a marinated vegetable salad and a slice of rhubarb meringue tart on the side. I'm that person that once I read a menu item I start fantasising about eating that item and then when I don't get it I get a bit disappointed.
They offer a range of breads and I go for the tiny whole wheat walnut loaf. And usually bread isn't great on planes but this is actually good and close to normal bread! The croissant has a bit too much ham for the cheese and bread so I remove some of it and butter the roll.
The tart is good although it's a bit too much for me as I'm starting to get sleepy, very sleepy. Service from this crew is mostly good. There is a small amenity kit made up of a shoe bag, socks, pen and an eye mask.
In fact shortly after they bring me my cup of tea I fall into a deep sleep. The windows darken automatically and give the cabin a dark blueish tinge and when I wake up the sky outside looks aqua green making me feel as though we are subterranean. We arrive in Auckland 20 minutes early so I make my way to the Qantas lounge where I fall upon the Internet with a ridiculous case of FOMO and find what I've been missing out on. Which as it turns out is not much.
In the lounge I try some tomato soup and a couple of small sandwiches (the wrap is good) even though I'm not hungry and pop open a can of soda water. I'm there for a good hour before they call the flight. This leg is just over 10 hours to Santiago.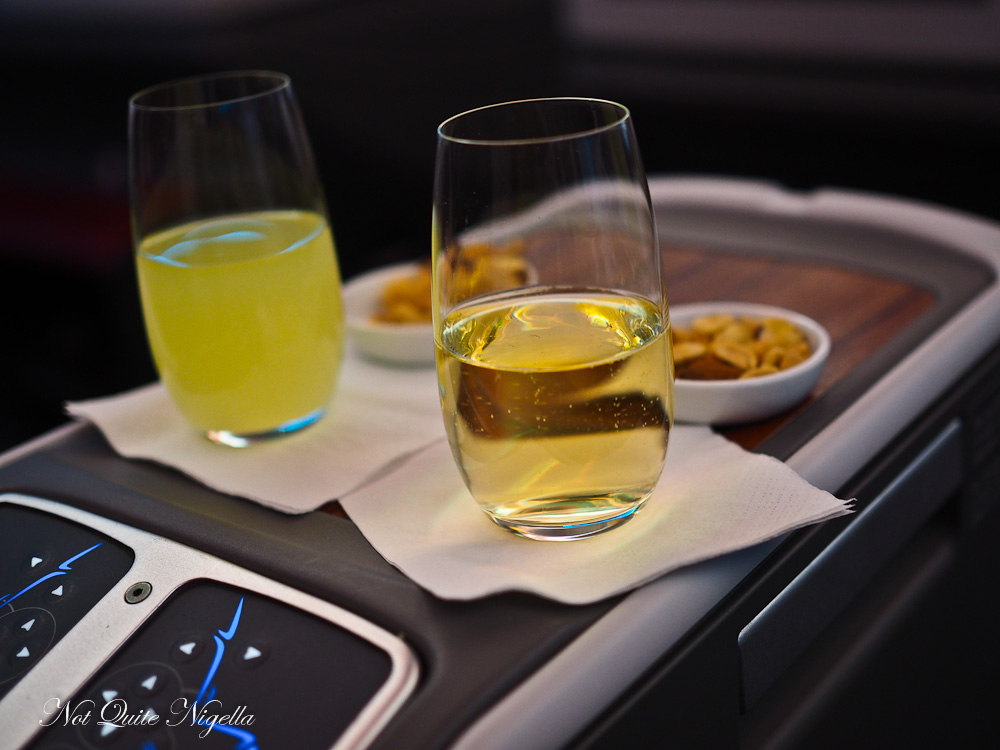 We board just before 6pm with a new cabin crew. It's the same plane but this sector and business cabin is completely full. They offer us champagne and Pisco sours and this time they help everyone with the luggage and introduce themselves. Salvatore Ferragamo amenity kits and menus are passed out and newspapers and magazines are offered from a trolley.
When we have taken off they offer everyone a blanket and pillow which they fetch and unwrap for us and they hand out wet towels and take our order entertainment. The tv selection is good with a few good series as complete seasons of shows like Billions and House of Cards. The movies didn't really tickle my fancy but I'm too busy listening to my podcasts to mind. There are noise cancelling headphones and you can take off with your bag by your side if you want instead of having to stow it. There is also space to store shoes and sockets to charge devices via usb or international adapter. There isn't a great deal of privacy with this row as the seats aren't very staggered as it is an exit row and there isn't a privacy screen between you and your seat mate.
Video of my return flight from Santiago to Sydney!
I don't know about you Dear Reader but I rarely refuse a meal on a plane, mostly to relieve boredom. I mean someone could offer to let me pet tigers on a plane and I'd probably do it to have something fun to do. I get excited when I see the trolley making its way down the aisle and wonder if people like seats in the first row because they can get fed first.
My entree comes out on a tray with a green salad with toasted almonds and feta, Chilean aged balsamic and olive oil dressing. The grilled prawns are served with red quinoa salad with avocado and paprika oil. They offer a selection of breads and again I go for the mini wholewheat walnut loaf and crackers for the blue cheese and cheddar.
None of the mains really appealed to me. The lamb sounded too heavy while the grapefruit orange salmon and salad didn't appeal so I ask for another appetiser, the zucchini and basil soup which is tasty and I have another bread roll. Honestly you'd think I was starved prior to this flight.
Dessert is very unlike me (fruit salad) but again the panna cotta and chocolate ice cream aren't jumping out at me and I feel a bit parched. The lights dim completely as soon as dessert has been served in the cabin and we are handed out breakfast forms to fill in.
I toss and turn a bit and unlike the other leg, my sleep is fitful until later on in the flight when it is more like bed time in Sydney. I feel a tap on my shoulder as the flight attendant wakes me to see if I would like breakfast with just over an hour left of flight to go.
She brings my meal which is slightly different from what I ordered. I'm not hungry in the slightest so I mostly sip the tea, eat the fruit salad and nibble on the croissant. The flight attendant notices that I want my tray cleared to get to the bathroom to freshen up so she collects it straight away. They pack up the doonas, pillows and they come around to thank us individually for flying with them.
So tell me Dear Reader, do you get a bit disappointed when the order you order is different from what you get? And do you often refuse a meal on a plane? And are you for or against the dimming windows and why?
NQN travelled as a guest of LATAM but all opinions remain her own.
LATAM
LATAM Airlines is the leading carrier to and from South America with the largest network and unparalleled connectivity throughout the region.
LATAM operates seven one-stop flights each week from Sydney to Santiago, Chile, with onward connections to Lima, Peru. From 6 October 2017, LATAM will also offer three non-stop flights per week from Melbourne to Santiago, on board its next-generation fleet of 787-9 aircraft.
For more information or to make a booking call LATAM reservations on 1800 126 038, visit your local travel agent or www.latam.com.