Flight attendants around the world are all different. Some are warm, some frosty but the flight attendants on my LAN flight today are singing. Yes singing. Not loudly for their supper but as they carry on tasks I hear singing in the galley.
I'm aboard flight LA0800 from Sydney to Santiago. It is a two part journey with a three hour fifteen minute flight to Auckland followed by an 11 hour flight to Santiago. At Sydney airport, business class passengers have access to the Qantas business class lounge which is moderately full this Tuesday morning.
The airbus 340-300 is an older plane with a 2x2x2 seat configuration in business class. I'm in seat 1L which is a window seat with a seat width of 23 inches and a recline of 175 degrees. There are also two USB adaptors in the arm rest and a universal power adaptor in the centre console near the floor. There is plenty of leg room between myself and the bulkhead and lots of room to walk past my seat mate. The only down side to sitting in a bulkhead seat is that your bags must go in the overhead compartment during take off and landing.
The first flight is not full to capacity and the couple next to me swap seats so that they can sit together leaving the seat beside me empty. I'm offered orange juice or mineral water. The flight attendants offer a bright "Hola!" and speak to me in rapid Spanish. I nod and accept the drink. Warm towels are handed out.
I'm eager to see the entertainment because of the long flight duration. My last Latin American flight had just two movies at played on rote with two hour gaps in between (on a different airline) so I'm hopeful that this will be better. I place the noise cancelling headphones on.
I'm delighted to see that there's an excellent selection of very current movies- ones that haven't seen at the cinema yet. There's Dallas Buyers Club, Nebraska, 12 years A Slave, The Book Thief and Gravity among others. The television selection isn't quite as good. There's a whole season of Downton Abbey and the odd single episode of a tv series and 5 short documentaries. Happy as a pig in mud, I settle in and watch Dallas Buyers Club while we take off. I've always thought that Jared Leto with make up could be Courtney Cox's doppelganger and he does!
The flight attendants hand out comfortable silky blankets and pillows and the breakfast service commences. There is a choice of a mushroom omelette or a cold meat and cheese plate. I choose the latter and it is three thickish pieces of cheese and three turkey slices, asparagus and a lettuce leaf. I'm offered a choice of breads and I choose a warm croissant which I fill with the cold plate contents. There are two slices of a Madeira type cake and a pot of apricot jam and butter.
The fruit plate is too acidic for me so I have the grapes and leave the rest. Reclining the bed, I manage to finish the film and watch a quick doco on Wall Street before we arrive in Auckland. We go through security where I am told that can keep my bottle if I drink the water. I wait upstairs at the gate falling upon the airports free 30 minute Internet like I have been deprived for days. I check some emails and spend the rest if the time reading up about the Real Housewives of Beverly Hills reunion. I mean important world events...Apparently I could have used the Qantas business class lounge during this time but I didn't know this.
About an hour later, we board the flight to Santiago and that's where the fun begins. The crew has changed, they've got a different energy and I take the same seat. I'm offered a Pisco sour or champagne (Louis Roederer) and they pass out out amenity kits and wheel around a tray of newspapers and business magazines. I content myself with the menu instead.
The amenity bag is by Salvatore Ferragamo and contains hand cream, face cream, shoe bag, pen, comb, toothbrush and toothpaste, eye asks and socks. And a weird lip balm which is just like hand cream and is about as effective as putting hand cream on your lips.
I start watching Nebraska as the plane takes off. I find that the screens are quite dark and the brightness cannot be adjusted. Shortly after we are offered blankets and pillows again. These blankets are thick duvet type blankets perfect for long haul flights and much warmer than typical airline blankets. They ask us to take a look at the menu tucked into the front pocket to make our selection.
I'm torn as to what to order. As we are leaving New Zealand, the choices are obvious - lamb, cheese and ice cream. I go with all three including a sweet potato soup over the smoked salmon. It doesn't stop me from eyeing my seat mate's smoked salmon out of the corner of my eye. He puts up the privacy screen perhaps creeped out by my leering at his food.
The wines are from the Latin American regions of Chile and Argentina. They're selected by Hector Vergara, South America's only Master Sommelier and one of the elite 214 Master Sommeliers. Each year, hundreds of candidates sit tests to become a Master Sommelier and only a sliver pass. I was fortunate enough to meet him - his nose and palate are extraordinary.
Several times a year he and his team at LAN open the bid to wine makers. From the 500 or so wines that they receive, they narrow the list down to just 30. For LAN flights they concentrate on Southern Hemisphere Argentinean and Chilean wines as well as Ports and Louis Roederer champagne.
Hector explains that the atmosphere in flight is different to that on the ground and that means that the high altitude can amplify the alcohol content and make the tannins more aggressive. To counteract this, they have agreements with winemakers to cellar the wines for 2 years.
The first course arrives and it is accompanied with a choice of white rolls or wholemeal mini loaves. The soup is thick and creamy with small pieces of sweet potato. There is a centre of sour cream and chives and its very good although warming bread would have been a nice touch.
The salad comes with a Chilean olive oil and balsamic dressing with frisée, tomato, iceberg lettuce and marinated artichokes. The cheeses on the side include a cheddar and smoked cheese.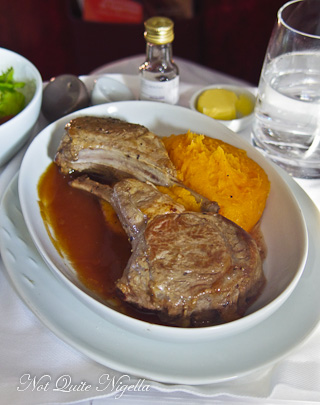 Lamb ribs with mashed sweet potatoes served with Casa Real Reserva Especial Cabernet Saubignon 2009 from Maipo Valley in Chile
The lamb ribs are juicy and succulent although they're cooked through to more than I usually have them but executive chef Hugo Pantano tells us that regulations prevent them from serving rare meat in flight. I gobble up all of the sweet potato puree and dab at the sauce and puree with the bread. By now I'm quite full.
They say that there is a separate stomach for dessert and that may be true. Dessert is a choice of ice cream, flan or fruit salad. I pick the ice cream because there are certain foods that I really like on planes including curries, Virgin Mary's, cheese and crackers, grapes and ice cream. It's a tub of Kapiti brand white chocolate and raspberry ice cream with little pieces of white chocolate. They also offer us some tea or coffee with the dessert. I decline but they slip a square of Valrhona chocolate on the tray.
As they clear the plates they hand us the breakfast forms that need to be filled in before going to sleep. You can either skip breakfast, have an express or a full one. With just over 8 hours to go I opt for the express option which promises to arrive 50 minutes before landing. The give us a bottle of still water and the outside sun disappears rapidly with the only light in the cabins from the television screens.
Two hours later my seatmate decides to turn in his light. My bed is flooded with brightness and I'm suddenly awake. Not amount of tossing or repositioning can shield me. I could put on the sleep mask but I find those disorientating when I wake up. I watch as those around him toss, wake up and turn. Unable to go back to sleep, I watch The Book Thief. The AV system acts up during the flight restarting and there's a bug which means that you need to confirm your movie choice twice from the very beginning.
I wake up about an hour before we land and they offer me my express breakfast. It's a glass of orange juice, a cup of perfectly made tea and a cinnamon muffin. All to the gentle humming of the smiling flight attendant.
So tell me Dear Reader, do you drink wine on the plane and if so, would you go with a wine recommendation or choose your own?
NQN tested the flight as a guest of LAN Airlines
LAN Airlines
LAN Airlines operates six one-stop flights each week from Sydney to Santiago, Chile.
www.lan.com