The scene: Danks Street in Waterloo. Gone is MOJO by Luke Mangan (set to reopen in the CBD) and in its place is Luke's Kitchen, said to be a more relaxed eatery. There's little trace of the industrial looking MOJO. In its place are coral and green gables walls although the test kitchen in the back still remains as a function space. On the menu are items like BBQ WA Marron Tail with peaches and red wine butter and a Duck Truffle Cheese Toastie. There is also a small bar menu for those wanting something lighter.
I'm usually all up for travelling far and wide for a meal but it was an unintentionally close to home evening this past Saturday night. We were dropping off Mochi to be dog sat by Girl Next Door in Alexandria, picking up Ivy and Ryan around the corner and then having dinner at Danks Street in Waterloo. I realised that this was all within 5 minutes' drive of our place. Even Mr NQN, who is used to going far and wide comments that this is an unusually convenient evening.
Chef Luke Mangan is in front of the house checking on guests and taking photos with them or when I need to avail myself of the facilities, showing the way there. The Head Chef is Matt Leighton who has worked across many of Mangan's restaurants. It's very early days but nevertheless service runs very smoothly.
We have a booking and are seated at the table closest to the door giving us lovely natural light. Three of us start with cocktails designed by mixologist Karl Higgins: a Pink Martini (Belvedere pink grapefruit vodka, lychee liqueur and lemon, lychee and grapefruit juices) for me, The Dank (Cachaca, apple liqueur, pineapple juice, agave, pineapple and coriander root) for Mr NQN and an Aperol Spritz for Ivy. Ryan goes for water because he's contrary like that.
The menu is broken down into 5 sections: to start, small plates, large plates, sides and desserts. I pretty much want everything on the small plates section and could easily eat it all. While we are waiting, we are given warm Iggy's bread rolls with extra virgin olive oil and dukkah. And they thoughtfully bring another oil and dukkah bowl when they see how quickly we are going through it.
Salt Cod Dip $12
Our first bite is from the To Start menu. It's a lightly creamy textured salt cod dip with a sweet lemon puree dot. This comes with puffy pork scratchings instead of bread. We're all smitten with it, the smooth lemon giving it a pop of flavour and Ivy is curious to make this herself.
Moreton Bay Golden Spiced Bugs $29
They bring out a plate of perfectly tender and succulent bug meat and lime caviar. Luke pours the coconut broth on top of it. The Thai style soup has a kaffir lime accent to it and Ivy and Ryan murmur how much they love the soup.
Duck Truffle Cheese Toastie $25
The duck truffle cheese toastie is a crustless toastie filled with shredded duck meat and cheese. On top is a poached organic duck egg. There isn't a huge amount of truffle on this-just the merest hint at the very end if you remind yourself to look for it. I'm the sort of person that fixates on an ingredient if listed and wants to taste it. But it's nice enough toastie.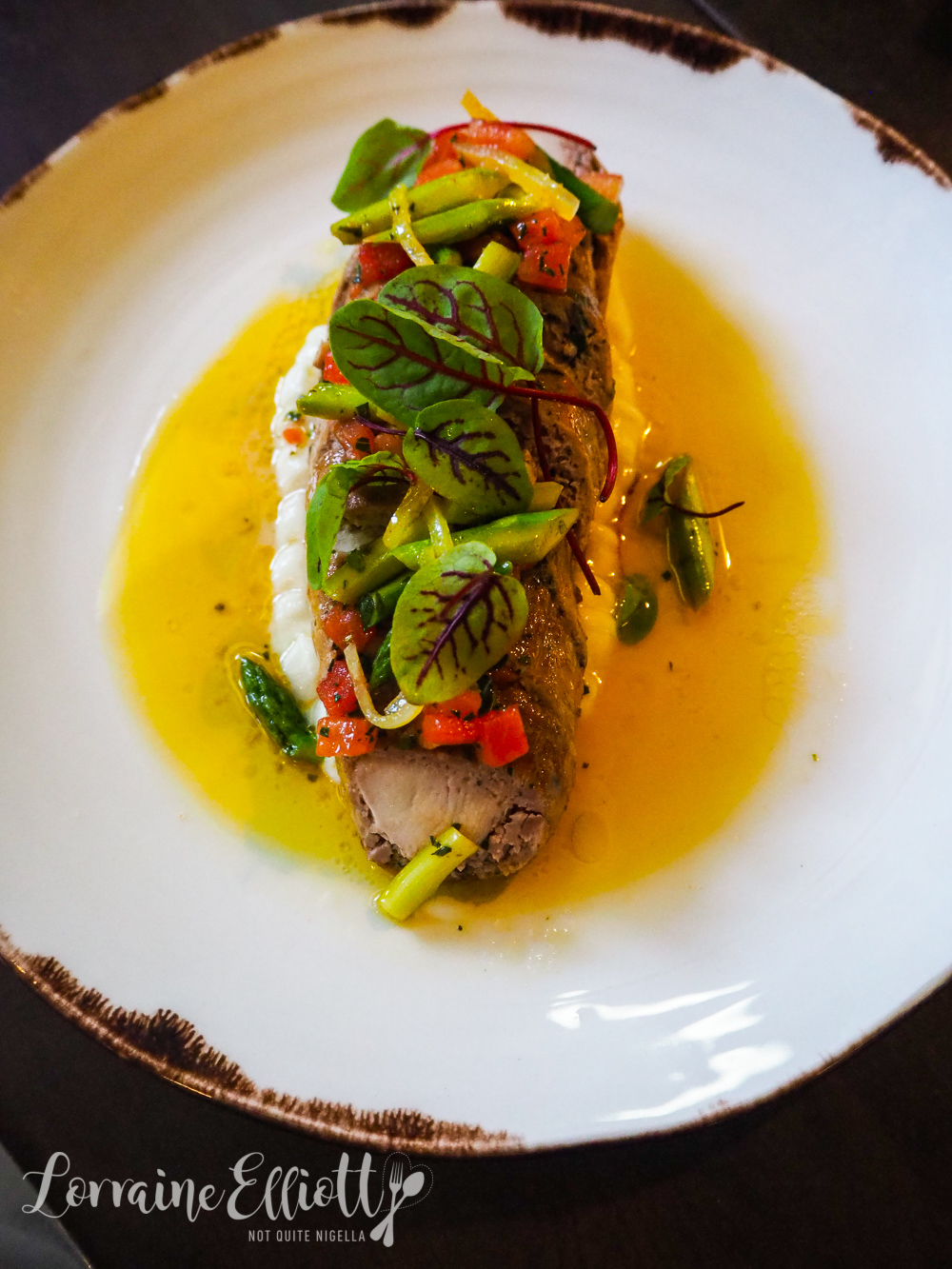 Roasted Inglewood Organic Chicken $31
At the risk of offending chicken enthusiasts, I rarely order it at restaurants because it's such an easy meat to cook at home. But we are persuaded to try it by the restaurant manager. It is a chicken farci or stuffed chicken. The leg meat of the chicken is chopped up and made into a sausage type of coating and then it is wrapped around breast of chicken. It sits atop a bed of cauliflower puree, asparagus and preserved lemon and "liquid gold" which is made with vegetable stock and olive oil. The chicken is as promised: flavoursome and still tender and moist. It goes well with the puree and the accompaniments and I wish I had some more of the bread to mop up the sauces.
BBQ WA Marron Tail $48
The marron is served split in half and the flavours are excellent. The tail meat is easy enough to prise from the tail and it comes with grilled peaches, Roman beans and a red wine butter. It's a heavenly combination of flavours and I can't say that I'd ever have put marron and peach and red wine butter together but it works.
Potato Skins $10
I really wished that they had mentioned that there were only three potato skins per serve because these were so good I wanted one of my own. It's a crispy, hollowed out potato skin stuffed with creamed corn and chives. It was a big yes to this one too.
Matcha Cheesecake $14
Ivy and Ryan are matcha addicts and when they saw that there was a matcha cheesecake on the menu they had immediately earmarked it. It's a rectangular piece of light and airy matcha cheesecake with a yogurt and yuzu sorbet and yuzu jelly that makes us pucker in the nicest possible way. The whole dessert is refreshing and tangy and yet creamy and sweet.
Chocolate Tart $16
On the opposite side of the richness spectrum is the chocolate tart with a crisp, short chocolate shell, wobbly chocolate filling with roasted nectarines and a delicious salted caramel ice cream. While they're all good elements on their own they really come together so perfectly in the mouth.
So tell me Dear Reader, when a menu mentions an item do you want to taste it? And do you often order chicken when out or is there something that you always tend to order if you see it on a menu?
This meal was independently paid for.
Luke's Kitchen
8 Danks St, Waterloo NSW 2017
Sunday 10am–4pm
Monday & Tuesday Closed
Wednesday & Thursday 4–9:30pm
Friday 4pm –10:30pm
Saturday 10am–10:30pm
Phone: (02) 9002 5346 www.mojobylukemangan.com