There are things that you notice when you arrive at a restaurant early and sitting alone. The white gloved hands that set water glasses down on the table, the staff straightening chairs as they glides past tables, the lights on a share table that remind you of hushed libraries and university days. But then there are other stories that don't come out until you talk to the staff. Like the tragic but inspiring turn of events that inspired owners Emma Darrouzet and Harry Stockdale-Powell to open up Bouche on Bridge (bouche meaning mouth" in French).
Bouche on Bridge is Emma's first foray into hospitality and she is upbeat and friendly with blonde corkscrew curls - she used to be a teacher and an arts educator at Sydney Children's Hospital so the bright exterior is probably second nature. But it hides a recent tragic past. Emma was close to her mother and the two always wanted to open up a cafe or restaurant but that was not to be. And then she met Harry...
Emma explains "We randomly got paired up together as dive buddies and both found ourselves chatting endlessly about food and recipes and restaurants and found we shared that love and passion for food. Harry was working at Rockpool at the time and chatted about being a chef, the pressures of it, how rewarding it is etc. Around a week later Harry had reached out to me and said we should catch up for a meal and chat further about food and restaurants so we had planned to meet up in February. The day we were scheduled to meet up, I got a phone call in the taxi on the way to meet Harry from my Dad saying that my beautiful mum had taken her own life."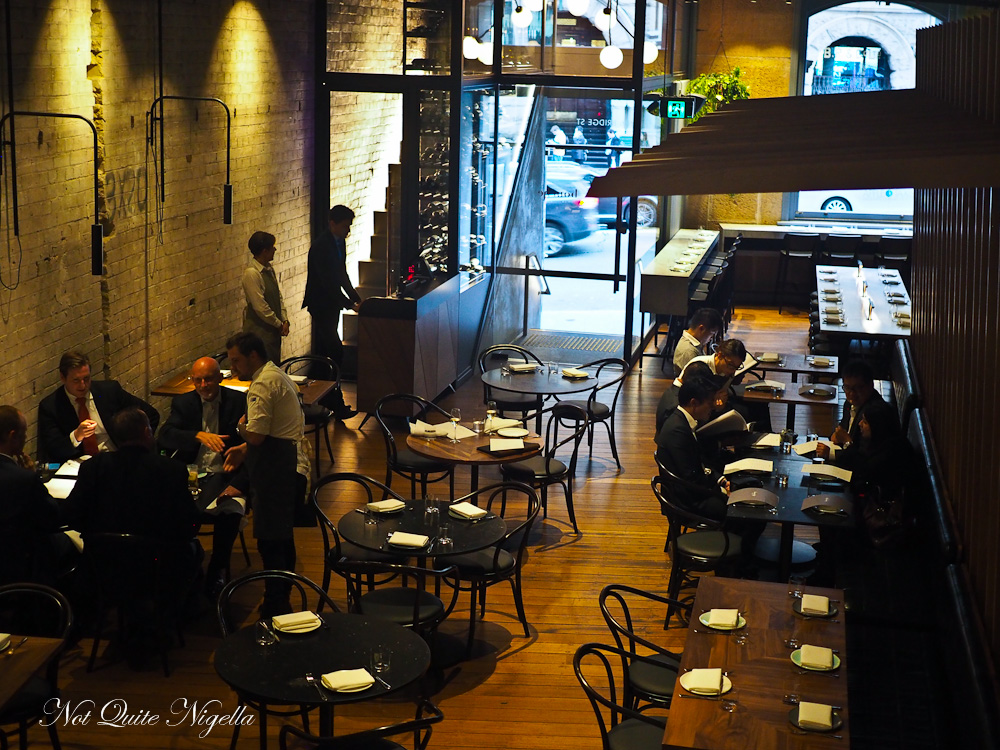 "I didn't see Harry for months until we met up again in August 2015 for dinner...Lots had changed, Harry was no longer at Rockpool and was looking to open his own place, he had secured investors and was looking for a venue. Around a month after the August dinner, Harry joined some of my friends and I on a dive trip up to the Whitsundays. On the plane up there we spoke at length about how fantastic it would be to open a restaurant, do it the right way, make sure the staff are looked after and we promote a culture of wellbeing (which is quite rare in the hospitality industry)." She wanted to foster a sense of physical and psychological wellbeing as chefs have a high suicide rate. In 2017 they will launch the Daisy Darrouzet Foundation named after her mother Kim's inseparable canine companion Daisy who died of heart failure shortly after Kim's death.
Chef's table
It was only one and a half years ago and clearly it still affects Emma but she focuses on Bouche where she feels her mother's presence. It's not just a story though, the food is something special courtesy of the upstairs kitchen with Harry in charge. They've converted this former hairdresser into a multi seated space.
There's the chef's table at the top of the stairs where diners can go a la carte or have a specially designed degustation, there are share tables, bar seats in the window, regular tables as well as the moodily lit bar downstairs (Alyson swears by their martinis made with Sheep's Whey vodka from Tasmania). The menu has three sections: sea, land and farm as well as a savour section which is more bar style snacks.
Oysters, blood orange, wakame $4 each
These oysters are freshly shucked to order and Harry makes sure to keep the oyster brine in them instead of washing it off. The blood orange is punchy with pickled wakame. It's a great way to start the meal.
Asparagus, duck yolk, grains $19
Our first plate is spears of perfectly cooked asparagus poached in white chicken stock and butter until tender then finished on the char grill with a confit duck egg yolk and puffed wild rice. The egg yolk coats the asparagus thickly and the puffed grains cling to it giving it a crunchy consistency. This is simple but gorgeous.
Eschallot tarte tatin, parmesan ice cream $21
This was Alyson's recommendation from her previous visit. It's a caramelised eschallot tart tatin. I'm an onion freak-chives, spring onion, red onion, leek and caramelised are my obsession (is that weird? Maybe...) and this is crisp on the bottom with soft, sweet eschallots on top. The perfect counterpoint is of course the parmesan ice cream which Harry tells us is one of the more difficult components to master. It contributes a beautiful saltiness to the sweet eschallots.
Butchers cut of beef, horseradish, sorrel rostbiff $38
There's a little break and by now the restaurant is quite full with a corporate after work crowd. Our mains arrive with our side and the beef is a piece of rostbiff from Rangers Valley marble score 7 sliced up with shavings of horseradish on top and a sorrel puree to the side which give the rich meat a nice acidity. Harry explains that, "The rostbiff is a cut next to the rump on the animal - it is full of flavour like the rump but has marbling so it is softer and has a better texture. It is a lesser known cut and far more sustainable than some others. The rostbiff is cooked over coals on the Habachi grill then finished in a low temp oven and served med rare." The steak is fantastic, cooked perfectly medium rare with an intensely beefy flavour and succulence that you often hope for in a good steak.
Wessex saddleback, buttermilk, dill $36
The slice of Wessex saddleback pork is paired with a buttermilk emulsion with dill and slices of unripe fermented strawberries. I remember finding that Danish chefs would use these and they're not sour but more mildly tart and well suited to the dish. Interestingly, the strawberries are grow in Tasmania and are the same ones that the pigs are reared on the farm. And as for the pork, Harry explains "The suckling pig comes in whole and we debone the whole animal, brine it for 3 hours and then rolled and cooked for 12 hours at 70 degrees."
Baked mash $12
So what is baked mash? It's when they bake the Dutch cream potatoes to remove all of the water and mash it so that you get an intense potato flavour and rich texture to the mash. It's the perfect size to accompany two mains like this too. A tub of this please (I mean bathtub)!
Speyside Stinger $18
There's a little break before we are tempted with the desserts. There are three on the menu plus a cheese course as well as two dessert cocktails and latter in which that tastes like a liquid After Dinner Mint Slice!
Beetroot, goats milk, liquorice $18
Because Alyson is now a regular here they sent her over extra desssert. This is the one she ordered last time because she loves licorice. It's a licorice sponge, with a goat milk cigar, raspberry sorbet, beetroot meringue, beetroot tuile dusted in raspberry powder and goat's milk snow. It's refreshing and the licorice is quite mild in this (I'm trying to work on my licorice aversion and it's progressing well, so kind of you to ask ;).
Mandarin, shortbread, fennel $18
The mandarin is a summery dessert with lots of fresh flavours like fresh mandarin segments, mandarin curd, finely shaved fennel, fennel custard and mandarin sorbet with buttery shortbread crumbs. It's balances the fruity and creamy well and if you like fruity fresh desserts this one is for you.
Hazelnut, chocolate, malt $19
But my heart is stolen but the hazelnut and chocolate sphere with an inside filling of caramel and chocolate mousse on a bed of caramelised malt (aside from onions, I also love malt). And this is a beauty, a sizeable one at that too and rich, malty, smooth and crunchy at the same time. I think the best approach would be to share two desserts. Or three just to cover all bases...
So tell me Dear Reader, do you love onions? And malt? And what are your feelings towards licorice? And did you get shivers when you heard their story like I did?
This meal was independently paid for.
Bouche on Bridge
6 Bridge St, Sydney NSW 2000
Phone: (02) 8278 9400
http://boucheonbridge.com/