"This visit to the food trucks is optional," says Laura, my sometime vegetarian friend and host of our Dubai trip. "You know it's not optional for me," I answer. She knows me well. While I love my sleep, I also love the idea of heading off late to try one of the four food truck parks that are located near exits to leave Dubai. Call it the last meal before heading off to Abu Dhabi.
We're headed towards Last Exit Al Khawaneej, the closest one to our hotel in downtown and our driver gets us there in 15 minutes. Each Last Exit has a theme from Mad X's post apocalyptic theme to Al Khawaneej's agriculture theme. It spans over 1000 square metres and there are 13 airstream trailers here promising, in Dubai fashion, a trip around the world via your palate.
People can either walk between food trucks or more popularly, if you have patience, you can drive through although queues are much longer as shiny white SUV's or G4's line up inching forward slowly. The food trucks are reasonably priced too.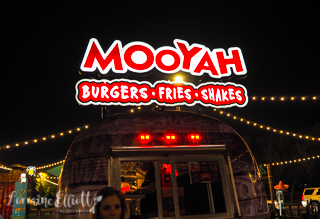 We're slightly delirious having already eaten a multi course dinner and it's getting very late. But a late night craving strikes Laura and she has to have fried chicken. We head towards Hot Chix, a fried chicken food truck and order a 4 piece pack with chips and coleslaw.
We are told that it will be a 10 minute wait so we head towards Mooyah burgers to order a bacon cheese burger with a single patty and then walk around. It's slightly surreal and looks a bit like a bucolic North American scene with a pumpkin patch, scarecrows and watering cans. I can't imagine what visiting Mad X is like late at night with its post apocalyptic theme.
Our burger and chicken are ready. I unwrap my Mooyah burger which comes neatly wrapped in wax paper in a box. It's soft as cotton and quite good although not boldly flavoured like I expect of a bacon cheeseburger. The brand comes from Texas and they use American Angus beef in their burgers.
We next unwrap the Hot Chix box and there are four impressively coated chicken pieces. The breading, so important here, is earth shatteringly crunchy. I would have loved some hot sauce for this and I live in constant fear that my love of hot chilli will render my palate forever unable to be satisfied. Everyone loves the chicken and it's surprising how much five hot chicks can eat late at night.
Matters turn towards dessert and we bypass the huge queue of white SUVs waiting for a Krush burger and go to the Inventing Room. The cloud of dry ice smoke gives you an idea of what they promise - liquid nitrogen treats.
The most popular item is the saffron milk cake which is like an Indian dessert. One of the most photographed are the nitrogen Cheetos which are regular Cheetos that have been dipped in liquid nitrogen so that they are cold. It makes them fresh and crunchy and quite nice although the flavour doesn't change. We try a giant Nutella macaron (35AED/$12.11AUD), an Oreo Space Foam and a frozen S'mores as well. They're fun novelty wise although I didn't overly go for the flavours as they were quite sweet.
It's getting late and we have an early start the next morning so it's one last stop at the Cupagahwa stand, another popular stand. I order two drinks: a pistachio latte which is thick like a shake and very green in colour.
The best seller is the Cupagahwa which is a sweet, chocolatey, milky coffee that is actually delicious and I really wish that we had one of these stalls in Sydney because I'd be there a lot. It's like a mocha but creamier, milkier and sweeter.
And I find myself looking around at everyone having late night fun in this slightly surreal location, wishing that we had one of these everywhere.
Last Exit Al Khawaaneej
At the roundabout where D89 and D54 meet. Open from 7AM to 2AM 7 days a week. www.lastexit.ae/al-khawaneej/directions/