If you're missing a little bit of Australia (specifically the coffee) then head to Tom & Serg. In a lot of cities Australians seem to be giving people a taste of Australian coffee culture and that is the case with Tom & Serg, the creation of Tom Arnel from Australia and Sergio Lopez from Spain.
Along with introducing Dubai to Australian style coffee, they are also spreading the word of avocado on toast with "The Avocado Project". There are two menus: an all day breakfast as well as a lunch menu that starts at 11:30am.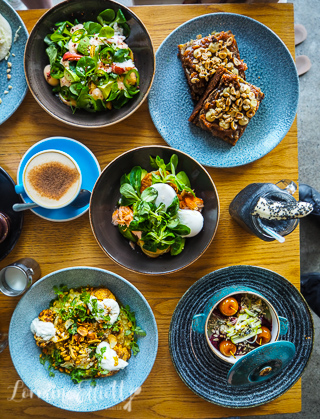 "I'm the head of coffee" says Jamie and he details the types of coffee available from chemex, pourover, cold drip, cold brew or just your regular kinds of coffee. The cold brew is delicious and smooth and needs no adulterations. As for me I'm drawn to a Black Magic-charcoal is big here in Dubai and it's made with black charcoal ice cream, banana, blueberries and almond milk and it's delightful and refreshing. It's easy to see why it is so popular.
We try a range of food. The warm banana bread is fantastic. Two slices of moist, eggy banana bread are topped with smoked butter, banana jam and walnut puree. The smokiness in the butter is strong and reminds me of bacon while the banana jam is sweet but not overly so matching the banana bread base well.
The green shakshouka is also very good. It has a charred green pepper veloute with crispy kale, pickled Lebanese chilli, feta, fried chickpeas and toasted sourdough.
Another favourite are the Masala fried eggs with green garlic oats, tandoor roasted cauliflower, chilli cashew nuts and a red onion and coriander salsa proving yet again that vegetarian food needn't be boring.
The sourdough crumpets are firm and chewy with a distinctive tang to them from the sourdough starter. They're served with hot smoked salmon, organic poached eggs, black pepper creme fraiche, lambs lettuce, avocado and a Lebanese cucumber salsa.
Baos are popular in Dubai and here they offer a breaky bao filled with grain fed beef brisket, bacon chilli jam, organic fried eggs, coriander and fried peanuts. I would have loved a bit more filling in this but the flavours are good.
Even items like Bircher muesli are presented beautifully. There's muesli with apple puree, crushed raspberries, lime leaf sugar for a piquant tang and to top it off are toffeed crab apples.
Tom & Serg
5A Street, Al-Joud Center, Al Qouz, Near ACE Hardware and Burjeel Hospital، Sheikh Zayed Rd - Dubai - United Arab Emirates Sunday to Thursday 8am–3:45pm Friday & Saturday 8am–5:45pm Phone: +971 56 474 6812