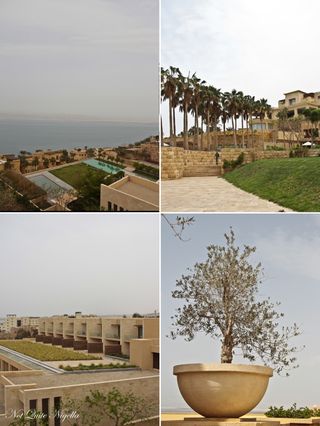 I'm going to go out on a limb and suggest that cowboys would love the dead sea. Also runners and anyone on holiday to Jordan should most certainly end their time there. I only know that because I feel like I'm walking like a cowboy between the camel rides, horse rides and walking in Petra and my legs have discovered muscles not awakened since high school. And all I can think is about sinking my limbs into the salty, mineral rich dead sea water to avail myself of their purported  healing properties.
Located at the lowest level in the world at below 400 metres, Jordan's Dead Sea shares a border with Israel. It is also the deepest salination sea in the world at 377 metres deep but the 33.7% level of salt means that little animal life exists here and the density of the water means that you can't help but float.
The weather is always warm at the Dead Sea and such a contrast to the mountainous region of Jordan that we stopped through on our way from Petra, a four hour or so winding drive. The Dead Sea is also easily accessible from the capital Amman. It's early evening when we arrive at the main strip where bathers cross, slick with sea water. Clothing for women at the Dead Sea is more permissive with a range of women wearing bikinis to being fully covered.
We're staying at the Kempinski Ishtar which is one of the area's five star properties. An arresting modern structure made out of sandstone, the hotel borders a private beach area. There are several pools on the property and the spa provides excellent although not inexpensive treatments (prices are on par with Sydney hotel prices with an one hour facial at $110JD/$150AUD). Service is exemplary and we make our way to our rooms which are in the main building.
I overhear the reactions of my fellow travel writers as we all open our doors at the same time (using their very modern keys which we all take a bit of time to figure out). A "woah" escapes many lips and the room is enormous. It's a junior suite (room 3321) and it clocks in at a sizeable 68 square metres.
The main room has two parts, an enormous king sized bed facing a spacious long desk and the decor style is modern although critics have called it sterile. The bed has four fluffy oversized European pillows. Complimentary cable internet is available although wireless isn't which is surprising in a hotel like this (although routers can be provided but I'm guessing that these are limited in number or all guests would have them). Complimentary wireless is available in public areas and it is fast. There's a three seater lounge, an armchair and footrest and a large flat screen television. Slippers and a mat are put out next to one side of the bed as turndown has been performed. There is also a complimentary mini bar (7 up, Pepsi and juice, two Amstel beers and a tube of actually very crispy Pringle types chips but even better).
The room looks out onto a private patio area which is as much of a feature as the room. I can imagine that people spend plenty of time out here reclining on the lounges or looking down at the pool below. There are plenty of places to sit out there and the next afternoon, the sun's warm tendrils peek through the lattice and lull me into what feels like a well deserved afternoon nap. Back to the main room there is a large illuminated closet with wooden and satin hangers and a safe (although I was at a loss as to how to turn off the light in it). Facing this is a dressing table with illuminated mirror-oh how I love thee!
Moving onto the bathroom. The double doors open to a spacious asphalt coloured filled travertine bathroom. It features a large sink with bottles of shampoo, conditioner, body lotion, body wash, soap, emery board and cotton tips and pads. There is a good sized bath and a shower with a small recess. There is also a toilet and a bidet next to it. Light cotton bathrobes hang behind each door.
Service is top notch. When I have trouble connecting to the internet, I call the butler service as instructed by the sign and they answer using my name (I always find that a nice personal touch). A staff member arrives within minutes. He fixes the problem and a few minutes later a follow up call is given to ensure that he fixed the issue and they ask if there is anything else they can do.
The only downsides are that the noise between rooms can be high at times - the doors are heavy and I can hear a baby crying in the morning although I'm not sure if this is from the pool downstairs or another room. Also house keeping is very vigilant, almost too vigilant at times with half used bottles of shampoo, shower caps and bars of soap being discarded and replaced every single day which isn't necessary at all. Once a bottle of shower gel that was barely used was discarded and replaced during turndown service while the tea cups and detritus remained.
Heading down to breakfast there is a generous spread of good quality breakfast foods including freshly made omelettes. There's always a  queue for one of these or you can simply help yourself to a range of pastries, juices, smoked salmon, charcuterie, cheese (including an interesting stringy white cheese called Dil Peyniri which is very salty-much like the Dead Sea!). And breakfast concludes with a stunning view of the water below and on a clear day you can see Jerusalem.
We head down to the beach and watch as women stand in the water, limbs covered in the black as night mud, their hair varying shades of colour. We walk into the sea - the ground can be sharp with stones and twigs so it is best approached carefully if your feet are sensitive. I have some eczema that was recently active so I'm careful not to put the affected areas in the water-in fact they recommend that you don't shave for at least 24 hours prior. You also do not want to get the water in your eyes at all as it stings a great deal. I dunked my finger in and tasted it and it was pure acrid saltiness that lingered on the tongue.
Bathing times are limited to two sessions a day and they recommended that you float in the sea for ten minutes, apply the black mud and then allow this to dry in the sun for five to minutes and then float in the dead sea again. You finish off the routine by washing off under the fresh water shower.
In the Dead Sea you are unable to sink and the density of the salt means that you are permanently suspended without even having to try to stay afloat. It's an unusual sensation watching everyone float like corks. There is almost a spring like feeling keeping your feet up.
The Anantara Spa is in an adjoining building and I am booked in for a sports massage. It's an enormous building made up of two levels and my masseuse, Pat who along with the rest of the spa's therapists are from Thailand leads me to my room. I disrobe and change into slippers and the underwear. She asks me how I would like the pressure and I tell her firm.
She  proceeds to give a truly firm massage, just as ordered and concentrates on areas that I request. I also ask for a head massage without oil because I don't have time to wash my hair before dinner and she carefully soaps her hands before doing that which is nice as often therapists move onto the head without washing their hands. It was a blissful 30 minutes and one of the best massages I've had. A honeyed ginger tea, bottle of water and gerbera is given and we gently float back to earth in the waiting room.
One thing about the complex that it took me half a day to realise (in between getting lost) is that the numbering system is counter intuitive. The lobby is on the top floor and rooms are below with level one being the lowest which is also counter intuitive. And because there are a few buildings, the 360 plus rooms and the multiple pools spiral down into an almost Escher like pattern which can be confusing.
So yes errm I got lost on the way to my next meal only to be found by another member of our enormous group. It was served in their Ashur Italian restaurant but the food was from their lobby restaurant.
Breads are set down on the table along with black and green olives. These are given the Italian treatment so that they're not as salty as the traditional Jordanian olives that we've tried.
After this is a parade of fresh mezze which suits the warm, balmy day well. There is tabouli, hummus, moutabal with small cubes of eggplant, olives and a delightfully crunchy fattoush salad.
Arabic style service is when they tend to serve you from platters and the grilled meat is served just that way. There are lamb chops which are tender, the chicken is a tad dry but the beef is delicious and also juicy and served as small cubes. Accompanying this is a baked potato with sour cream.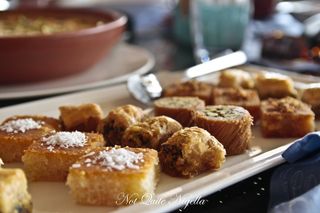 Knowing that there's always dessert is some sweet, delectable form, I am glad that I saved some stomach space. First of all, there is a tray of baklava and small burma sweets with nuts in the centre and threads of kataifi pastry on the outside. Square moist basmas filled with ground nuts are sweet and soft compared to the crunchy, crispy baklava and burma.
Om Ali, this time served in a giant tagine is soft and comforting. It's dressed with a sprinkling of crunchy green pistachios. A fruit plate is served with sweet pineapple and it's not long before we all make plans to stowaway somewhere among this giant complex as it is our last day in Jordan before we fly out. Perhaps we'll be those legendary creatures from the deep.
So tell me Dear Reader, have you ever floated in the Dead Sea? And do you prefer warm weather holidays or cold weather ones?
Kempinski Hotel Ishtar Dead Sea
Dead Sea Road, Sweimah 11194, Jordan